NFL Relocation to Los Angeles or Time for Expansion?
July 2, 2012

The Los Angeles Times recently shared NFL Commissioner Roger Goodell's memo about possible relocation to Los Angeles that was sent to each team in the league.  Most importantly, the memo lays out the timeline for applications for a move to L.A.
The window of time will be January 1, 2013-February 15, 2013.  With the Minnesota Vikings no longer in the discussion for possible relocation after the approval of their stadium plan, the four front runners seem to be the St Louis Rams, San Diego Chargers, Oakland Raiders and Jacksonville Jaguars.
Fans of the Chargers would be the least adversely affected of the four teams, but even so, no fan wants their team to move out of their home market.
Maybe it's time for the NFL, and its fans, to begin to think of the addition of a team in Los Angeles (and it WILL happen) as a chance to expand the league, rather than an opportunity to move a team from its current home.
If the NFL were to expand, then more than just a franchise in Los Angeles would be necessary.  In order to ensure equity in the number of teams by division and therefore equal shot at the playoffs, the league would have to add four teams.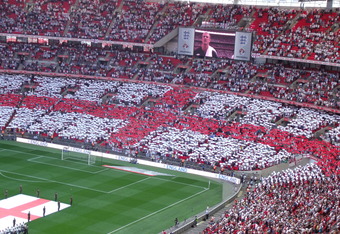 An expansion and realignment into three six-team divisions in each league would achieve that balance, and also deliver on the goal of bring a team back to the second largest market in the United States.  It could also achieve a third goal—expansion into Europe.
The annual game played in London has been a clear sign that the NFL would like to gain popularity in Europe, especially after the failed attempts to form a European NFL league.  The problem with those attempts though is that it has been a lesser product.  A true NFL team would attract the necessary fans to be sustainable.
Adding three teams would allow teams to perhaps make one trip and schedule three games back-to-back-to-back to cut down on the flight times.  Plus, for stadium travelers, it presents a unique opportunity to see your favorite team in a European city.
The teams during the NFL Europe experiment that achieved the best attendance were located in Frankfurt and Dusseldorf, Germany, so those would be good markets to start with.  London would be the third European team, due to the city's acceptance of the annual NFL game played at Wembley Stadium.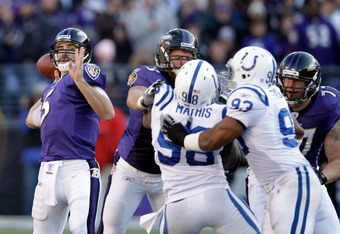 Rob Carr/Getty Images
This would necessitate realignment, breaking up some traditional rivalries and renewing some old rivalries.  Three six-team divisions in each conference would allow for three division winners to earn playoff berths, and three wild card slots, maintaining the league's current post season set-up.
This would be my proposal:
AFC East
Buffalo Bills
New England Patriots
New York Jets
London team
Frankfurt team
Dusseldorf team
AFC Central
Miami Dolphins
Indianapolis Colts
Baltimore Ravens
Pittsburgh Steelers
Cleveland Browns
Cincinnati Bengals
AFC West
San Diego Chargers
Kansas City Chiefs
Oakland Raiders
Denver Broncos
Seattle Seahawks
Los Angeles
NFC East
New York Giants
Philadelphia Eagles
Washington Redskins
Atlanta Falcons
Carolina Panthers
Jacksonville Jaguars
NFC Central
Detroit Lions
Chicago Bears
Green Bay Packers
Minnesota Vikings
Tampa Bay Buccaneers
Tennessee Titans
NFC West
San Francisco 49ers
Arizona Cardinals
St Louis Rams
Houston Texans
Dallas Cowboys
New Orleans Saints
Each team would play their division rivals both at home and on the road, then would play every team in another division once, maintaining the 16 game regular season.  The division they would play would alternate so that in a five year period each team would face every team in the league.
Personally, I love it. As a fan of the NFL, and more importantly as a fan of travel, this allows for more football in more places.  Would you like to see this plan enacted? Why or why not?
This article was originally published on StadiumJourney.com
Paul Swaney is the co-founder of StadiumJourney.com, a website dedicated to providing sports fans with everything they need to know to make the most of their next live sports experience.