Spain vs. Italy Euro 2012: How Italy Rebounds from Loss in Final
July 2, 2012
Handout/Getty Images
Despite being beaten by possibly the best national team in football history, Italy can walk away proudly.
After a miserable showing in the 2010 World Cup and a quiet qualification into the UEFA Euro 2012 tournament, Italy have continued to impress.
Coach Cesare Prandelli got rid of the 4-3-3 formation and opted for a 4-3-1-2. He focused on controlling the game from the midfield with Andrea Pirlo and having a strong back line, even though the final score would suggest otherwise. 
The first thing the Italian team needs to focus on is fitness.
Their semifinal match against Germany was as intense as any final and may have drained the Italians of some energy heading into the final against Spain.
Mina Rzouki of the Mirror wrote:
Italy were outplayed but make no mistake, the gap between the two teams is not 4-0 despite the score-line. Having already played a 'final' after masterfully defeating the mighty Germans, the Azzurri were exhausted, suffering from injuries and unable to play with their usual dynamism. Yet it was an open game for much of the first half with Iker Casillas making outstanding saves to slowly chip away at Italian confidence... In fact, up until Thiago Motta was forced off the pitch to leave the Azzurri down to ten men, the Italians had more shots on target even if they were trailing by two goals.
The Spanish were able to orchestrate debilitating through balls and offensive series because they were fit enough to sprint and press the Italians for the entire 90 minutes due to the extra rest days they had from their midweek semifinal.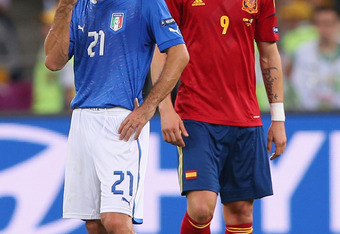 Alex Livesey/Getty Images
Not only that, a higher level of fitness would have helped avoid injuries like Thiago Motta's.
With Italy already down 2-0, an under-manned side would not have been enough to mount a comeback against Spain. 
Toward the end of the match the back line looked sluggish and may partially explain Spain's last two goals.
The other side of that explanation is that the late substitution of a fresh Fernando Torres was too much for the Italians, especially when down one man from injury.
The other issue is Andrea Pirlo. He had a magnificent performance in the tournament. However, he is 33 and will be 35 in 2014 when Brazil will host the World Cup. 
Who will the Italians groom to replace him? Given the success of this formation and how all the players worked harmoniously by and large, the national team needs to find the right player because the midfielder creates most of the scoring opportunities for the strikers up front in this formation.
One option is midfielder Marco Verratti, a member of Italy's U-21 squad, according to Simon Evans of Reuters.
Whether it is Verratti or someone else, that kind of probing midfielder will be one reason why Italy can recuperate from this tournament.
Coach Cesare Prandelli has nothing but positive things to say about Italy's runner-up finish and will continue as the national coach for the foreseeable future as reported by Simon Evans of Reuters.
After his tired team were convincingly beaten by world champions Spain, Prandelli, who has a contract until 2014, struck a more positive tone over his future.

"My future is already determined, even on a few occasions my mood was a bit, well, how it was," he said.

"I don't have any problem with the Federation or with its leadership. I have an excellent relationship with them. There is a project and we want to take it forward," he said.
The presence of a good coach who is excited about Italy's future, a formation that works for Italy and better conditioning will be reasons why Italy will continue to improve and impress in the run to the 2014 World Cup.