Wimbledon 2012: With Maria Sharapova Upset, Is It Now Serena Williams' to Lose?
July 2, 2012

Julian Finney/Getty Images
When the 2012 Wimbledon Championships began, there were a few upsets, but not many. Venus Williams and Caroline Woziacki were ousted in the first round, but most of the perennial favorites were still going strong.
Then came the second round which saw Samantha Stosur, Li Na and Rafael Nadal removed from competition far earlier than most would have expected.
Surprising and shocking, but still not earth-shattering because upsets like this happen every year.
The third round saw some minor upsets, but nothing major. No. 15 Juan Monaco was beaten by unseeded Viktor Troicki, No. 17 Fernando Verdasco was upset by 75th ranked Xavier Malisse and No. 20 Nadia Petrova was defeated by upstart Camilla Giorgi.
Upsets? Sure.  Earth-shattering? No.
The earth wouldn't truly shatter until the 4th round of the ladies draw. The round of 16 for the women saw some absolutely amazing tennis, and one utterly remarkable upset.
21st seeded Roberta Vinci was beaten in straight sets by Tamira Paszek. This wasn't much of an upset as Paszek has been climbing the rankings rather quickly of late.
The 4th round would get even more interesting for the ladies.
World No. 1, top seeded and defending French Open champion Maria Sharapova would be downed in straight sets by 15th seed, Sabine Lisicki. 
The fact that Lisicki beat Sharapova is not the big story. The big story is the absolutely dominant way in which she beat the Russian-American.
Paul Gilham/Getty Images
The young woman from Troisdorf, Germany had been playing well recently, but most felt that Sharapova was invincible, (this writer included). To be upset by an allegedly lesser player is one thing, to go down in straight sets is another thing entirely.
The match started with Lisicki taking control, dictating points and producing winner after winner. After taking the first set 6-4 and going up two games to love in the second, play was suspended due to rain.
This is when spectators and announcers alike began discussing how this would allow Sharapova time to regroup and stage one of her legendary comebacks.
It never happened.
When play resumed, onlookers witnessed more of the same—dominance by Lisicki who went on to beat the "unbeatable" Sharapova 6-3 in the second set to seal the deal and advance to the quarterfinals.
This begs the question: Who is the favorite to win the ladies championship now?
Most "experts" believe the mantle of favorite falls squarely on the woman playing the most dominating tennis, Serena Williams.
Not so fast!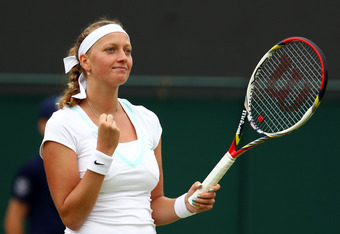 Clive Brunskill/Getty Images
There are several other players to consider. One has been sitting in the top five all year long, one just defeated one of the best in the world, one is defending her title and one who came in as the No. 2 seed, but is still "under the radar."
Agnieszka Radwanska, Angelique Kerber, Petra Kvitova and Victoria Azarenka are still in this tournament and will have something to say about the outcome this week at the All England Club.
It's true that Williams has the history, the serve and the pedigree to roll her way through the competition and earn her 5th Wimbledon title, but as they say in the NFL, "that's why they play the games."
If Nadal and Sharapova can be defeated, Williams can too.
There is no doubt that all of these ladies will have to play their best tennis to get past Williams and win it all, but the thing is—they are!
Playing on grass requires certain skills to be successful. The two considered most important are a powerful serve and good movement skills—both of which Williams has.
However, all of the remaining participants have at least one of those skills as well, if not both. 
Radwanska moves better than most and plays great defense. Kvitova moves well and, when locked in, has a great serve. Kerber's serve is adequate, but her movement and defense are elite. Azarenka isn't the greatest mover or defender, but can fire a serve. 
The one wild-card in all of this could be Lisicki. She loves playing on grass, her serve was dominant against Sharapova and she moves as well or better than anyone.
One thing Lisicki seems to have over the other players challenging Williams for the title is great strategy and touch. She executes the drop and lob shots extremely well, and she has appeared to always choose the right shot to make in a given situation.
This is not to say she is the favorite, or that she should be, but Lisicki has the game, the momentum and, after defeating Sharapova, the confidence to be the player that throws a wrench into Serena Williams' plans!
Follow me on Twitter: @CoachJayDee
Find more of John Doublin's work at RaiderNationTimes.com