Philadelphia Flyers: Why Change of Scenery Will Benefit Luke Schenn
July 3, 2012

Claus Andersen/Getty Images
When the Philadelphia Flyers acquired Luke Schenn from the Toronto Maple Leafs for James van Riemsdyk, it was a straight-up hockey trade.
No salary dumps or drastic roster overhauls here.
Simply put, the Flyers needed a top-four defenseman while the Leafs were in search of a top-six forward.  On paper, this swap is a win-win for both teams—particularly for the Flyers.  Philadelphia adds some much needed depth on defense, which the team desperately craved considering the uncertainty surrounding the future of Chris Pronger and the free agent uncertainty currently associated with Matt Carle. 
This trade has the potential to be a win-win-win.  For a host of reasons, a change of scenery stands to significantly benefit the budding Schenn.
First, it brings a whole new meaning to the City of Brotherly Love.
Only a year removed from a draft-day deal that brought the highly-touted Brayden Schenn to Philadelphia, the Flyers managed a swap to secure older brother Luke.  At 22 and 20 years old respectively, Luke and Brayden represent one of the elite up-and-coming hockey families in the game today.
Brayden found himself as a regular in the Flyers lineup after Christmas last year, and as a result, has half a season under his belt learning the nuances and expectations of what it means to be a Flyer.  Luke will be inserted into the lineup immediately next year and now has an invaluable resource in his little brother to begin his assimilation into the Flyers culture.
One can't underestimate the value, importance and comfort level of being able to play with family.  It's why Jordan Staal turned down a 10-year contract extension from the Pittsburgh Penguins only to sign a 10-year deal with his older brother's team, the Carolina Hurricanes, only days later. 
Ever since the acquisition of Brayden a year ago, rumors have been swirling about Philadelphia orchestrating a deal for his older brother.  Now the brothers Schenn are reunited and it's hard to imagine a smoother transition for Luke.
The benefits of Schenn coming to Philadelphia extend onto the ice as well.
Much was expected in Toronto of the former fifth overall selection in the 2008 draft.  Maybe too much.
It was too much for Maple Leafs fans to believe Schenn could be the defensive savior to their struggling franchise.  There were simply too many holes in Toronto for Schenn to be expected to fill them all.  In four seasons with the Maple Leafs, Schenn posted a minus-23 rating while Toronto fumbled its way to a four-year goal differential of minus-162. 
In Philadelphia, Schenn won't have to fill the role of defensive savior or franchise player or even top-pair defenseman.  In one acquisition, the 6'2", 230-pound blueliner went from being a scapegoat on a laboring Leafs roster to a supplemental piece on a Flyers team that appears poised for years of success.
The Flyers needed to bolster and deepen their defense, not reinvent it.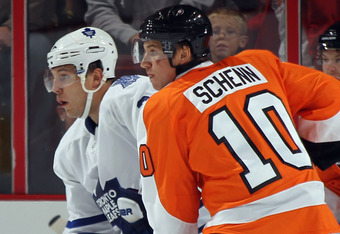 Bruce Bennett/Getty Images
Even if Carle bolts via free agency, Philadelphia will still welcomes back Kimmo Timonen, Braydon Coburn, Andrej Meszaros and Nicklas Grossmann next year.  As such, Schenn might not even find himself on one of the Flyers' top two defensive pairs next season.
As such, Schenn can focus on what makes him so valuable, and why Philly traded for him in the first place.  Over his four-year career, the native of Saskatoon, Saskatchewan has averaged 129 blocked shots and 225 hits each season. 
Last season alone, Schenn registered 270 hits to lead all NHL defensemen—a number that was more than 100 body bumps higher than any member of Philadelphia's defensive corps last year.
Like his younger brother, Luke brings a grit and snarl factor that will immediately be adored both by his teammates in the locker room and with the fans in the stands.  Moreover, Schenn can now help to carry some of the physical load on the Flyers' back end, easing those physical burdens previously endured by Coburn and eventually Grossmann last season.
Finally, Schenn will now have the opportunity to create a legacy with a team that acquired him, not the one that drafted him.
There's an inherent pressure that comes with being a top-five draft pick, particularly when that selection is made by a franchise starved for success in a hockey-crazed market.  Schenn is no longer tasked with trying to save the floundering Maple Leafs, but rather can become one of many players searching for success in Philadelphia.
The Flyers already have their stars—Claude Giroux, Danny Briere, Scott Hartnell, Timonen, Coburn, Ilya Bryzgalov—to name a few.  They don't need any more stars.
What they did need though was depth on defense, which made sacrificing the emerging talent of van Riemsdyk a necessary step.
This was a hockey trade in its truest sense, and one that appears primed to benefit both the Flyers and Schenn equally.