2012 NHL Trades: Derek Roy Trade Makes Dallas Stars Playoff Contenders in 2013
July 2, 2012

Bruce Bennett/Getty Images
In April, a five-game, season-ending losing streak knocked the Dallas Stars out of the playoffs at the very last minute.
Next year, the Stars will have other plans in mind.
As of Monday afternoon, GM Joe Nieuwendyk had pulled off arguably the league's biggest trade of the 2012 free-agency period, acquiring disgruntled center Derek Roy from the Buffalo Sabres.
Per Mike Heika of the Dallas Morning News:
Stars get Derek Roy from Buffalo in trade for Steve Ott and Adam Pardy. There is your top-six center to take Ribeiro's place.

— Mike Heika (@MikeHeika) July 2, 2012
Today's exchange will go down as yet another high-stakes trade for the Stars.
Roy, 29, has seen his Buffalo career decline in recent years, but he has the capabilities to be an elite top-six center when reaching his full potential.
After four straight productive seasons from 2006 to 2010, the former 32nd overall draft pick averaged 27 goals and 71 points a year over that span, including a career high of 32 strikes and 81 points in 2007-08 (a late 2010 injury dealt a major blow to Roy's productivity).
After scoring a team-leading 35 points in 35 games to start the season, a torn tendon sidelined Roy for the remainder of the year. Following his recovery, the merely 5'9" veteran had trouble hitting his stride last season, managing only 17 goals and 44 points in 80 appearances.
However, if Roy can use a fresh start in Dallas to return to his prime production levels of years past, he can serve as a top-tier playmaking centerman and reliable two-way forward.
Conversely, Ott, also 29, was finally dealt after months of rumors.
The physical 6'0" center functions better as a third-line center with an occasional scoring burst. He has hit the 20-goal plateau only once in his seven-year career and scored just 11 goals and 39 points in 2011-12. However, Ott did lead Dallas with 278 hits and an impressive 55.5 percent faceoff percentage last season.
Pardy, 28, serves only as a pedestrian bottom-pairing defenseman. The 6'4", 220-pound monster had three assists and 49 blocked shots in 36 appearances last year. He has totaled 29 points and 157 penalty minutes in his 183-game NHL career.
The trade comes less than two weeks after Niewendyk dealt over-the-hill center Mike Ribeiro to the Capitals for prospect Cody Eakin and a second-round draft pick.
Monday's exchange also gives the Stars another crafty offensive asset to put alongside Sunday free-agent addition Ray Whitney, who arrives in Dallas as arguably the most productive 40-year-old in the NHL today.
Whitney was named a second-team NHL All-Star last week after tallying 53 assists and 77 points in 82 regular-season games in addition to five assists and seven points in 16 postseason appearances.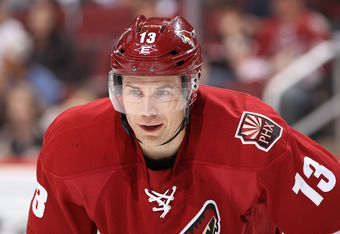 Christian Petersen/Getty Images
The fan favorite has tallied ten 20-goal and nine 40-assist campaigns over his 1,229-game career—a span in which he's compiled 1,003 points, the fourth-highest total among all active NHL players.
The additions of Roy and Whitney give Dallas a cast of top-six forwards that could arguably be titled the most well-rounded in the NHL.
Following RFA Jamie Benn's foreseeable re-signing later in the summer, the Stars will have six forwards with salary cap hits of $3.5 million or higher under contract—Loui Eriksson, Brenden Morrow and Michael Ryder, in addition to Roy, Whitney and Benn.
Last season, the six-some (four of whom were Stars at the time) combined for 139 goals, 343 points and a plus-70 rating.
2011 Stanley Cup winner Michael Ryder, 32, led the team with a shocking 35 goals. Elusive winger Loui Eriksson racked up a team-leading 71 points. Youngster Jamie Benn managed 26 goals and 63 points of his own, as well, and he scored a particular goal that many have called the NHL's play of the year.
When those three stars are joined by Roy, Whitney and a healthy Brendan Morrow, who managed only 11 goals in 57 games last year but scored a sizable 33 in 2010-11, the Stars will have an offensive front-end that could be the most underrated in the league.
And for a team that missed the 2012 playoffs by a mere three games, an offense of that potency should be more than enough to bring postseason hockey to Dallas next season.
Mark Jones has been a Bleacher Report featured columnist since 2009. In that time, he has written more than 400 articles and received over 580,000 reads.
Visit his profile to read more, or follow him on Twitter.