College Basketball: Keeping Up with Conference Realignment
July 3, 2012

Jonathan Ferrey/Getty Images
Sunday was National Conference Realignment Day across NCAA Division I. While most of the headlines were centered on the big six conferences and the effects on football, there was plenty of movement in the smaller conferences as well. A total of 21 schools will find themselves facing some unfamiliar foes when November rolls around. Here's a breakdown of who's coming and who's going and how it effects the schools' and conferences' outlook this season.
Atlantic 10
Adding: Butler, VCU
Leaving: None (at least this year)
The Atlantic 10, which placed four teams in the 2012 NCAA tournament, further solidified its claim as the premier basketball conference not among the big six conferences. Nine of the 16 members finished in the top 100 of the Sagarin Ratings last season, and that doesn't even include Butler, which had a bit of a rebuilding year last season. Yes, Temple and Charlotte are leaving after this season, but five bids out of the A-10 is certainly possible in 2013.
Atlantic Sun
Adding: Northern Kentucky
Leaving: Belmont
A big blow for the Atlantic Sun, losing the program that has represented the conference in four of the last five NCAA tournaments. But it will open the door for programs like East Tennessee State, Mercer, North Florida and USC Upstate to take over as the flagship program of the conference.
Taking Belmont's spot is Division I newbie Northern Kentucky. The Norse are no slouch, finishing their last season in Division II ranked No. 11, but will not be eligible for the Atlantic Sun title for the next four years as they transition to Division I.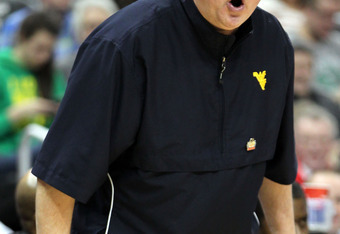 Gregory Shamus/Getty Images
Big XII
Adding: TCU, West Virginia
Losing: Missouri, Texas A&M
Losing Missouri is a big blow basketball wise, and Texas A&M wasn't a bad program either with seven 20-win seasons prior to last year's setback. Bob Huggins will get to re-acquaint himself to the Big XII after leaving Kansas State, and West Virginia will soften the loss of Missouri and Texas A&M. TCU, well, they've got some work to do on the hardwood to be competitive.
Big East
Adding: None (for now)
Losing: West Virginia (for now)
The loss of one program in a 16-team league with several quality programs won't hurt the Big East too much. The mass addition and subtraction that's set up for next season will. Losing quality programs like Syracuse and Pittsburgh will be countered by adding Memphis and Temple, but they will also suck up a lot of mediocre programs like Houston, SMU and UCF.
Big Sky
Adding: North Dakota, Southern Utah
Leaving: None
A good move for both schools as they leave turbulent conference situations for the more stable Big Sky. North Dakota leaves the Great West, which featured terrible travel and no automatic bid for its conference champion. It was basically a scheduling collective for independent schools.
Southern Utah leaves the Midwestern-based Summit League, which has a history of serving as a stepping stone to other conferences. The Big Sky now features an awkward number of 11 schools, so expect more conference movement in the near future.
Big South
Adding: Longwood
Leaving: None
The addition of formerly independent Longwood gives the Big South an even 12 schools in a tidy three-state footprint of Virginia, North Carolina and South Carolina for the 2012-13 season. 
Big West
Adding: Hawaii
Leaving: None
While Hawaii moves it's football team from the WAC to the Mountain West, the Warriors will place the rest of their sports in the Big West. It's the easiest possible travel for Hawaii, with the other nine members of the Big West in California. Why the other nine current Big West schools, who aren't exactly cash rich, decided they needed their teams to take an annual trip to Hawaii is a better question.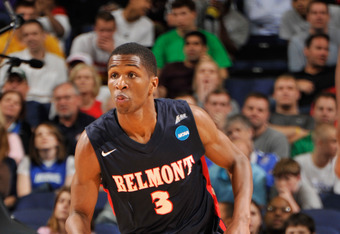 Jamie Sabau/Getty Images
Colonial Athletic
Adding: None
Losing: VCU (for now)
Losing one of the conference's premier programs in VCU (along with an awesome pep band) is a big enough blow. When it's just the first domino to fall, it's even worse.
Old Dominion and Georgia State will be leaving after 2012-13. With conference bylaws making those two schools ineligible for the conference tournament, and below-standard NCAA academic-progress rates putting UNC Wilmington and Towson on the sidelines, only seven schools will be be participating in one of the most underrated conference tournaments in America.
Great West
Adding: None
Losing: North Dakota (for now)
This loose confederation of former independents now only has five teams spread from coast-to-coast: Chicago State, Houston Baptist, NJIT, Texas-Pan American and Utah Valley. An automatic bid for this conference is still a long way off, and there is only one current independent left to pick up in Cal State Bakersfield. To make things worse, Houston Baptist leaves in 2013 to join the Southland. Seems like this conference's days may be numbered.
Horizon
Adding: None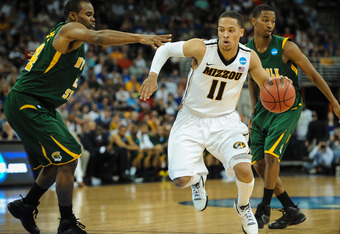 Eric Francis/Getty Images
Losing: Butler
While Butler hasn't been the only Horizon League program to succeed in the NCAA tournament, it definitely was the most well known. Butler's loss will impact schools both in exposure, since most of the Horizon League exposure on ESPN featured Butler, and at the box office.
Horizon League schools averaged 2,150 more people in attendance when Butler was visiting than their normal average attendance. Expect Cleveland State, Detroit, Milwaukee and Valparaiso to battle for league crown with Butler gone.
Mountain West
Adding: Fresno State, Nevada
Losing: TCU
Adding a solid program in Nevada helps the Mountain West stay in the race for best of the rest outside the big six conferences. Switching Fresno State for TCU is a wash basketball-wise. But obviously, this move is more about the pointy ball than the round ball.
Ohio Valley
Adding: Belmont
Losing: None
Belmont is taking a big step up moving from the Atlantic Sun to a conference that has won an NCAA tournament game in each of the past four seasons. However, most of the league titles in recent history have been concentrated at Morehead State and Murray State. Belmont should be able to match their level of play in the near future, if not immediately. Belmont may also have in an advantage in that the conference tournament is held in their hometown Nashville each year.
Southeastern
Adding: Missouri, Texas A&M
Losing: None
Of the big six conferences, the SEC certainly came out on top hoop wise. The Western half of the conference, which has been a weak link basketball-wise the past couple of years except for Alabama, gets a boost with Missouri and Texas A&M joining. Instead of the usual 3-5 bids, the SEC might get six or more this coming season.
Southland
Adding: Oral Roberts
Losing: Texas-Arlington, Texas-San Antonio, Texas State
The Southland was the primary victim in the raiding of teams to keep the WAC alive, losing three of its 12 members. However, the Southland recovered nicely getting Oral Roberts from the Summit. The Golden Eagles should immediately become the premier program in the new ten-team version of the conference.
Summit
Adding: Nebraska-Omaha
Losing: Oral Roberts, Southern Utah
The Summit League is often used as a league for schools looking to establish themselves in Division I then move on. This year is no exception. Nebraska-Omaha is in their second year of the transition from Division II to Division I. Current Summit League members won't miss the trips to Tulsa and Cedar City, Utah very much, and the travel map for the league just got a bit more condensed.
Sun Belt
Adding: None (for now)
Losing: Denver
This seemed like a win-win in the beginning. The Sun Belt got to lose a school that didn't have football and didn't fit geographically with the rest of the schools. Denver finally was able to get into a Western league joining the WAC. Of course, now the WAC is crumbling and Denver is exploring other conference options.
Ironically, one of those options may be a WAC/Sun Belt merger which would put Denver right back in the same spot they were in.
Western Athletic
Adding: Denver, Seattle, Texas-Arlington, Texas-San Antonio, Texas State
Losing: Fresno State, Hawaii, Nevada
The most chaotic situation of the off-season, the WAC adds five and loses three. The main reason for adding the three Texas schools is their eventual transition to Division I-FBS football from the Football Championship Subdivision, trying to keep WAC football alive.
Texas State and UTSA are already leaving after this season to join the Sun Belt and Conference USA, respectively. Seattle finally gets a conference after spending the past three years transitioning from Division II to Division I as an independent.