Tiger Woods, AT&T National: Back in His Groove with Major on the Horizon
July 3, 2012

Rob Carr/Getty Images
You can argue all you want, but how many times do you want to be wrong in life? LeBron is really good. Tebow is not. And Tiger Woods is really, really good…Are you the same idiot who said LeBron would never win a ring? He is too good to not win a ring…And let me tell you about Tiger—he is the best golfer in the world. He's never going to be Tiger-Tiger, that meteor, that freak show, whatever that was, but he's the best golfer in the world.
I rarely agree with the obnoxious rants of ESPN's Colin Cowherd. He fuels the fire, often unnecessarily, and exploits hyperbole with unrelenting passion.
But after Tiger Woods picked up his third win in seven events Sunday at the AT&T National, Cowherd's proclamation of Woods officially reclaiming golf's throne and predicting a 15th major championship in the near future is neither surprising nor unrealistic—it just makes sense.
The last three years have been baffling, as we tried to cope with the winless, injury-laden, emotionally distraught and continually rattled Tiger Woods. It was bizarre to watch the golfer who personified control in every element of the sport desperately struggle to conceal his emotions after hitting his ball awry, missing cuts or not converting in clutch moments.
When the golf media wasn't critically analyzing how he'd lost his swing, his mental edge and everything in between, there was an attempt to glorify the parity spreading through the golf world (since 2008, there have been no repeat major winners and 12 first-time winners). Even yours truly took part.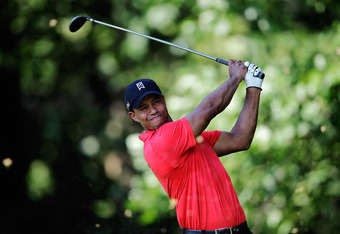 Rob Carr/Getty Images
But that parity is on the verge of vanishing.
Woods' poise and confidence in every swing was unmistakable this past weekend—a symbol of his resurgence in 2012. He split fairways under pressure and drained clutch putts down the stretch with a tenacious Bo Van Pelt fighting for the "W."
He's earned his way back into the "best player in the world" conversation.
Like the Tiger of old, he ignited fans with his third victory of the season Sunday, surpassing Jack Nicklaus with his 74th PGA victory; he now sits second behind the all-time leader, Sam Snead, who compiled 84.
His meteoric impact on the sport resonates that much more with each victory, especially this last one at the AT&T National.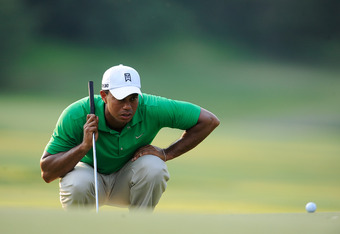 Patrick McDermott/Getty Images
The event was held at Congressional Golf Club in Bethesda, Md., the site of last year's U.S. Open where Rory McIlroy trounced an elite field by eight strokes. Yet this past Sunday's TV viewership of CBS was up 188 percent over the final round in 2011.
Let's clarify: Despite the Sunday last year being a major championship, despite McIlroy winning in historic, record-breaking fashion and despite it being a breakthrough victory for McIlroy after his collapse at the Masters just a month prior, Woods changed the entire dynamic of how sports fans perceive golf. 
Think about the way you watch golf when Tiger is in the hunt, adorned in his Sunday red. The atmosphere is frenetic and the crowds raucous.
Woods has always competed at a level light years ahead of his "peers"—if you wish to dignify them that way. After three years of rebuilding and dealing with obvious turmoil, Tiger is finally winning again. He is officially the front-runner and is back in control of his game.
How did he get back in the driver's seat?
Two of my biggest qualms with Tiger over the last few years have been his inaccuracy off the tee and a noticeable discomfort on and around the greens. His inability to hit fairways off the tee prohibited viable birdie opportunities. Pair that with a less-than-stellar short game and an inconsistent putting stroke, and you have three years of mediocrity, in Woods-ian terms.
In 2012, though, Woods has honed his skills and made drastic improvements to his game. According to Justin Ray of the ESPN Golf Blog:
His driving accuracy rank is up nearly 140 positions over last year. Woods is No. 4 on the PGA Tour this year in putts made of 10 feet or shorter (89.8 percent). Tiger would have been T-118th and T-84th in 2010 and 2011, respectively, had he played enough rounds to qualify. 
Throughout his career, Woods has always been a player who thrives off momentum—a trait of many legendary athletes.  Finding the fairway off the tee gives him that mental boost to be aggressive with his second shot onto greens and often leads to converting birdie putts.
Nothing was more telling—not just about Woods as a golfer, but as an athlete among the greatest ever in sports—than his second shot into the 18th hole Sunday.
Patrick McDermott/Getty Images
Staring down a tiny green surrounded by water from about 175 yards out, Woods launched his ball into the air. Before it had even reached its peak in the sky, Tiger had already given his club the patented "Tiger Twirl" and began walking towards the hole.
Fans watched, commentators commentated, but Woods just strolled across the fairway in complete confidence. The ball landed in the ideal spot of the tiered green, took a single hop and then settled about 15 feet from the cup, all but sealing the victory.
Like Michael Jordan or Muhammad Ali, Woods possesses that arrogance, that smug, that power over not just his peers, but over his sport.
He's the most polarizing figure golf has ever seen.
Nothing is ever guaranteed in sports. Yet with Tiger Woods, when his game is on, he has more assurance than any player on the course.
Now it's a question of hitting his true sweet spot—major championships. I have no doubt Woods will beat Sam Snead's PGA Tour record for victories (84). Woods is currently 36 years old and in better shape than any golfer in the history of the sport, which will allow him to continue competing and excelling for at least another 15 years.
Similarly, Jack Nicklaus won his 18th and final major when he was 46, meaning Tiger has 10 more years and 40 more majors to get to 18. So can he do it?
The British Open begins July 19 and will test Tiger's ability to sustain that accuracy off the tee for four straight days. Royal Lytham & St. Annes in England, the host course of the Open Championship, is a treacherous track cluttered with over 200 pot bunkers. Precision will be a priority, and that can play to Woods' advantage.
I don't plan on listening to Colin Cowherd on a consistent basis—not by any means—but he did make one final, potent statement:
"Tiger is going to win a major. Can we stop arguing?"