NBA Roundtable: Is LeBron James the Unanimous Choice for MVP?
March 8, 2009
Dwyane Wade leads the league scoring averaging 29.5 PPG.
Victor Baldizon/Getty Images
This season's race to MVP has been a great one so far, and we can all agree that Wade, LeBron James and Kobe Bryant are the top three candidates for this year's MVP. But with a little over a month left in the regular season, the MVP debates are now in session.
And for the debate—Erick Blasco, Andrew Ungvari and Daniel Barber will join myself to give our takes on who deserves to be the 2009 Most Valuable Player.
Whittenberg
A case can be made for all three guys mentioned above—but only one guy stood out for me.
A part of me wants to go with Dwyane Wade because he has been a scoring rampage as of late and leading the league in scoring most of the season, but his team's record is the reason Kobe and LeBron have the edge. Miami is currently the fifth seed in the Eastern Conference which is not a bad thing, but both Cleveland and Los Angeles have the best records in their conference.
D-Wade is having his best season, but good help seems to be hard to find. If or when Miami moves ahead of Atlanta for the fourth seed, Wade's case for MVP can get more interesting. Only bad news is, LeBron will still have the edge over him in the Eastern Conference.
As for Kobe, he has a legitimate shot at winning back-to-back MVPs, and has the Lakers atop the Western Conference once again. But this will be the year LeBron wins his first of multiple MVPs.
Why LeBron?
Yes, Cleveland had a big offseason acquisition in Mo Williams—but I've always looked at the MVP as the best player on the best team. And right now, Cleveland is the best team in basketball.
His statistical performance speaks for itself: 28.3 PPG, 7.3 RPG and 6.9 assist per game. Impressive, right? It also shows how great of a all-around player James really is.
For LeBron, it isn't just his scoring that makes him a great player—but the ability to make everyone around him better is why he is on his way to becoming the best player in the game. Not to say Kobe and D-Wade don't make their teammates better, but LeBron doesn't in a different way.
Also, compare last season's Cavaliers team to this year's. Detroit may have lost their crown as the kings of the Central Division, but Cleveland has moved ahead of the defending champion Boston Celtics for the top record in the East.
If I had to make a list of my top five candidates—LeBron, Kobe, Wade, Dwight Howard and Tim Duncan would make the cut.
Blasco
Picking MVP's are always difficult because of the lack of clarity of what the criteria are for the award. Value is a very subjective word, and different people look at value in different ways. And simply picking the best player in the league goes against the award's construct of picking the Most Valuable Player, not the Most Best Player.

With that said, my three-quarter year MVP award goes to LeBron James over Dwyane Wade and Kobe Bryant for several reasons.

First and foremost, while all three are great players and are on teams that are at least matching (if not greatly exceeding) preseason expectations, only the Lakers and Cavaliers harbor legitimate championship aspirations. While Dwyane Wade's certainly catapulted the Heat into a near-certain playoff berth, LeBron James and Kobe Bryant are presiding on teams that are virtual locks for Conference Finals appearances, if not bigger things.

Plus, while many will argue "if you took Wade or Kobe off their teams, they'd be much worse," if Kobe, LeBron, or Wade were replaced by one another, their teams would be absolutely fine.


When looking at supporting casts, Miami has a number of valuable role players and talented, if flawed rookies, who'd be headless without their leader. Cleveland's assembled a team of role players well-suited to complementing LeBron's illustrious skills, but likewise would be in trouble without their star player.

The Lakers could conceivably be a playoff team capable of winning a playoff series with their surrounding cast members, comprised of long, skilled frontcourt players, an active bench, and a slick-shooting backcourt.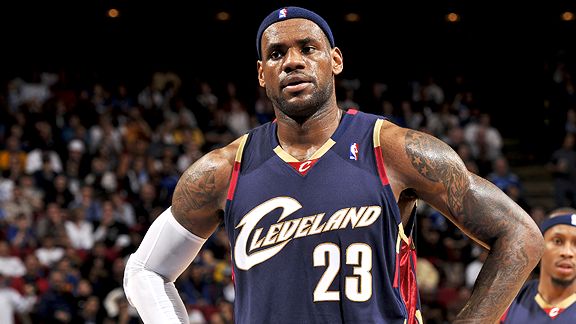 LeBron James has his Cavaliers team atop the Eastern Conference.
Fernando Medina/Getty Images
But you can't go wrong with either of the three mega-stars.
Ungvari
This has been a fantastic NBA season and the MVP race has been one of the best ever. There are four obvious candidates in LeBron James, Kobe Bryant, Dwyane Wade, and Dwight Howard and a few others like Tim Duncan, Chauncey Billups, Chris Paul, and Brandon Roy who deserve at least a mention.

In my opinion, the award is still LeBron's to lose. Even with the acquisition of Mo Williams, the Cavs' roster isn't really all that impressive. What they lack in name recognition they more than make up for with their depth. With the exception of James, the roster is comprised of solid role players who couldn't make the playoffs without him—even in the Eastern Conference.

LeBron's supporting cast reminds of Michael Jordan's supporting cast after he retired in 1998. Scottie Pippen was the only player on that team that didn't suffer a drop-off in talent once he went elsewhere. Luc Longley, Randy Brown, Jud Buechler, Steve Kerr, Toni Kukoc, and Jason Caffey were never as good as they were with MJ as a teammate. I feel the same thing would happen to Delonte West, Anderson Varejao, or Daniel Gibson if they were to change teams.

Last season's MVP race came down to the Western Conference playoff race. It seemed as if voters were intent on giving the award to the best player on whichever team snagged the top spot in the west. I disagreed with the pick because I felt that there was no player more valuable to an elite team's success than Chris Paul.

This year the race could come down to the best player on the team that captures home-court advantage throughout the playoffs. While the Celtics don't really have a bonafide top-five MVP candidate, the award could still go to Kobe if his Lakers finish atop the league standings.

I love Dwyane Wade. He has had an amazing season. But we can't forget that his team is a fair to middling 33-28 and only 12-17 on the road. The Heat are currently the fifth seed in the Eastern Conference but would be 4 1/2 games out of the last playoff spot if they were in the west.

I just can't see the award going to the best player on a team that won't win 50 games. What would the Heat's road record be without Wade, 4-24? That's only a seven game difference. I've never seen the MVP award go to a team that doesn't have one of the league's best four records—at least not in the last 20 years. If I'm wrong then please tell me who I missed.

Wade's season is reminiscent of the two seasons Kobe Bryant had prior to last season. While Lakers fan tried in earnest to make the case for Bryant, the Lakers were 45-37 in 2005-06 and 42-40 in 2006-07. His stats were amazing and his team would have probably gone 18-64 without him. But how can you be most valuable in the league on a team barely above .500?

I think Wade should win the league's Most Improved Player Award but I can't give him the MVP. Not this year. People talk about LeBron's improvement on the defensive end but nobody mentions Wade. He's averaging more than two steals and nearly a block and a half per game. On the offensive side, he's still shooting making less than 30 percent from downtown but he's become much more reliable and has already made 31 more three-pointers than he has in any previous season.

The MVP case for Kobe is helped by the fact that his team has the best record in the NBA and is 4-0 against the two teams it's fighting with for the league's top spot.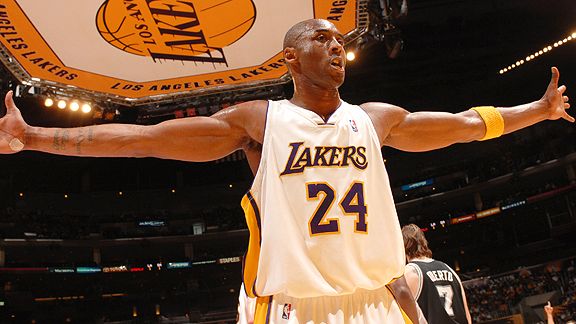 Kobe Bryant has a chance to repeat as the regular season MVP.
Noah Graham/Getty Images
He's also done it with two torn fingers and the loss of the team's starting center.

But the strongest argument against Kobe's candidacy is that his best teammate, Pau Gasol, was just named player of the month for February. So while he has been fantastic this year, he's received a lot of help from his teammates.
Sure he's done a great job of making them better but I don't think the job he's done is as good as the job LeBron has done. Cleveland is 47-12. Without LeBron, they're probably 15-44.

Kobe's numbers are all slightly down from last season except for his field-goal and free throw percentages. While they are still impressive numbers I don't think it's enough when compared to LeBron.

As for Howard, he's been spectacular. He's improved by leaps and bounds. The problem is that the Magic are only 7-6 since Jameer Nelson got hurt, proving that Nelson might have been just as valuable to the Magic's impressive start as Howard was.

All that being said, my top-10 MVP ballot would look something like this:
LeBron James
Kobe Bryant
Dwyane Wade
Dwight Howard
Deron Williams
Tim Duncan
Chris Paul
Chauncey Billups

Brandon Roy
Paul Pierce
Barber
I'm a Miami Heat and D-Wade fan. Many would assume, therefore, that I would pick Wade for the MVP this year. Not so. At this time, and this could change, my vote would be for LeBron James.
While there are certainly many players other than LeBron James deserving of consideration, including Dwyane Wade, Kobe Bryant, Chris Paul, Dwight Howard, Tim Duncan, Dirk Nowitzki, Deron Williams, and even Yao Ming, there are only three or four players being given serious consideration.
Those players are LeBron James, Kobe Bryant, Dwyane Wade, and Chris Paul; all of whom are very deserving in some way. The fact that at times the discussion narrows only to LeBron vs. Kobe is a shame; for leaving either of the other two off your list of the top players warranting serious consideration is simply unforgivable in my view.
However, despite Miami's improvement, despite the fact both the Heat and the Hornets are in the hunt for a playoff birth, and despite the fact the Lakers have the best record in the NBA, I still feel LeBron James has shown he's the most important cog both to his team, and to the NBA.
His numbers are equal to anyone's, and are actually better than Kobe's, and the Cavs don't have the best record in the NBA for only one reason—they've played two less games than Kobe's Lakers.
While it pains me to say it, LeBron deserves the award. I would love nothing more than to see D-Wade get his due some day, but LeBron is simply more deserving this year of the NBA Regular Season MVP.
Michael Whittenberg and Erick Blasco are the NBA Community Leaders for bleacherreport.com.