Breaking Down Von Miller's 3-Sack Game and Defensive Player of the Year Chances
November 21, 2012
Heading into Week 11 of the season, second-year outside linebacker Von Miller is making a strong case for Defensive Player of the Year honors as a member of the Denver Broncos defense.
Last week, Miller notched three sacks (all on third downs) against the San Diego Chargers.  
Below, we'll take a look at how those three plays devolved. On Miller's first sack, much credit must be given to San Diego's offense line—for making Miller's job easy.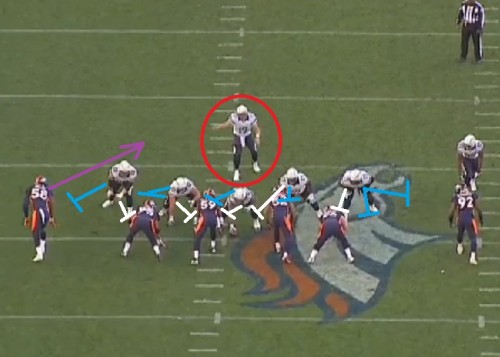 Before the snap, Chargers quarterback Philip Rivers is trying to communicate to his offensive line that they need to slide right in order to pick up the blitzing Miller (as the blue blocking arrows indicate).  The offensive line had something else in mind.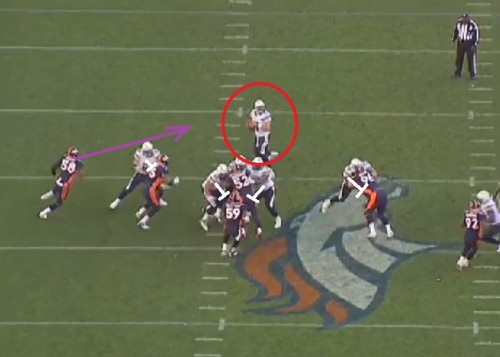 Serious miscommunication and misunderstanding of assignments happened on this play, as the Chargers' offensive line triple-teamed Wesley Woodyard and let Miller rush unblocked off the edge.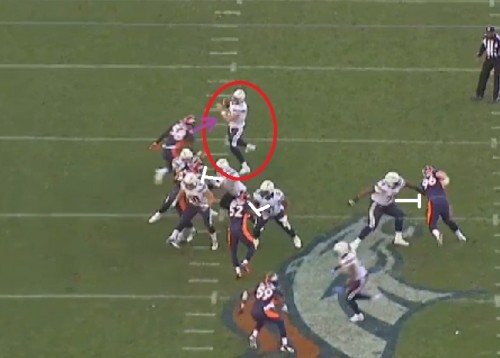 Predictably, Miller reached Philips quickly, bringing down the quarterback before he had any time to react.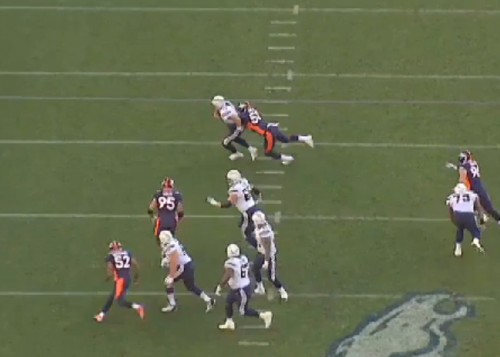 "I've seen some unblocked guys,"  Broncos Coach John Fox said after the game.  "We've had some unblocked guys.  It's not by design but you're dealing with human beings and there's human error."
San Diego's offensive line certainly suffered human error on Sunday afternoon, as Miller wasn't finished after one sack.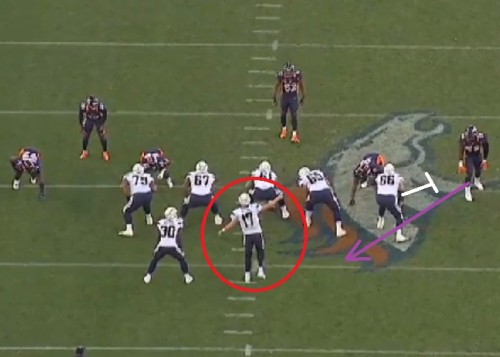 Later in the third quarter, Chargers right tackle Jeromey Clary correctly picks up Miller.  Well, he at least gave his best effort.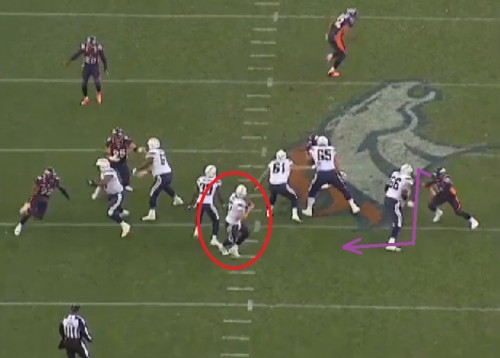 As the play develops, Miller jukes—as well as any running back in the league!—and makes Clary look silly, easily beating him for his second sack of the day.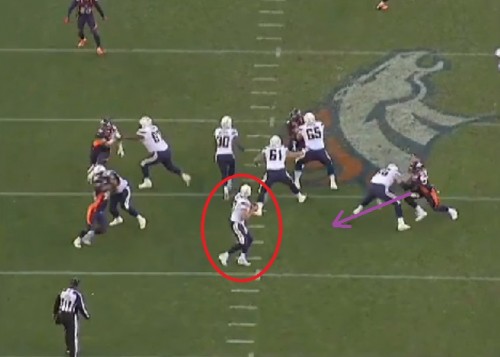 Miller's combination of speed, agility and strength is rare, and it's what makes him such an effective pass-rusher.  Powerful enough to run though linemen and shifty enough to simply run around them, Miller is one of the most talented young defensive players in the game today.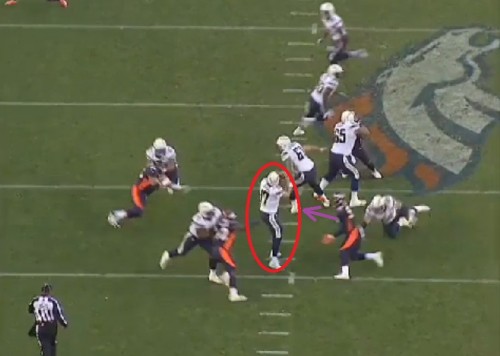 On his final sack of the day, Miller embarrassed Clary again, in very similar fashion to his second sack of the game.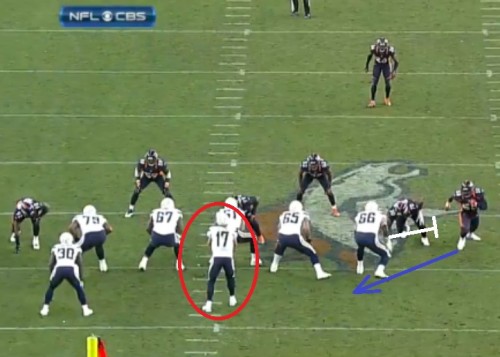 On this play, San Diego's offensive line blocks the correct defenders, but they cannot counter Miller's speed.  Before anyone else on the field has barely even flinched, Miller is already in a sprinting position, reacting faster than anyone else on the field.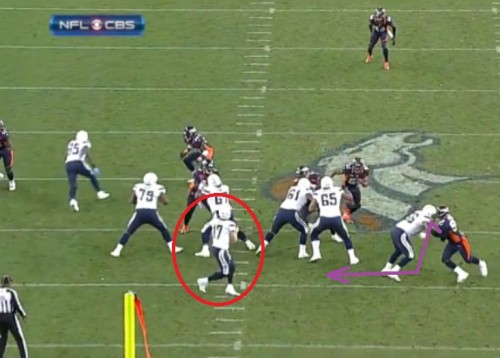 Engaging and out-joking Clary, Miller creates a clear lane to the quarterback.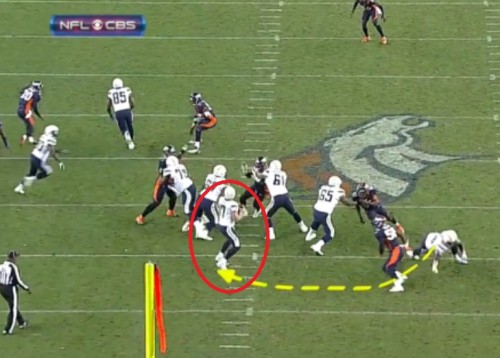 Just seconds after the snap of the ball, Miller has already knocked the ball out of Rivers' hand, recording his third sack of the game.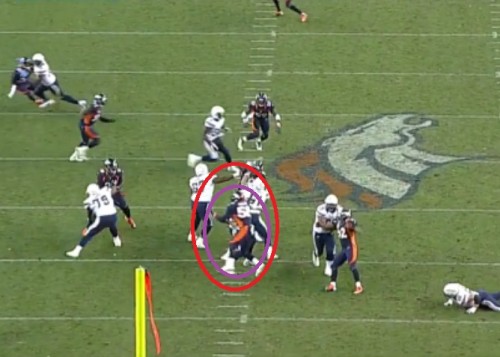 This season, Miller has totaled 13 sacks and has been mentioned as a Defensive Player of the Year candidate in recent weeks.
Here's the take of CBS Sports' Clark Judge:
"Basically, Miller is so good at what he does that he's become J.J. Watt's competition for the NFL's Defensive Player of the Year. Once upon a time, I thought it was a Watt-Charles Tillman race, but the more I see Denver's second-year outside linebacker the more I think it's Miller, San Francisco's Aldon Smith and Watt in a photo finish, with Miller closing fast," wrote Judge.
Okay, but that's just Judge's opinion, right?  Let's take a look at some "Re-Focused" stats from ProFootballFocus' Khaled Elsayed:
"Is Von Miller a candidate for defensive player of the year? He may not just be a candidate, he may be the actual front runner after another dominant display," wrote Elsayed.  "Here he gathered three more sacks and seven more hurries as he went to work on Jeromey Clary, Louis Vasquez and any Charger foolish enough to think they could get in his way.

"It's not just the amount of pressure, but how quickly it comes and it had Rivers on the back foot all day long. You need only know that Rivers' completion percentage dropped from 75 percent to 37.5 percent when pressured to understand just how crucial Miller was in securing this win. Incredible performance."
As every disgruntled—and still bitter—49ers fan will tell you, Aldon Smith has recorded more sacks than Miller this season (15 to 13), just as he did last season when Miller won Defensive Rookie of the Year (DRoY) honors.
So why should voters cast their ballot for Miller over Smith?
Because Miller is a more complete player and has single-handedly caused more havoc to opposing offenses than Smith has over the past two seasons.
Smith, similarly to Houston's J.J. Watt, has one main job—rush the quarterback.  In most of San Franchisco's defensive schemes, Smith has his hand on the ground, preparing to push the quarterback.
Rushing the quarterback is his job, and he has done a heck of a job, notching 31 sacks over the past two seasons.  Smith deserves recognition for his pass-rushing abilities, but the reason Miller won DRoY was simple—he is no one-trick pony.
Miller is asked to do far more than simply rush the quarterback week in and week out.  Rather, Miller is Denver's "Sam"—strongside outside linebacker—in the Broncos' 4-3 defense.
A disruptive force, Miller has notched 44 tackles for losses over the past two seasons, which is more than any other player in the NFL during that time period (for comparisons' sake, Smith recorded 28 during the same time frame).  Contributing against the run and as a rusher, Miller's 2012 campaign has not gone unnoticed. 
"He's worked very hard to become a complete linebacker, not just a rush linebacker," Fox said after Denver's win over San Diego.  "But you're almost crazy to put him in coverage just because he's so talented going the other way.  He's just a real disruptive player when he's going forward, whether it's in the run game for a tackle for loss or whether it's a sack on a pass play."
Miller is an extremely talented defensive player and rushing the quarterback is just one of the things that he does well.  When sent on a blitz, Miller rarely disappoints.  Through his first twenty-five starts, Miller has recorded 24.5 sacks, which is the second-highest total by any player in NFL history through their first twenty-five games (the late Derrick Thomas recorded 25, according to Denver's PR guru Patrick Smyth).
"The sky's the limit for this guy," cornerback Champ Bailey said on Sunday. "He has so much upside, he hasn't even scratched the surface yet. And yet as athletic and as great a pass rusher as he is right now, he can be so much better."
When he does get better, watch out.  In time, Miller has the potential to become one of the league's greatest (if he hasn't reached that point already) and ultimately, one of the greatest of all time.
Quotes used in this article were provided courtesy of the Denver Broncos media relations team.  Screen grabs from game play were take from NFL.com's NFL Game Rewind package.  Jon Heath has covered the Broncos franchise for five years and can be found on Twitter, @JHeath_DEN.