Meet SJ's Own Hooters Girl: Grace Espinosa
May 11, 2009
We all know that Hooters (the restaurant/bar, that is) and sports go together.
Well, one of our own members is intimately involved with both. She is a finalist in the Hooters 2009 Calendar Girl Of The Year contest. She is intelligent, articulate, educated, ambitious, independent, sports-minded/active, and yes...sexy! She recently sat down with SJ/CP co-owner/admin/maid Deb. The result is the following very special interview/pictorial of GRACE ESPINOSA!

Deb: You just beat out 120 ladies to become a finalist in the Hooters 2009 Calendar Girl Of The Year. Describe for our members how you accomplished that.

Grace : Hooters had a contest that told people to send a text to a certain number of the girl they liked. I was one of 10 with the highest texted votes.


Deb: When is the deadline for voting for this pageant?

Grace: It is not a pageant. It is an online vote for the Hooters Calendar of the Year Girl, which will be awarded at the Hooters Swimsuit pageant in Miami at the end of June.


Deb: Reg wants to know, when you win, how much of the $10,000 grand prize will you send him?

Grace: My school loan is $30,000, I graduated from college last year. So if you want to take a girl's education money, I am not sure that would be nice.


Deb: What are your aspirations, if any, for future beauty pageants?

Grace: I was invited for the Miss Louisiana pageant, which could lead to Miss America.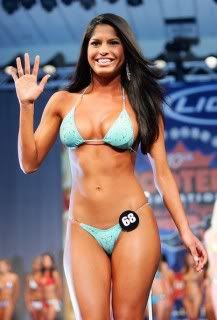 Deb: A little bird told me that you may get a shot to pose for a certain men's magazine...What can you tell us about that?

Grace: They called me and I did a test shoot, but I really can't say anything about that.

Deb: We know you're a sports fan. Who are your favorite sports teams, and why?

Grace: Saints because it is all I have here.


Deb: You are intimately involved with MMA. Tell our members what you do and how you got involved.

Grace: I am one of the ring girls for many of the fights down south. I went to a few fights years ago and fell in love with it.

Deb: You've met...some high-profile MMA fighters. Give us a short list of some of them and tell us which one you found to be the most interesting...and why.

Grace: Chuck (Liddell) and Randy (Couture) were the two biggest fighters I have met. The most interesting thing was that they were overly friendly, sweet, nice, and warm-to-the-heart-type guys. Both with wives that they truly loved. BIG hearts. At first I would have thought they were going to be cocky jocks, but not the case.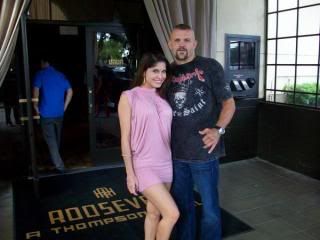 Deb: After the pageants are over, what direction would you like to see your career take?

Grace: Well, I am fresh out of college, so I still have some thinking to do about that subject.


Deb: Do you have to work hard at staying in shape, or does it come naturally?

Grace: Genetically I am lucky, but yes I do work out. P90 does work, and also I run.


Deb: Is it possible to date or have a normal social life when you are in the spotlight so much?

Grace: Yes, but only when the guy is confident with himself. I can't be with a jealous guy.


Deb: What would the perfect day be like to you?

Grace: Day or Date?

Perfect day is reading in the dog park with my dog and then going to the movies in the evening.

Perfect date is eating out and then a movie at home. Believe it or not, I am a very private person that prefers quality home time with a guy rather than being out in the street partying.


Deb: What's one thing you'd like people to know about you they may not know?

Grace: I like to do everything on my own. I try to make my way down life's path using all my ability and not just looks. Sure looks help, but if you can't follow through, people lose interest, so that's where I shine. People see me and say, "Wow", but then when I can actually hold a conversation with them, then they say, "Wow, I did not expect that".


We thank Grace for taking the time out of her busy work/promotion schedule to do this interview. Please support her by casting your vote for her at http://www.hooterscalendar.com/vote/ before May 31, 2009. IMPORTANT NOTE: You can cast multiple votes for Grace. You can vote once/day up until the deadline. So let's BARRAGE the voting site for our fellow member!
Join in the discussion on this and other topics in the NEW Sports Jabber Forums!