How the Denver Broncos Will Adjust to Playing Without Ryan Clady
September 17, 2013

The Denver Broncos have survived their first two games without pass-rusher Von Miller and cornerback Champ Bailey on defense. In fact, the Broncos have been able to do a lot more than survive, in large part because Peyton Manning is their quarterback.
Without question, Manning is the most important asset in Denver. Keeping Manning healthy is paramount, which is why losing left tackle Ryan Clady to a Lisfranc foot sprain is a significant blow to the offense.
According to Mike Klis of The Denver Post, Clady is going on the season-ending IR.
While it certainly hurts the Broncos, that doesn't mean they will turn into the Jacksonville Jaguars without Clady. Manning is as good as there is at protecting himself, and there are a lot of different things the Broncos can do to help backup left tackle Chris Clark. 
"You might mess up on something, and Peyton will get it corrected then and there," Clark said (via The Denver Post). "Once you get it corrected, you don't make that mistake again."
If the Broncos don't adjust to having Clark at left tackle, the offense will not be nearly as effective as it has been in the first two weeks. The impact might be greater initially, but the offense has too much talent not to figure things out over time.
Bottom line: The Broncos will have to spread out the hit of Clady's loss on the entire offense. 
The Running Game
One of the many ways a team can cope with an offensive line or offensive lineman who is struggling in pass protection is to run the ball. Another way is to call screens to the running back, which are somewhat similar to run plays.
The Broncos aren't going to be a rush-heavy team, and they don't need to be, but you could see a few more runs called. In limited action at left tackle, Clark proved to be a decent run-blocker, especially against bigger, slower defensive ends.
However, Clark has struggled with speed off the edge both in the run game and in pass protection.
For this reason, the Broncos will have to devise a scheme that hides Clark. They might be a little less diverse with what they can do. 
Clark's most extensive action at left tackle came against the Kansas City Chiefs in Week 17 last year. With the Broncos milking the clock, Clark got plenty of opportunities to run-block. Against the 298-pound 3-4 defensive end Ropati Pitoitua, Clark opened up a big hole in the run game for Jacob Hester.
Had Clark not let go of Pitoitua when he did, he could have been called for a holding penalty. However, Clark did drive Pitoitua back three yards and inside, creating a huge running lane. Clark actually pushed Pitoitua into the path of the linebacker, and he had to take a lateral angle to make the tackle.
The linebacker's position made it harder for him to tackle Hester's big body, enabling Hester to break the tackle and turn the play into a big gain.
However, Clark does struggle with speed, both in the run game and pass protection. The Broncos use a zone-blocking scheme, but they might have trouble getting to the outside on the stretch play to the left with Clark at left tackle.
The obvious adjustment is to use inside zone runs to the left more than outside zone runs. The outside zone requires the offensive tackle to get outside and try to seal off the outside defender, while the inside zone allows the offensive tackle to kick the end out of the running lane. 
The running play above was an example of inside zone, except to the right instead of the left. Pitoitua drove hard to the inside and Clark couldn't stop him from going that direction, but a smart running back will take advantage of the lane.
The important part for Clark was that he was able to drive Pitoitua backward; even zone runs can be about winning at the line of scrimmage.
Clark is best when he can just use leverage. If he has to move laterally too much, the Broncos will not be as successful.
Pass Protection
Losing Clady has a more severe impact on the pass protection, but the Broncos also have more tools at their disposal to compensate than they do in the running game. Manning, the receivers, the tight ends and the running backs will all have to compensate for the loss of Clady.
Obviously, it would be nice if Clark matched up to Clady, but that's not the case. There's only so much the Broncos can do to help Clark, whereas Clady doesn't need much help at all.
Here's an example of a sack Clady allowed against the Chiefs last year. As you can see, Clady actually did everything right against Justin Houston.
Clady keeps a solid base and uses his hands to drive Houston around the pocket, but he still allows the sack. Why? Manning didn't have any open receivers and was getting pressure in his face, so he couldn't throw the ball or step up into the pocket.
Even in allowing a sack, Clady did a great job on an island against one of the best pass-rushers in the NFL.
In contrast, Clark is going to need a lot more help from a tight end or running back.
Here is Clady against Tamba Hali. Again, Clady has a solid base, quick feet and good hand usage. Despite the fact that it's 3rd-and-12, Manning doesn't have to worry about getting hit in the back and is able to deliver a strike down the field.
There is a reason Clady is considered one of the best left tackles in the NFL. Manning and the Broncos had the luxury of letting Clady neutralize any speed rush coming from the left side.
"I've learned a lot from all the guys, but Clady in particular. Just the way he moves, the way he sets, the way he moves his feet and hands, attention to detail," Clark said (via USA Today). "You try to mimic those things because he's been a great player, and those things will help me a lot."
Naturally, Clady's backup isn't as good. The hope is that Clark can play well enough that he isn't a total liability. The hope is that Clark has learned from Clady and will be able to emulate him to some extent.
As of Week 17 of last year, Clark's time with Clady hasn't necessarily paid off. Here is Clark against Hali on a Brock Osweiler pass completion. It's 3rd-and-9 and Clark is getting no help from a tight end or running back. This is virtually the same situation Clady faced above, with a different result. 
As you can see, Hali easily gets around Clark. Hali has a free run at Osweiler and would have delivered a jarring sack if Osweiler hadn't had the pocket presence to step up and throw over the middle to a well-covered receiver. Osweiler actually runs into the back of his own lineman to escape Hali's rush.
The Broncos can't have pass-rushers coming free around the end and delivering hits on Manning, even if he is smart enough to get rid of the ball quickly. Manning may have to rely more on his hot read if Clark is allowing too much pressure. Expect wide receiver Wes Welker to see a slight bump in production if Clark struggles in pass protection, especially on third down.
There are a few ways the Broncos can try to help Clark.
One way is to have the running back chip, which likely means even more work for Knowshon Moreno. The running back has a route to run, but he "chips" the outside pass-rusher on his way out to slow him down. This can also be done by a tight end and helps an offensive tackle who doesn't quite have the foot quickness or proper technique to protect the edge.
Here is an example of a play in which Hester got in Hali's way just enough to keep him from delivering a hit on Osweiler as he threw. This worked because it was a short drop on 3rd-and-4, but had the Broncos needed more yards, Clark would have needed more help from Hester.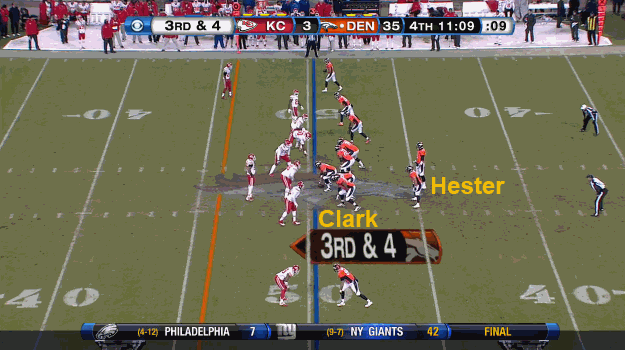 To compensate for the loss of Clady, the Broncos are going to need to give Clark help from a tight end or running back in passing situations.
The other way for the Broncos to compensate is for the receivers to get open quickly so Manning can get rid of the ball.
The Broncos have the pieces in place to compensate for the loss of Clady, but he will clearly be missed. Avoiding situations where Clark might be victimized is obviously the preferred solution, which means avoiding 3rd-and-long by being productive on first and second down.
Clark's Challenge
The AFC West is loaded with pass-rushers who will test Clark. With Clady not returning this season, Clark will have six games against the likes of Tamba Hali, Dwight Freeney and Lamarr Houston.
In Week 5, Clark will have to deal with DeMarcus Ware. Even Jacksonville's Jason Babin could be a test for Clark, although the Jaguars won't put up much of a fight in a few weeks.
Clark will get a big test from Houston right out of the gate. According to Pro Football Focus (subscription required), Houston has been the most productive 4-3 defensive end pass-rusher through two weeks with 16 total pressures on 69 snaps.
The Broncos need Clark to rise to the challenge or they will have to adjust their protection schemes and force Manning to throw to his hot read more frequently. The more the Broncos have to adjust, the more it has the potential to slow down their offense.
The good news is that Manning has survived behind a solid offensive line with a suspect left tackle in the past. Tony Ugoh and Charlie Johnson were Manning's left tackles from 2007 to 2010, and Manning still won over 12 games per season during that span.
Denver's offense will be fine, even if the Broncos only win by two scores instead of three. More important than a little lost production from the highest-scoring team in the league is the protection of the asset that makes it possible.
Manning first hurt his neck in 2010, so there is risk involved if Manning starts taking more hits as a result of not having Clady protecting him. The Broncos will have to do whatever is necessary to protect Manning if Clark isn't getting the job done alone, even if that means a slightly less explosive offense going forward.