Raiders vs. Broncos: Score, Grades and Analysis
September 24, 2013

Peyton Manning's assault on the NFL record books continued on Monday night, as he led the Denver Broncos to a decisive 37-21 win over the Oakland Raiders at Sports Authority Field in Denver, Colo.
Leading his team to a dominant 3-0 start, Manning turned in yet another surgical performance, carving apart The Silver and Black secondary to the tune of 374 yards, three touchdowns and zero interceptions.
The Raiders dropped to 1-2 with the defeat. 
As Bleacher Report's Twitter feed pointed out, Manning surpassed Tom Brady's NFL record for most touchdown throws in the first three games of a season:
Manning only needed one half to accomplish the feat, throwing his third TD of the game with 3:46 left in the second quarter on a 13-yard score to tight end Julius Thomas:
When the teams headed into the locker room, the Broncos led 27-7 and the Denver box score resembled the production that most teams put up in an entire game. Manning had 264 yards, three touchdowns and just three incompletions, while Eric Decker had already racked up 113 yards and a touchdown and Wes Welker and Demaryius Thomas had chipped in over 50 yards receiving apiece. 
Denver head coach John Fox eventually called off the dogs in the fourth quarter, turning to running backs Ronnie Hillman (66 yards and a touchdown), Knowshon Moreno (39 yards) and Montee Ball (61 yards) to close out the blowout.  
But the Raiders were able to put up a few highlights of their own, as quarterback Terrelle Pryor hit Denarius Moore for 73 yards to (very) temporarily cut the lead to 10 points in the second quarter:
Trailing 30-7 in the third quarter, Pryor marched down the field following a Manning fumble. Once in the red zone, he tossed the ball to running back Darren McFadden, who found Marcel Reese on a halfback toss for a tricky 16-yard score: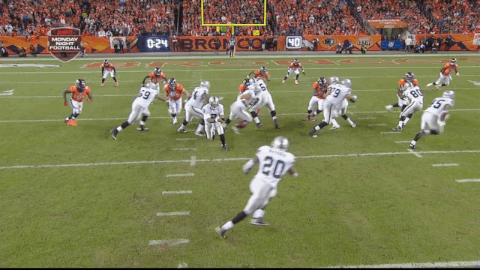 That caused CBS Sports' Will Brinson to joke about Oakland's depth chart:
Pryor finished the game 19-of-28 for 281 yards, a touchdown and zero turnovers in what was quietly a another solid performance for the first-year starter. He was limited, however, by Manning's methodical effort, which led to a 536-342 yard advantage and 35:24 to 24:36 time of possession advantage for the Broncos. 
Some wondered how this Denver team was going to fare without elite pass rusher Von Miller for the first six games of the season, but Manning and his receivers have made the Broncos' defensive issues a moot point thus far.
In fact, as NFL.com's Daniel Jeremiah pointed out, stopping the Broncos has proved impossible through three weeks:
It's important not to read too much into a performance against an over-matched Raiders squad, but Manning and this offense have looked dangerous for three straight weeks now. 
Player Grades
Peyton Manning, QB, Denver Broncos: A
Manning threw two more incompletions than touchdowns, finishing with an 86.5 completion percentage for the game, his highest this season. 
Here are a few more jaw-dropping stats from the night:
Terrelle Pryor, QB, Oakland Raiders: A

Doug Pensinger/Getty Images
Pryor is usually regarded as a mobile quarterback who will run first and throw second. 
But the young signal-caller was impressive on Monday night, displaying the ability to make a variety of throws.
He stood under pressure and zipped the ball in accurately from the pocket. He completed a pretty back-shoulder throw. He made plays with his legs, picking up yards himself or completing throws on the run. 
Perhaps Pryor's most underrated play came in the third quarter, when he calmly picked up a wayward snap in the end zone and intelligently threw the ball away. 
It's likely going to be a long season for the Raiders, but they should be very excited about the youngster they have under center. 
Chris Clark, LT, Denver Broncos: B
There was a lot of pressure on Chris Clark, who was filling in at the crucial left tackle position for All-Pro Ryan Clady after the veteran was lost for the season last week.
For the most part, he passed the test. 
Clark gave Manning plenty of time to work against the Raiders, who came into Week 3 leading the league in sacks. The lineman supplied a good push and never necessitated the need for extra help from left guard Zane Beadles. However, in the third quarter, he got beaten badly by Lamarr Houston, who sacked Manning and forced a fumble.  
Still, overall, it was a job well done from Clark. 
What's Next
The undefeated Broncos will host Chip Kelly and the 1-2 Philadelphia Eagles, while the Raiders head home to take on the 0-3 Washington Redskins. Both teams will have a short week, as the games are next Sunday.