Dissecting Best Individual Matchups to Watch in Chiefs' Week 4 Action
September 26, 2013

John Rieger-USA TODAY Sports
The Kansas City Chiefs will attempt to extend their flawless 3-0 record against the New York Giants: the most bipolar franchise in all of football. Easily. 
Throughout the better part of the past decade, predicting Giants games has been like trying to read Metta World Peace's palms.
One week, their fans leave Metlife stadium with the giddiness of kids on Christmas morning. By the same time next week, they look like they just ripped open Xbox packaging to find a Ten Commandments puzzle. 
Proof? In Week 14 of last season, New York's offense electrified the stadium, charring New Orleans for 52 points. The following Sunday? Zero. And it was at the hands of the Atlanta Falcons, a defense that allowed 26.2 points per game. 
The Giants have been consistently awful this year, though. 
A fragile offensive line has turned Eli Manning into a sacrificial lamb (whose eight interceptions lead the NFL). Kansas City's 3-4 nose tackle, Dontari Poe, has amassed more sacks (3.5) than the entire Giants defense (3). To make matters worse, as CBS Sports reports, one of the club's former players, Carl Banks, alleged that the New Yorkers "don't like each other."
The Chiefs' second-ranked scoring defense will also storm into an ear-bleeding Arrowhead Stadium on 10 days' rest. 
Three individual matchups will dictate the crowd noise. 
WR/PR Dexter McCluster vs. P Steve Weatherford
Kyle Rivas/Getty Images
Odd matchup? Yes. Relevant? Most definitely.
There are three stats that you need to know about Steve Weatherford: He ranks fifth in percentage of punts returned (57.1) and last in return yardage (152) and net yardage gained (33.4).
In a pool of returners who have cradled five or more punts, Dexter McCluster's 11.1 yards per return slots him at No. 5 overall. 
If New York's offensive line continues to open the floodgate for pass-rushers, Manning will oversee no shortage of third-and-longs, and that usually amounts to one of two scenarios: a Weatherford punt or a head-scratching turnover. 
FS Kendrick Lewis vs. QB Eli Manning

Jamie Squire/Getty Images
The only thing that's remotely consistent about Manning is his facial expression.
It doesn't matter if he snipes a 50-yard touchdown or heaves an interception into triple coverage, he's going to mope to the sideline with the look of someone who just watched the end of a Nic Cage movie. 
Thus far, his eight interceptions dwarf his five touchdowns. 
In 13 long-ball attempts of 20-plus yards, the stoic passer has completed four to his teammates and three to opponents.
However, shoddy protection shoulders the lion's share of blame for many of the downfield turnovers. That, and the fact that the Giants' last-ranked scoring defense constantly hands over a deficit to burn, which is partly due to the offense granting bad field position because of turnovers.
It's basically a full circle of ineptitude. 
Regardless, the Chiefs will be deploying a wealth of Cover 1, and Lewis will serve as the safety valve preventing New York's vertical game. 
OLB Justin Houston vs. T Justin Pugh

Denny Medley-USA TODAY Sports
Practicing O-Line drills in preparation for Justin Houston is like studying for the SATs while watching Honey Boo Boo. 
The Pro Bowler's league-leading 7.5 sacks stand three greater than that of his closest threat. Coincidentally, every one of his aforementioned takedowns stemmed from Weeks 1 and 3—the two games in which No. 50 squared off against rookie right tackles. 
In case you're not following where this is going: Justin Pugh is a rookie right tackle. 
Recapping New York's blowout loss to the Carolina Panthers, Pro Football Focus' Rick Drummond writes:
Their group Pass Blocking Efficiency of 66.2 is the league's low mark and was dragged down significantly by their performance in Week 3 (48.6) with a total of 22 pressures allowed on 35 passing plays.

A week after holding his own against the Denver pass rush, rookie right tackle Justin Pugh fell off to grab a team-low -4.5 pass blocking grade, surrendering nine pressures (two sacks, two hits, and five hurries) in the process.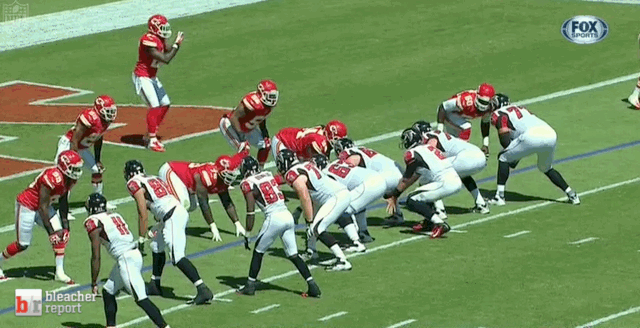 May the football gods have mercy on his soul. 
Statistics provided by Pro Football Focus (subscription required).
Guarantee one good decision today and follow Brett on Twitter: