Three Issues Miami Dolphins Must Correct During the Bye Week
October 9, 2013

Mike Ehrmann/Getty Images
Usually, NFL players and coaches aren't too thrilled about an early bye week. The Miami Dolphins, however, couldn't have run into their bye at a better time.
It allows them to get key players healthy (including defensive end Cameron Wake, linebacker Dannell Ellerbe and cornerback Dimitri Patterson), while also giving them an opportunity to get ahead on scouting their next two opponents—the Buffalo Bills and New England Patriots, their first two division contests of the year.
Before they get ahead of themselves, though, they need to stare in the mirror and do some self-scouting.
One look at the tape, and their biggest weaknesses won't be too hard to identify.
What areas can the Dolphins most use to improve before they take the field again?
Protection
Let's get the obvious out of the way. With 24 sacks against them through five games, the Dolphins are on pace for 77 sacks. That's a rough pace, but Dolphins offensive coordinator Mike Sherman isn't looking that far ahead.
"Things have a tendency, kind of like your golf score, the first nine you get all excited about it then you eventually hit your golf score," Sherman said. "As I've said before we're a work in progress, I think it'll all work itself out. We're going to spend a lot of time this off week, looking at what some of our issues are, even more specifically than we already have. We're going to fix what needs to get fixed, and I'm pretty confident that we can do that."
At least they acknowledge the problem as something that must be addressed during the bye week.
As for specifics, a good place to start is their protection off the edges.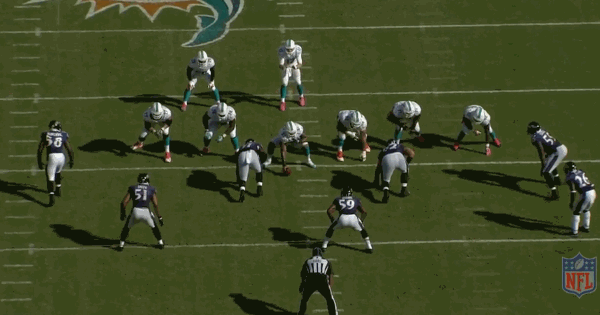 Quarterback Ryan Tannehill was sacked by Baltimore Ravens outside linebacker Elvis Dumervil on the Dolphins' final possession of their 26-23 loss to the defending Super Bowl champions. 
Dumervil's reach was too much for right tackle Tyson Clabo, who couldn't get his hands on the oncoming defender. Dumervil simply continued to navigate his way through he block and to the quarterback before delivering a WWE-style DDT to the Dolphins quarterback.
It's looked this easy for too many of Tannehill's sacks. On the season, Clabo has allowed 23 combined pressures (13 hurries, four hits, six sacks), and left tackle Jonathan Martin has allowed 16 (nine hits, five hurries, one sack). 

"We've got to keep fighting," said offensive tackle Jonathan Martin. "It's a long season. We've got a lot of ball games to be played and we've got time to turn it around. But it is a concerning trend so far and something that we need to get corrected now."
You could call it a concerning trend or a disaster in progress—I'm inclined to go with the latter—but either way, the Dolphins offense can't expect to move the ball successfully if it continues.
Running Game
The Dolphins' woes up front stretch beyond just their inability to keep Tannehill upright. They have been completely inconsistent in the running game this season. Their rushing numbers across the board have been some of the league's worst.
According to TeamRankings.com, the Dolphins have picked up just 19.1 percent of their first downs by running the football. That is the ninth-lowest percentage in the NFL. They didn't pick up a single rushing first down against the Ravens this Sunday.
After putting up a paltry 22 rushing yards against the Ravens, the Dolphins now hold two of the three lowest team rushing totals for a single game this season. They also have the third-fewest rush attempts this season and have run the ball just 95 times this year.
Colleague Chris Kouffman has some interesting theories on why the Dolphins have struggled to run the ball, and points out that while they're ineffective on a per-carry basis, they're also not running the ball nearly enough. 
Miller and Thomas combine for 15.4 attempts per game whereas prior to Sunday's Week 5 games, teams averaged 22.2 attempts per game with their tailbacks. That lack of commitment might be explainable if the team faced a lot of situations where they were significantly behind on the scoreboard. Unfortunately, there is little evidence to suggest that is the case.

The Dolphins spent only 39 minutes and 45 seconds trailing their opponent by more than a touchdown during the 300 total minutes of game play in the first five games of the season. Astoundingly, the Dolphins had nearly the exact same tendency to call a run play with Thomas or Miller during the periods they spent down by more than a touchdown as they did during the rest of the games.
They might have more success if they ran the ball more; they might run the ball more if they had more success. It's a vicious cycle.
Kouffman touches on it in his post, but while the Dolphins must recommit to running the ball, they must also establish their running game as a threat in the first place.
Part of that may be simply handing the ball to Miller more often. He's been by far the most effective back in the Dolphins' rotation, and while he's had nearly double Thomas' carries this season, the argument could be made to give him an even bigger workload.
The absence of a running game may work if you have Aaron Rodgers or Peyton Manning at quarterback, but even though Tannehill is entering the discussion among the league's best young quarterbacks, he may not be ready to carry the full burden of the offense just yet—especially given their protection woes.
The Dolphins may want to be more pass-heavy, but simply put, the only way the Dolphins are going to fix the running game is by actually running the football. 
Safety Play
The struggles of the Dolphins offense have been belabored to this point, but what about the defense? They've played well, creating pressure up front (41.1 percent of opponent dropbacks) and have held opponents just shy of four yards per rush attempt on the season. 
One area they've struggled for years now is big plays in the passing game. Last year, they allowed 60 pass plays of 20 yards or more. That was the fourth-most by any one team in the league. This year, that number sits at 21 such plays through five games (third-most in the NFL) and is on pace for 67.
We can't know exactly where the blame lies for any given play, since we aren't in the meeting rooms and don't know the calls, but given that the Dolphins are traditionally in Cover 2 on the back end, they shouldn't be giving up this many big plays through the air.
Strong safety Reshad Jones—recently signed to a four-year, $29.36 million contract—has seen his performance drop off significantly from last year.
On this play against the Ravens, Jones was in coverage on tight end Ed Dickson and was caught in trail technique. He tried to make a play on the ball, instead of making the sure play on the defender. He mistimed his attempted pass breakup, allowing Dickson to break free for 43 yards.
According to Pro Football Focus (subscription required), Jones has allowed completions on 15 of 20 throws into his coverage for 230 yards, one touchdown and one interception. For comparison, Jones allowed 19 receptions into his coverage all of 2012, on nearly twice as many targets.
Free safety Chris Clemons hasn't been brilliant this year, either. He hasn't been exposed as much in coverage, but he's missed five tackles this season, including three against the Falcons. 
Jones' contract extension before the season is all the evidence you need that the Dolphins are counting on him as one of the bedrocks for their defense. With a defensive front that's among the best in football, the Dolphins defense could quickly get back to form if their safeties find their discipline.
Erik Frenz is also a Patriots/AFC East writer for Boston.com. Unless otherwise noted, all quotes obtained firsthand or via team news releases.