Baylor vs. Kansas State: Bears' Flaws Exposed in 1st True Test of 2013
October 12, 2013

And now we know that Baylor is not, in fact, a team of cyborgs. 
As disappointing as that is, critics complaining that the Bears had yet to play anyone with a pulse got some validation on Saturday when Baylor escaped with a 35-25 win over Kansas State. 
For the first time all year, Baylor looked beatable because the offense didn't look like its normal self. There were still quick strikes—three touchdown "drives" covered at least 71 yards in five plays or less because wide receivers Tevin Reese and Antwan Goodley can flat outrun people—but K-State's defense did a good job of keeping just about everything in front of it. 
Including Baylor's running backs. Lache Seastrunk and Glasco Martin still had 129 yards rushing between them, but no big runs. And when you're averaging 11 yards a carry like Seastrunk was heading into Saturday, that's a victory in and of itself. 
Despite the loss, this was an impressive defensive performance from Kansas State, and defensive end Ryan Mueller deserves the most praise for his efforts. Mueller's strip and fumble recovery of Baylor quarterback Bryce Petty was the best individual play of the weekend.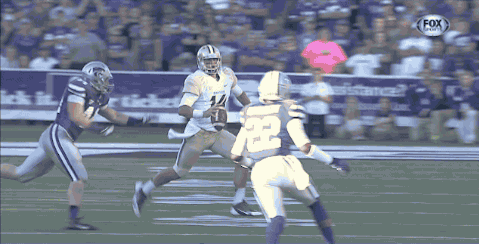 The Wildcats have replaced so many starters from a year ago and have come a long way from allowing North Dakota State to march down the field for a game-winning touchdown in Week 1. 
That means it's an incredibly well-coached team. But it's Bill Snyder, so what would you expect? 
Baylor was going to get Kansas State's best shot on Saturday, and good teams do figure out a way to win. Since the Bears are considered to be the best team in the conference, they'll continue to get that for the rest of the season—not to mention the competition is going to get significantly tougher in a few weeks. 
Three of Baylor's next six games are on the road, too. As David Ubben of Fox Sports Southwest previously noted, the Bears haven't recently been good away from Waco (Baylor is 2-7 on the road in the past two years.):
Futility on the road is the biggest reason Baylor hasn't gotten over the hump and proven itself as a serious contender for a Big 12 title over that span. Kansas State was 4-1 in Big 12 road games on the way to the title in 2012, including a win over co-champion Oklahoma. In 2011, league champion Oklahoma State was 3-1 on the road in Big 12 play. 
Baylor was fortunate to get a road win against the Wildcats. 
So, scoring 70 points a game? Okay, that's probably not going to happen on a week-to-week basis anymore. In that regard, the Bears scoring 35 points wasn't the most concerning part. 
Allowing 327 yards rushing was, however.

Scott Sewell-USA TODAY Sports
Kansas State quarterback Daniel Sams is one of the most electrifying runners at the quarterback position in the Big 12. On Saturday, he rushed 30 times for 199 yards and three scores. Like the K-State offenses of old, there was no secret what the Wildcats were going to do. Sams would take the snap, allow his line to block and open holes, and run. 
Yet, Baylor was powerless to stop it even though there was hardly any threat of the pass. 
The Bears are going to face some more complete offenses with the likes of Oklahoma and Texas still on the schedule. If Baylor is going to give up yards, then it has to be able to take the ball away. On Saturday, Baylor forced one turnover: an ill-advised throw from Sams in the fourth quarter that was read perfectly by Ahmad Dixon for an interception. 
The problem isn't that someone figured out how to stop Baylor from scoring a point a minute. The problem is what Baylor does defensively when it isn't up by 35 at the half. 
On Saturday, we caught a glimpse of how Baylor responded.