Miami vs. North Carolina: Score, Analysis as Hurricanes Are Put on Upset Alert
October 18, 2013

Using an impressive 13-play, 90-yard drive that was accomplished in less than five minutes, the Hurricanes avoided an upset with a late touchdown to pull out a 27-23 win over North Carolina on Thursday night.
ESPN College Football summed up Al Golden's feeling's about the game via Twitter:
While this wasn't the Hurricanes' most thorough victory of the season, a win is a win, and this one helped ensure No. 10 Miami its best start since 2004.  
Kenan Stadium and the Tar Heel faithful did not see the cleanest game on Thursday. There were six total turnovers, but it definitely didn't lack for excitement. 
North Carolina (1-5), featuring black uniforms for Zero Dark Thursday, came out fired up for this game. The Tar Heels have been supremely underwhelming in their slow start, and this young team was intent on proving it is not without talent. 
It didn't take it long to do so. On Miami's first possession, North Carolina was able to get pressure on quarterback Stephen Morris and force an interception. 
That interception was not a fluke. Morris suffered four picks on the night and went 19-of-35 for 322 yards and no touchdowns. 
However, the Tar Heels were unable to capitalize after a pick of their own. This one came in the Miami end zone, and there was room to second-guess coach Larry Fedora. The Tar Heels, behind quarterback Bryn Renner, had a nice drive going. Fedora put in sophomore quarterback Marquise Williams for a play, had him throw and it was picked.  
Miami, following a 59-yard run by Duke Johnson, was able to parlay that turnover into three points. However, the Tar Heels kept the Hurricanes out of the end zone after Miami had it first-and-goal at the one. 
Shortly later in the first quarter, Williams atoned for his earlier pick. Again subbing in for Renner, Williams hit receiver Eric Ebron, who managed to break toward daylight and go for a 71-yard score. 

Bob Donnan-USA TODAY Sports
Ebron flashed why he is arguably the best tight end in the country on that play. 
Miami tacked on another field goal to have the first quarter end 7-6, and then blocked a North Carolina field goal early in the second. A fortuitous bounce of the ball found Miami's Ladarius Gunter, who was able to return it for a touchdown and a 13-7 advantage.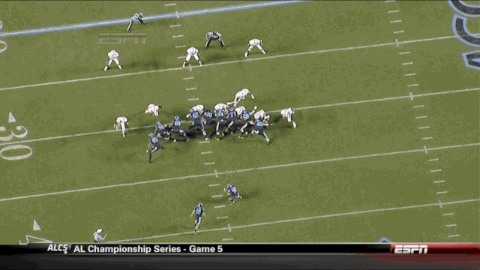 The North Carolina offense kept plugging away and Ebron kept producing. The tight end finished with eight catches for 199 yards and a touchdown. Most of that work came in the first half, and it helped the Tar Heels close out the half with 10 unanswered points to hold a 17-13 lead. 
After a fast-paced and productive first half, both defenses stepped it up in the second. The only score in the third quarter was a 35-yard field goal by North Carolina kicker Thomas Moore to give the Tar Heels a 20-13 lead heading into the fourth quarter. 
They extended that lead to 10 early in the final period on another Moore field goal. This one came from just 21 yards out as the Tar Heels failed in another red-zone situation. The missed opportunities proved to be costly. 
It took just three minutes for the Hurricanes to cut into the lead when Dallas Crawford found pay dirt on a three-yard run. With just over 11 minutes to go, the Tar Heels led 23-20. 
The Hurricanes were able to cut into that lead despite Renner completing a school-record 15 straight passes during that stretch. 
So, it should come as no surprise that North Carolina's offense was unable to add some much-needed points for the remainder of the game. 
That all led to the Hurricanes with the ball on their own 10 and less than five minutes to go. They were in a position to win the game, even though they probably shouldn't have been, and that is exactly what they did. 
Up next for Miami is a home game against Wake Forest on Oct. 26 and then what should be an epic showdown on Nov. 2 against Florida State. Meanwhile, the Tar Heels will continue to try and salvage their season as they host Boston College on Oct. 26.