Breaking Down the Blueprint for Beating Peyton Manning & the Broncos
October 22, 2013

Ron Chenoy-USA TODAY Sports
For the first month of the season the Denver Broncos looked unbeatable, but history tells us that it's incredibly hard to maintain such a high level of play for an entire season. In recent weeks, the Broncos sustained several key injuries and haven't been nearly as dominating. 
In quarterback Peyton Manning's return to Indianapolis, the Broncos lost their first regular-season game since Week 5 of 2012. The Colts did something that 14 different teams have been unable to do for over a year. In the previous 17 regular season games against the Broncos, no team had defeated them and most opponents struggled to even keep the game close.
The Colts were not only able to win, but they were able to dominate for the better part of three quarters. It was the best game plan and execution of that plan against the Broncos that we have seen in a long time and is a nice blueprint for slowing them down—one other teams will certainly attempt to replicate.
In many ways, the game plan to beat Manning and the Broncos has not changed. Put pressure on Manning, press the wide receivers and score points early and often. Such a game plan isn't new, but the Colts were able to execute their plan where others have failed.
Get Grabby
One of the primary things the Colts did was get physical with Manning's receivers and tight ends. Jamming the receivers at the line of scrimmage forced the Broncos to give Manning better pass protection and test the defense deep.
The Colts took the same concept a step further by grabbing, rubbing and gently bumping Denver's receivers further than five yards down the field. No official is going to throw a flag on every play for such behavior, so it makes sense to see how much contact they can get away with without drawing a flag.

Brian Spurlock-USA TODAY Sports
There is a distinct advantage to playing at home and in a prime-time game when it comes to executing this strategy. The home crowd and prime-time games have a natural cooling effect on the officials throwing an obscene amount of penalty flags.
In the 2003 AFC Championship Game, New England Patriots Cornerback Ty Law used this strategy to an extreme to limit Marvin Harrison to just three receptions for 19 yards. Law also picked off Manning three times, and the Patriots won 24-14.
The following offseason, Colts president and general manager Bill Polian successfully lobbied to have the rules prohibiting contact further than five yards down the field more strictly enforced. At the time, Polian was a powerful member of the NFL's competition committee.
In a way, the NFL has shifted more toward the pass ever since that game, and it's a lot harder to get away with contact past five yards in today's NFL. Teams just have to be more subtle about their contact, and the Colts were masterful at it Sunday night against the Broncos.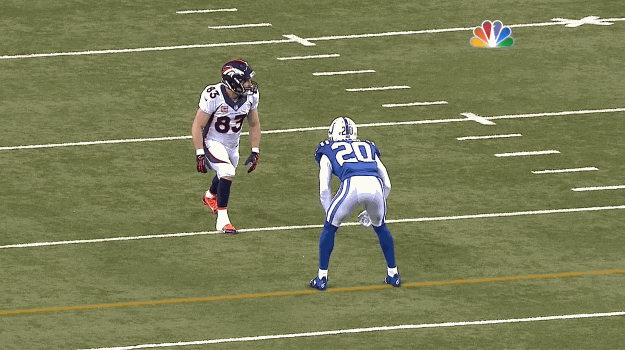 Early in the game, Darius Butler knocked away a short pass intended for Wes Welker, while having his right arm draped around Welker for basically the entire play. The contact wasn't egregious, but pass interference has been called in less extreme cases.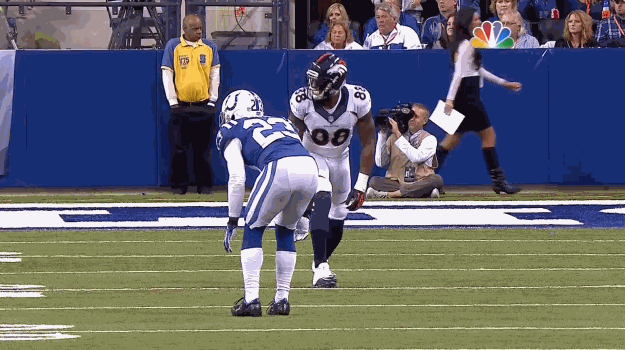 Toward the end of the first half, you will see a series of plays where Colts cornerback Vontae Davis successfully knocks Demaryius Thomas off his route. Davis uses proper technique and initiates subtle contact but nothing that would draw a penalty.
Davis first gives Thomas a little shove and then extends his arm and attempts to grab Thomas' pads. It's just enough of contact to make it impossible for Thomas to come back and make a play on Manning's pass. The Colts were grabby enough to impact Denver's routes but not so much as to invite penalty flags.
Later in the game, Eric Decker wants a flag when the defender grabs his arm and the pass falls incomplete. On the same play, Welker is also being contacted and his route disrupted. The Colts got away with a little more contact than normal, but a lot of it was just good man coverage and the Broncos didn't take advantage. 
The Colts used these tactics for pretty much the entire game and were called for defensive holding once and defensive pass interference once. Overall, the Colts have to be happy more penalties weren't called.
The trouble with trying to replicate what the Colts did is the likelihood that more of these penalties will be called in the future, especially after the Broncos submit their list of grievances with the league. It only takes two or three of these penalties to force the defense to play a less physical game. 
Hurry! Hurry! Hurry!
Manning is not what you would call a mobile quarterback, and like any quarterback he's impacted by pressure. Manning just so happens to get the ball out of his hands quickly, and until recently, he had a very good offensive line.
To go along with the "grabby" tactic in the secondary, the Colts had to get pressure. If Manning had a lot of time to throw, he'd just eat them up with deep passes. Manning tried just that, going 5-for-13 on passes over 20 yards against the Colts, according to ProFootballFocus (subscription required).
Manning's Deep Attempts By Game
Week
Attempts
Completions
Yards
Touchdowns
Interceptions
1
6
3
78
3
0
2
3
1
36
0
0
3
2
2
54
0
0
4
3
1
52
0
0
5
4
3
86
0
1
6
6
4
122
0
0
7
13
5
170
1
0
Total
37
389
598
4
1
profootballfocus.com
In the previous six games, Manning averaged just four attempts per game over 20 yards and his 13 deep attempts against the Colts make up over one-third of his deep attempts on the season.
At times it seemed like Manning and the Broncos fell in love with these low-percentage passes. The deep passes should have opened up things underneath for the Broncos, but they could never get anything going because Manning was under so much pressure.
Broncos head coach John Fox said Monday, via the team's official website, it was a "chuck-and-duck kind of game," alluding to the protection issues.
Fox said the protection issues were the result of playing from behind and on the road against a great pass-rusher in Robert Mathis. While those were factors, the Broncos were allowing pressure long before they fell behind. 
The bigger issue of the Broncos was that only left guard Zane Beadles and center Manny Ramirez were starters playing at their normal positions. Right tackle Orlando Franklin was injured last week, forcing starting right guard Louis Vasquez to move to right tackle.
Backup Chris Kuper came in to play right guard, exhausting Denver's depth on the offensive line. This was only necessary because offensive tackle Chris Clark, who would normally be the backup tackle, has become the starting left tackle since Ryan Clady was lost for the season.
To illustrate how the coverage and the pass rush work together, let's go back to the incomplete pass from Manning to Welker with Butler in coverage.
Mathis gets immediately around Clark to put pressure on Manning. If Manning doesn't throw to Welker, who is likely his "hot" receiver, it's a sack or he's hit as he's throwing. 
The Broncos have been able to hide their offensive line injuries to this point, but against an elite rusher like Mathis it became a serious problem. The Broncos will face plenty of good pass-rushers this season, so this problem could persist and be one that opposing defenses will look to exploit. However, without great coverage, Manning will do what he normally does and get the ball out quickly to his receivers and let them gain yards after the catch.
Score Often and Capitalize on Denver's Mistakes
The Broncos have 13 turnovers in seven games, but Manning has thrown just three interceptions. Clearly the issue is fumbles; the Broncos have a whopping 10 fumbles in seven games, which is two more than any other team.
Even worse, the Broncos have actually fumbled 17 times, 10 is only the number they have lost. Manning has five fumbles, the running backs have combined for five fumbles and the receivers have combined for four.
Broncos Turnovers By Player
Player
Interceptions
Fumbles
Fumbles Lost
Peyton Manning
3
5
3
Montee Ball
0
2
2
Ronnie Hillman
0
2
1
Trindon Holliday
0
2
1
Eric Decker
0
2
1
Wes Welker
0
1
1
Danny Trevathan
0
1
1
Demaryius Thomas
0
1
0
Knowshon Moreno
0
1
0
Totals
3
17
10
nfl.com
Every turnover is worth roughly four points, but it hasn't impacted the Broncos until the game against the Colts. Why? The Colts turned Denver's turnovers into points.
Trindon Holliday's fumble turned into a touchdown for the Colts, and Manning's interception turned into a field goal. Ronnie Hillman's fumble probably took at least a field goal and probably a touchdown off the board.
Manning's sack fumble was the most damaging because it turned into nine points. The Colts got two points from the safety and another possession with good field position that turned into another touchdown. In total, the Colts had 19 points off the turnovers, but the point swing was probably 29 points or more.
The Broncos are a good team, but the defense isn't nearly what it was last year, for whatever reason. Pass-rusher Von Miller returned against the Colts from a six-game suspension, but Andrew Luck was able punch the ball into the end zone four times anyway.

Brian Spurlock-USA TODAY Sports
Even though the Colts were able to slow Manning down, the Broncos still scored 33 points and only lost by six. If not for Hillman's key fumble, the Broncos may have come back to win the game. 
With the Broncos turning the ball over nearly three times per game, teams they play must capitalize on those mistakes and turn them into points. But they can't stop there. To beat the Broncos, teams need to slow down Manning, score off of turnovers and score with their offense.
The Colts were able to score on over 41 percent of their drives (not counting the final one) against Denver, which is actually lower than their season average of 42.3 percent. Only six teams other than the Broncos have scored on at least 41 percent of their offensive drives in 2013, according to pro-football-reference.com.
Scoring on the Broncos has become far too easy this season, as opponents are scoring on 37.6 percent of their drives against them. Last season, the Broncos allowed opponents to score on only 26.9 percent of their drives. Clearly Miller's absence has been important, but it's tough not to think that there is more to it than that.
And that has to be a concern for the Broncos going forward. 
Tough To Replicate
The blueprint to beat the Broncos is certainly repeatable, but that doesn't mean it will be easy. It takes a good defensive game plan and execution, and it takes turnovers and plenty of scoring to beat the Broncos.
The Colts just happened to hit on all three. 
There aren't many offenses that are good enough to pull away from the Broncos or capable of capitalizing on nearly every mistake. There are only a handful of offenses in the league that are probably capable, even though Denver's defense is clearly not what it was last season. 
The Broncos may face even better defenses, but the Colts were able get away with contact in the secondary after five yards and had an elite rusher exposing Denver's offensive line. Even a defense better than the one in Indianapolis is not necessarily going to have both things going for them when they face the Broncos.
While the Broncos lost their first game, they are still one of the elite teams in the league and will rebound. The Broncos are certainly beatable, but what makes them so good is that future opponents are still going to have a hard time replicating the blueprint the Colts used.