Big 12 Football: What We Learned in Week 9
October 27, 2013

Getty
Another week is in the books, and for the first time this year, a Top 10 team in the Big 12 has suffered defeat. No. 10 Texas Tech received its first loss on the road to Oklahoma, 38-30. 
All other games went according to plan, however. With an intriguing slate of November games coming up, though, the Big 12 is set to get a lot more interesting. 
What did we learn in the Big 12 in Week 9?
November Is Going to Be a Lot of Fun
The Big 12 title race picks up beginning next week, and five teams—Baylor, Oklahoma, Oklahoma State, Texas and Texas Tech—are still in the hunt. Many of those teams have yet to play each other. If Texas Tech-Oklahoma was any indication, the best football is yet to come. 
It also means favorites like Baylor shouldn't be penciled in for anything, and one-loss teams like Oklahoma and Oklahoma State shouldn't be counted out. The Sooners and the Cowboys hardly looked like the best teams in the Big 12 over the past couple of weeks, but both had a lot to be happy about in Week 9. 
As Baylor would attest, it's all about when you get on a roll. 
No Need to Jump Ship on Texas Tech...Yet
Texas Tech is no longer undefeated. Does that make them overrated, as Oklahoman columnist Jenni Carlson opined this past week? Maybe a little, but losing by one possession to an opponent that played its best game of the year shouldn't be looked on too poorly. 
Texas Tech has to clean up the mistakes, and that's been the case for the past few weeks. The Red Raiders had three turnovers against the Sooners, and it came back to haunt them. Not to mention Tech's defense got beat up by Oklahoma's power running game. That could be an area of concern with Oklahoma State, Kansas State, Baylor and Texas still on the schedule. 
Tech looks like a nine- or 10-win team, but that may still win the Big 12. It's too early to take them out of the conference title race based on one game. 
Oklahoma State Found Its Running Game, and Its Name Is Desmond Roland 

/Getty Images
Senior running back Jeremy Smith was demoted against Iowa State after having, to put it lightly, a rough year. That may have fixed Oklahoma State's woes in the rushing department. Junior Desmond Roland racked up 219 yards and four touchdowns in a 58-27 win over Iowa State. To put that in perspective, Roland had 147 yards and two touchdowns entering Week 9. 
Oklahoma State's offense has leaned heavily on the pass this year, but a better ground game will make it more multiple and harder to stop. The Cowboys had been struggling to score in Big 12 play. Not coincidentally, they were averaging just a touch over 100 yards a game on the ground. 
Expect head coach Mike Gundy to keep feeding Roland the ball. 
West Virginia's Fourth-Quarter Problems Have Been Costly
Incorporating new faces into the offense was going to result in some growing pains for West Virginia. That much was known. But WVU's fourth-quarter struggles have demonstrated just how far this team has to go to even think about a bowl game. 
Down two points to Kansas State entering the fourth quarter Saturday, the Mountaineers gave up 21 unanswered points to the Wildcats in a 35-12 loss. Up four on Texas Tech in Week 8, WVU again was shut out in the fourth quarter while giving up 14 points in a 37-27 loss. 
The defense is improved from a year ago, but it lacks the depth to finish games strong. The offense can't make plays in crunch time. There are a lot of issues for the Mountaineers, and finishing games is among the biggest. That's on head coach Dana Holgorsen. And, remember, WVU was able to fend off Oklahoma State in late September, so the 'Eers have shown they can close out close games before. 
It Doesn't Matter Which Quarterback TCU Plays If the Offensive Line Can't Block

/Getty Images
Senior quarterback Casey Pachall returned to the field for TCU Saturday against Texas after breaking his arm in Week 2 against Southeastern Louisiana. The results were about as bad as one would expect in a 30-7 loss. Pachall went 13-of-34 for 139 yards and an interception. 
Some of that should be expected. Pachall was rusty, and Texas' defense is *gasp* playing up to high expectations. TCU's receivers haven't been doing anyone any favors, either. But, like fellow quarterback Trevone Boykin, Pachall was on the run all night. Even efficient passers like Pachall can turn into average quarterbacks when forced to run for his life. 
Boykin or Pachall. It likely doesn't matter which quarterback head coach Gary Patterson plays if the offensive line struggles to block. 
Other Happenings from Around the Big 12 in Week 9
Best Offensive Performance
Oklahoma State running back Desmond Roland. There were some good candidates this week, but how do you overlook a guy who ran for a career-high 219 yards and four touchdowns?
Best Defensive Performance

West Virginia safety Karl Joseph. It was in a losing effort, and WVU gave up 35 points, but Joseph is the real deal. He had 12 tackles against K-State, all solo and two of which went for a loss, a forced fumble and fumble recovery. 
Best Quote

Oklahoma State coach Mike Gundy with the real talk. "Hell, everyone on the team is wide open."
Hardest Hit Taken by a Head Coach

Oklahoma's Bob Stoops. Can't say the guy isn't tough.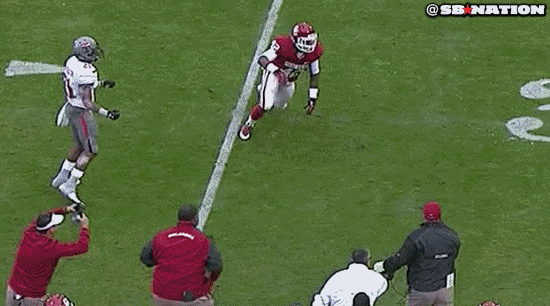 Best Halloween Costume

Kansas State coach Bill Snyder has a "mini me," and it OMG it is precious. 
Ben Kercheval is the lead writer for Big 12 football. All quotes obtained firsthand unless noted otherwise. You can follow Ben on Twitter @BenKercheval.