Is Case Keenum's Breakout Performance a Sign of Things to Come?
November 4, 2013

Thomas Campbell-USA TODAY Sports
The Houston Texans just might have their future quarterback in Case Keenum. 
Seriously. 
All the former undrafted quarterback did to follow up his 15-of-25, 271-yard, one-touchdown, zero-interception performance against the Kansas City Chiefs in Week 7 was complete 20 of 34 pass attempts for 350 yards, three touchdowns and no picks against the Indianapolis Colts in Week 9. 
Sure, the Texans lost both contests, but Keenum was surprisingly impressive against two relatively strong defenses.
According to Football Outsiders, through Week 8, the Chiefs had allowed the fewest yards and points per drive in the NFL. Meanwhile, the Colts were 19th and 10th in those respective categories.
Although 14 of his passes fell incomplete in the crushing three-point loss to the Colts on Sunday night, Keenum again exhibited many encouraging quarterbacking attributes. 
First and foremost, he wasn't afraid to let it rip often and made it known early that his arm is plenty strong enough. 
After a play-action fake in the first quarter, 320-pound nose tackle Aubrayo Franklin had a free run at Keenum. Without being able to properly step into the throw, he launched a pass that traveled over 50 yards in the air to Andre Johnson for the second touchdown of the evening.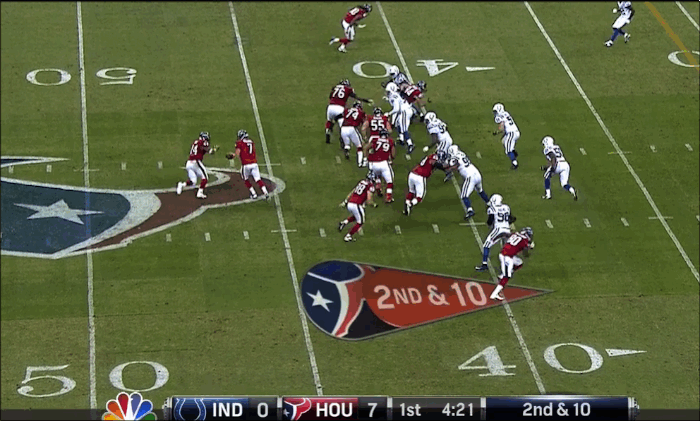 Something else that was noticeably refreshing about Keenum was his ability to throw on the run, whether it was a designed bootleg or when protection broke down. 
Check out the poise he demonstrated on this second-quarter pass to Johnson after he was flushed from the pocket following another play-action fake. 
Ricky Jean-Francois blew up the play from the start and was within a few yards of the quarterback when he whipped his head around. Keenum used his deceptive athleticism and made a pinpoint throw to Johnson down the field. 
It's not that Matt Schaub is a complete statue in the pocket. It's just that he doesn't possess much lateral agility to improvise if one of the many of play-action bootlegs in Houston's offense is initially interrupted by an opposing defender.
Keenum has that mobility and can improvise while keeping his head downfield. 
That's vital. 
Keenum also showed off the ability to deliver a touch pass as he's being hit—another crucial skill for NFL quarterbacks to have in their arsenal. 
Late in the second quarter, Keenum stood in the pocket as pressure mounted and delivered a perfectly lofted pass to Johnson down the left sideline.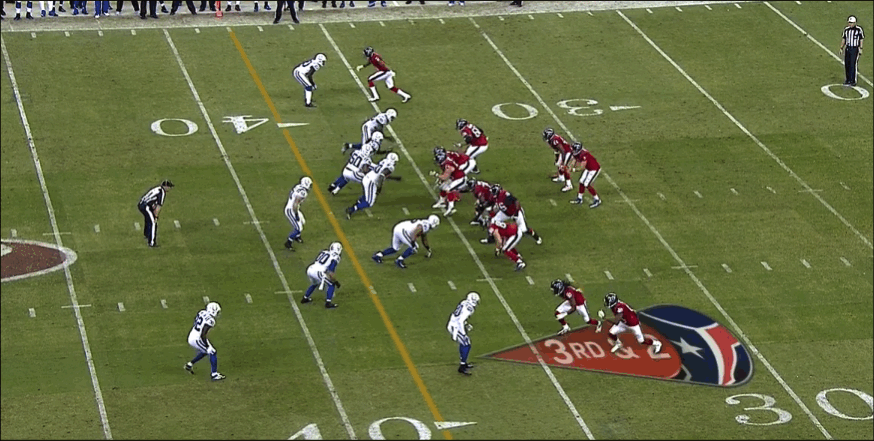 Though slightly underthrown, the high-arcing toss was on target and resulted in a 30-yard gain on 3rd-and-2. 
Not everything Keenum did against the Colts was spectacular, and NFL quarterbacks don't have to do miraculous things on every play. 
On a completion late in the fourth quarter to DeAndre Hopkins, Keenum climbed the pocket as Robert Mathis approached off the edge. Seemingly unfazed by the outside rush, he fired a 25-yard laser that hit the rookie between the numbers for a huge first down.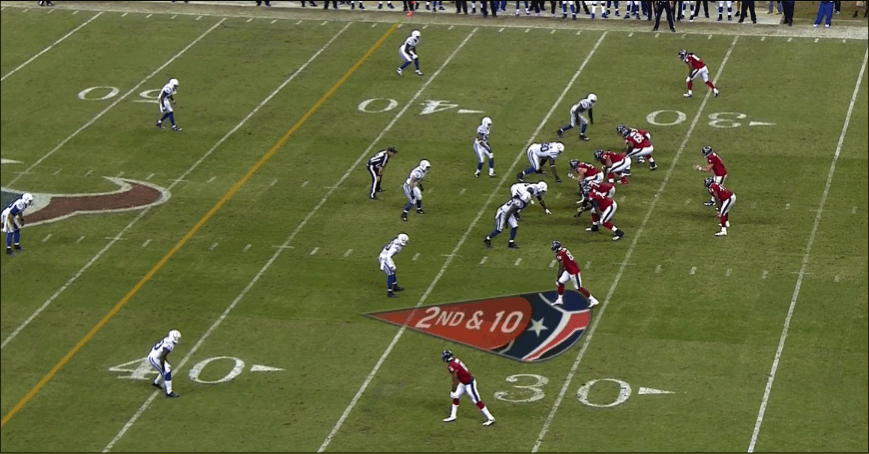 Down three points, Houston needed to get into field-goal range. After Hopkins' reception got the Texans to midfield, Keenum threw another strike to Johnson with Mathis bearing down from the right once again.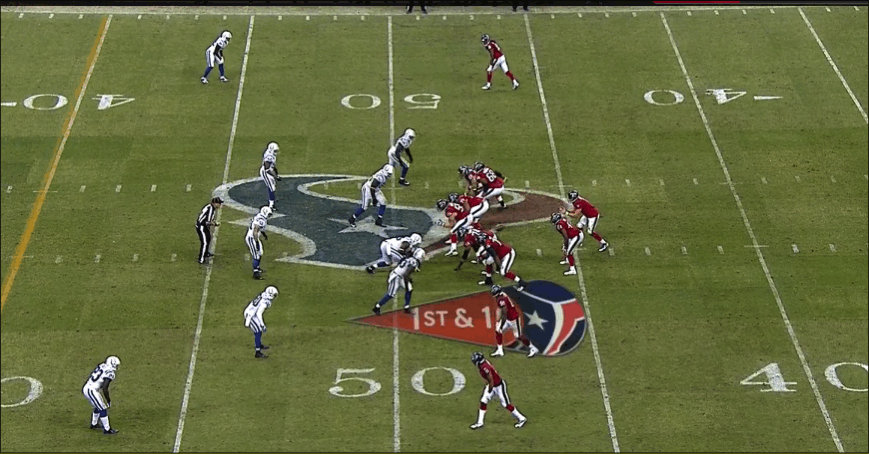 He made a subtle move to his left and hit his target in a crowd of four Indianapolis defenders. 
It's important to remember that just about any player can look like an All-Pro if his four or five best plays are highlighted in film review. 
However, Keenum's five best throws and decisions were extremely impressive for the second consecutive week. The above animations were simply the prime examples of Keenum showing he was in fact capable executing important quarterbacking duties.
He appears to be a pass-first, pocket signal-caller who learned the intricacies of playing the position with an abundance of experience and success in college. 
He moves well when need be, always keeps his eyes downfield and throws with much more zip and accuracy than many expected. 
Does Case Keenum have to improve in certain areas? Sure, but he's looked like a legitimate NFL quarterback in his first two NFL starts.