Russell Westbrook Has His Swagger Back
November 7, 2013
Russell Westbrook surprised fantasy owners and NBA owners alike when he returned to the court on Sunday against the Phoenix Suns. Only six months after tearing the meniscus in his right knee, and only a few weeks after a secondary operation that was supposed to keep him out at least a month, he started at point guard for the Oklahoma City Thunder and scored 21 points. After shaking off some cobwebs and a 5-of-16 shooting line, Westbrook was all systems go against the Dallas Mavericks on Wednesday night. 
His recovery was remarkable, but his determination is as acutely honed as his fashion sense. With him back in the lineup the Thunder look ready to contend for a title once again. Though Westbrook has certainly showed some rust since returning, he's got the confidence in his game back which will help fuel his aggressive play, and that's great news for everyone in OKC, especially Kevin Durant.
The Dunk
The 24-year-old Olympic gold medalist looked agile in attacking the rim throughout the game against Dallas, but the crowning glory was his coast-to-coast slam dunk in the fourth quarter that sent the home fans into a frenzy and flattened the Mavs with Mark Cuban in attendance.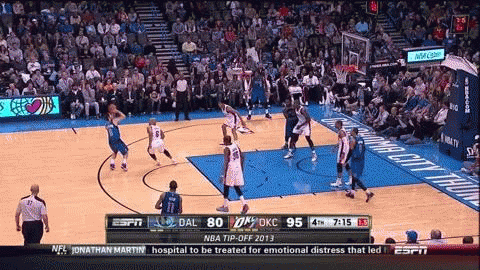 Just before the seven-minute mark, Westbrook grabbed a rebound and dashed through the Dallas defense. He dribbled the first 80 feet with the headlong intent of a freight train, outracing three defenders, and then launched himself slightly in front of the free-throw line.
Monta Ellis and Jose Calderon flanked him and gazed in amazement at Westbrook's magical knee before he flushed it home and received some love from Durant. 
The whole thing happened in the span of five seconds. The play was stunning, and it left no doubt that Westbrook is back, and he's got that old bravado in droves. 
Getting Acclimated
Westbrook finished with 22 points on 10-of-20 shooting, plus four assists and two steals. He also committed five turnovers, proving that just like Derrick Rose, the instinct required to play point guard does not return as quickly from time off as compared to the physical component of the game.
Through two games, Westbrook has coughed up nine turnovers, though that isn't far off his average of 3.3 per game last season. The issue is more pronounced for Rose, whose had 21 turnovers through four games after sitting out all of 2012-13. After sitting out for so long, it's understandable to see a point guard's decision making be slightly behind game speed.
The most important thing is health more than efficiency, and Westbrook proved he's got his burst back as he showed supreme confidence in assailing the Mavericks throughout the game. 
Unselfish KD
The other upshot of Westbrook's return is that Durant can shoulder some of the distribution duties, which is precisely what he did on Wednesday night.

Mark D. Smith-USA TODAY Sports
When Westbrook's knee gave out in the 2013 playoffs, Durant transformed into a point forward. It did not work out well as he attempted to do absolutely everything, and OKC fell to the Memphis Grizzlies. Now back to playing alongside a healthy Westbrook, he can deploy that weapon at his leisure without overdoing it.
Against Dallas, Durant attempted 16 field goals compared to 20 for Westbrook, and he dished an impressive 10 assists to just four from the team's starting PG. More impressively, Durant hooked up with seven different players on those 10 dimes, displaying total unselfishness.
Instead of forcing the issue, Durant took what the Mavs gave him and found the open man with a deftness often displayed by LeBron James. KD still remained aggressive, scoring 23 points and getting to the foul line nine times. He did commit five turnovers, proving there must be a middle ground, but OKC's Big Three (Serge Ibaka included) shined with 62 points as they ran away from the Mavs 107-93.
Westbrook's absence helped the Thunder assess what talent they had, especially Reggie Jackson and, to a lesser degree, Jeremy Lamb. Now that he's returned, OKC has its swagger back once again. If the stars stay healthy, there's every reason to believe the Thunder have a great shot at winning the West.