What Should We Expect from Oakland Raiders Quarterback Matt McGloin?
November 16, 2013
Kirby Lee-USA TODAY Sports
Oakland Raiders starting quarterback Terrelle Pryor has a sprained MCL and was very limited in practice Friday. The team isn't going to come out and say it, but backup quarterback Matt McGloin is going to start Sunday against the Houston Texans even though Pryor hasn't been ruled out.
It's easy to look at this situation and expect the worst. An undrafted rookie free agent making his first career start on the road against a good defense is a recipe for disaster—at least it is for a team desperate to win games.
For the 3-6 Raiders, evaluating the young players on their roster is almost as important as winning. From that perspective, McGloin getting the start for the Raiders is more an opportunity to get a look at him in live action.
Expectations should be realistic considering the deck is stacked against McGloin, just as they were for Pryor at the start of this season. It's time to start evaluating for the future, so McGloin getting the start is every bit as much about next year as it is about Week 11 of the 2013 season.
Who is this guy?
McGloin went undrafted out of Penn State, so that should tell you everything you need to know about what the NFL thought about him coming out of college. The Raiders brought him in as a camp arm and he ended up beating out fourth-round pick Tyler Wilson for a roster spot in training camp. The Raiders also felt comfortable making him the backup when Matt Flynn was released earlier this year.

Evan Habeeb-USA TODAY Sports
McGloin was also in a very similar situation his freshman year of college as a walk-on at Penn State.  When injuries provided McGloin an opportunity to play, he forced his way into the conversation as the starting quarterback and won the job a couple weeks later.
"Any time you get reps with the first team, you have to make the most of them," McGloin said after practice on Friday via Vic Tafur of The San Francisco Chronicle.
Clearly the guy is a competitor, otherwise there is no way he would have made it this far. Maybe on other teams in different situations McGloin never gets a shot, but he's going to get an opportunity Sunday.  
"He just was a little bit of that 'it' factor about playing the quarterback position," head coach Dennis Allen said Friday via the team's official website. "He's got a lot of confidence in himself, and we've got a lot of confidence in him."
Does He Have Any NFL-Level Skill?
McGloin has a good arm when he steps into throws and appears to be the cerebral type, but he's also just 6'1" and 210 pounds. It's reasonable to expect a fair amount of McGloin's throws to get batted down at or near the line of scrimmage.
On 15 attempts in relief of Pryor against the Philadelphia Eagles two weeks ago, McGloin had two passes batted down at the line of scrimmage and a couple other close calls. McGloin did drive the Raiders down for a touchdown, so that was certainly something he can build upon.
There is only so much that can be gleaned from 15 passing attempts, but McGloin did demonstrate one essential passing skill—anticipation. It also just so happens to be a skill Pryor has struggled with all season.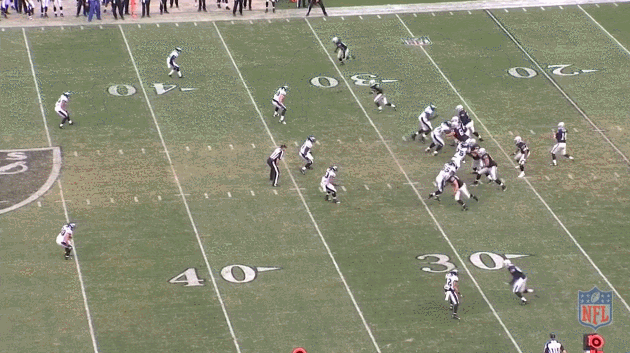 NFL Game Rewind
In this first example, McGloin throws low and behind Juron Criner. While not a completion, the play proves that McGloin knows where to go with the football and can anticipate a receiver getting open before he can actually see them get open.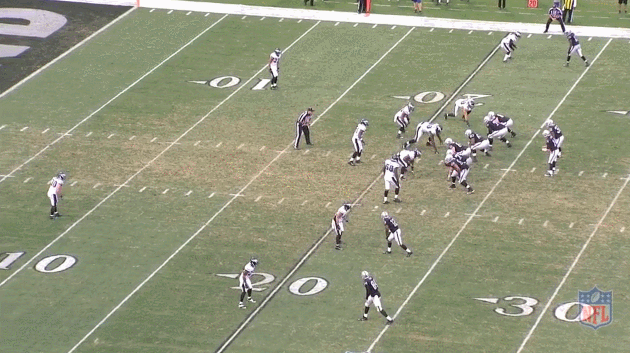 NFL Game Rewind
In the second example, McGloin reads the deep safety and sees him rotate over the top to the left leaving a huge hole in the middle of the field. McGloin knows Criner is running the deep post and doesn't hesitate to throw the ball even though he can't see if Criner is going to be open.
A tougher defense not playing soft coverage will certainly change things, but it appears as though McGloin has the anticipation skills to have some success. However, if McGloin isn't careful, his confidence is going to lead to interceptions as defenses throw different coverages at him.
Michael Silver of NFL.com reported back in September that there are voices within the organization who believe McGloin gives the Raiders the best chance to win. As it turns out, that may not be that crazy when Pryor isn't effective on the ground—we'll find out in Houston on Sunday.
A Stacked Deck
Unlike Pryor, McGloin isn't much of a runner. Whereas Pryor can escape pressure, McGloin needs the time in the pocket to deliver the ball to receivers running designed routes.
The good news for McGloin is that Andre Gurode could replace left guard Lucas Nix in the starting lineup Sunday. Nix has been terrible all season and the Raiders just didn't have many other healthy options with so many linemen injured.
Tony Pashos will also return from injury to start at right tackle, giving the Raiders their strongest offensive line in weeks. The right tackle blocks J.J. Watt, so getting Pashos back is a significant development for the team.
Failure to give McGloin adequate pass protection could yield ugly results.
Rookies also almost never win their first start on the road. In the last three years it has happened three times by my calculations. Kirk Cousins, T.J. Yates and Christian Ponder all won their first road starts as rookies—not Andrew Luck, Robert Griffin III or Russell Wilson.
The Raiders have only won a single road game since Dennis Allen became head coach—a 26-16 victory over the 2-14 Chiefs last season. In total, the Raiders are 1-11 on the road in the last two seasons and have been outscored by an average of 13.3 points per game.
If McGloin at least had a strong team around him, he'd have a better chance to be successful. As it is, expectations will be extremely low for the rookie. The Raiders just hope to see enough of McGloin to see if he has any kind of future in the NFL.