How Andy Reid Can Get More out of Chiefs Offense, Alex Smith
November 19, 2013

Getty Images
The Kansas City Chiefs have won nine games this season with a great defense, but there was always some concern about what would happen if the defense couldn't carry the team in a particular game.
It became apparent that if any team was going to score over 17 points on the Chiefs, it would be the Denver Broncos and their top-ranked offense.
On Sunday night, the Chiefs allowed 10 more points than their previous season high in a 27-17 loss. Kansas City's offense was wretched for a team that came into the game unbeaten, and it really isn't hard to point to it as the main culprit in the loss.
One loss doesn't erase nine wins, but it's possible the Broncos found the Chiefs' secret recipe in the drawer of an antique armoire. The Chiefs can pack up and move to Argentina, or they can try to create a new recipe for winning that includes a few more dashes of offense.
If the Chiefs want to make noise in the playoffs, getting more out of the offense and quarterback Alex Smith is a must. Trying to replicate what the 2000 Baltimore Ravens accomplished is a recipe for disaster in today's NFL.
That's not to say having a great defense won't help the Chiefs win games, but it's extremely difficult to win in the playoffs without a well-balanced team.
The Chiefs have to improve their offensive output and can do so by making some changes over the final six regular-season games of the year.
Go Vertical
The Chiefs have been one of the most conservative passing offenses in the league this season. The general idea is to take care of the football and let the defense win the game for them, but that's not going to work consistently against the good teams in the NFL.
Throwing more vertical passes is going to be a key for the Chiefs going forward. They don't have to get crazy with deep passes, but they need to start trusting that Smith can win the game with his arm.
According to Sporting Charts, Smith's passes have traveled an average of just 2.63 air yards ("defined as the total distance that a football is thrown beyond the line of scrimmage to the point of reception") this season—the lowest in the league.

Data via sportingcharts.com
Smith's arm strength has been a point of criticism for years, but it's highly unlikely that he made it to the NFL while only being able to throw the ball three yards from the line of scrimmage. In 2012, Smith's air yards per attempt were up to 4.26 yards. In 2011, 3.77 yards.
Smith has typically been toward the lower end of the spectrum in the category, but his 2013 number is extremely low even for him.
What is maddening about this approach is that Smith has demonstrated the ability to throw vertically with accuracy.
Take this throw to wide receiver Dwayne Bowe at the start of the second quarter against the Broncos. Smith sells the play-action fake and picks up 26 yards on the pass.
Game Rewind
Bowe lost his footing, but not because of the throw—it was nearly perfect. In most cases, Bowe should make that catch, along with the yards after catch.
Smith also threw deep to wide receiver Donnie Avery and tight end Sean McGrath in the first quarter and couldn't connect on either of them. Avery dropped a great throw by Smith and the pass sailed just over the head of McGrath as the tight end had some issues getting off the line of scrimmage against Denver's defense.
Even before they fell behind, the Chiefs threw vertically more than they had all season against the Broncos.
According to Pro Football Focus (subscription required), Smith was 9-for-15 for 140 yards and a touchdown when throwing beyond 10 yards, although Smith was only given credit for completing one of four attempts over 20 yards.
Perhaps the Chiefs are starting to realize the need to air it out vertically with a little more regularity, but struggled with execution. It was pretty clear from the beginning of the game that the Chiefs were going to try to test Denver's secondary. 
While he doesn't have the biggest arm, Smith is a quarterback capable of making some deep throws. At worst, Smith should attempt intermediate throws that can raise his ridiculously low average.
The Chiefs need to create more opportunities for Smith downfield. It's hard to just flip a switch and turn into a team with a competent passing game farther than five yards down the field. So there will be growing pains.
Smith has been great with accuracy and placement, so an increased risk of turnovers shouldn't be much of an issue. 
Big Plays 2013
Big Plays
No.
Percentage of Total
Percentage of Big Plays
Passing
14
2.10%
29.80%
By Jamaal Charles
1
1.50%
2.10%
Running
33
4.90%
70.20%
By Jamaal Charles
22
3.30%
46.80%
Total
47
7.03%
100.00%
By Jamaal Charles
23
3.40%
48.90%
sportingcharts.com
Those big plays are massively important to the success of a football team, and the Chiefs can't continue to rely on the defense and running back Jamaal Charles to make them all.
Overall, Sporting Charts indicates that the Chiefs are 18th in the league in "big play" percentage ("categorized as rushing plays that are over 10 yards and passing plays that are over 25 yards").  on offense at just 7.03 percent and Charles has accounted for 48.9 percent of those plays. 
There is obviously some risk to having Smith throw deeper passes, but it's a worthwhile reward. It's not like anyone is expecting Smith to just chuck the ball 50 yards down the field, but defenses aren't respecting the underneath passes from the Chiefs.
The only way the Chiefs can really take advantage of teams is by throwing it over the defenders' heads.
Breaking Bowe
Another thing that has been frustrating about Smith this season is his reluctance to throw to covered wide receivers. Normally, that might be a good thing, but Smith has to realize that Bowe is going to make a lot of catches with just his natural size, athleticism and soft hands.
Bowe doesn't run amazing routes and he isn't real fast, but he knows how to use his size. His touchdown grab against the Broncos was a good example of the kind of things he can do.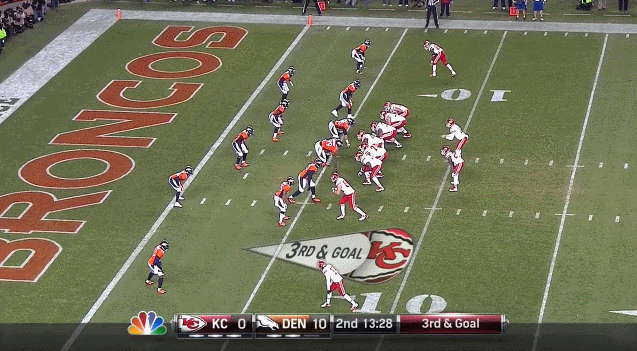 Game Rewind
Did Bowe get away with pushing off the defender? Perhaps, but receivers get away with little shoves like that on nearly every play—especially in the playoffs.
The last time the Chiefs went to the playoffs was 2010, and Bowe had 1,162 receiving yards on 72 receptions and 15 touchdowns that year. Bowe is currently on pace for just 59 receptions, 682 yards and five touchdowns—that's not good enough.
Avery has just 10 fewer receiving yards than Bowe, while Charles has 12 more receptions. This should not happen right after rewarding a player with a lucrative $56 million extension ($26 million guaranteed) over five years.
Bowe is being paid like an elite receiver, and he needs to start playing like one. But he also has to be given the opportunity. Smith has to trust that his No. 1 target is always going to come down with the ball in traffic rather than constantly checking down to Charles.
A receiver is not going to be open on every play, but that's what makes a player like Bowe so special. In a way, Bowe is never covered.
The sooner Smith realizes that Bowe is his secret weapon on third downs and in the red zone, the better the Chiefs will be offensively.
Stay the Course
Although some adjustments need to be made, it's easy to overreact when something isn't instantly working. Coaches would call it "trusting the process," "getting a little better every day" or "taking it one game at a time."
What you don't want are stubborn coaches that are unwilling to fit their offense around the players they have. That's a concern here, because head coach Andy Reid has such an established offensive system.
Of course, Reid wouldn't have been able to sustain success for so long if he couldn't make adjustments, either.
Alex Smith is still learning how to play within Reid's system. Everybody knows Reid likes to throw the ball, and many of the short passes are essentially running plays. However, throws to running backs aren't significantly dragging down Smith's production.
Smith's Yards Per Competion 2013
Total
Yards Per Completion
2013
10.3
To Receivers
11.9
To Tight Ends
10.9
To Running Backs
7.8
pro-football-reference.com
Smith has averaged 10.3 yards per completion this season and 7.8 yards per completion to his  backs. When you look at it that way, the Chiefs are wise to keep checking it down. High-percentage passes netting nearly eight yards apiece are what keep the chains moving.
The only reason to be concerned is if the offense is either regressing or stagnant. It would be difficult to make a case that the offense is getting worse, but it wouldn't be as hard to suggest the offense isn't improving.
The Chiefs have scored an average of 18.3 points per game on offense with a standard deviation of approximately four points. That's very consistent for an offense, but there also isn't much evidence that it is getting better.
Only the Chiefs' offensive effort against the Buffalo Bills fell more than one point outside the standard deviation, and that's somewhat understandable because the team scored two defensive touchdowns.
The Chiefs continue to be about the same offense regardless of the strength of the opposing defense.
The offense has been consistent and the team has been winning games, so it's hard for coaches to really see the necessity of making extreme changes. The Chiefs should implore Smith to trust Bowe and call more plays that ask him to take chances, but only if necessary.
The Chiefs can get themselves into big trouble by making too many changes too quickly. They have a winning recipe and making huge changes could ruin it. Instead, the Chiefs should just try to slowly change the ingredients in preparation for winning in the playoffs.
Against the Broncos, the Chiefs realized they needed to do things a little differently on offense and failed to execute. With a playoff spot nearly certain, the Chiefs can slowly integrate the changes that will help them compete in the postseason.
However, if the coaching staff doesn't trust Bowe or Smith, it's unlikely things are going to change. That has to be the biggest worry for Chiefs fans, but it also seems unlikely considering the organization's investment in the two (a 2013 second-rounder and a conditional pick in 2014 for Smith, and Bowe's big extension).
Changes need to be made, but there are six games left and the Chiefs are still in a great spot.
It would be nice to enter the playoffs as division champs rather than the AFC Wild Card, but the Chiefs are well aware that things could be a lot worse.