What's Wrong with Geno Smith?
November 25, 2013

Patrick Smith/Getty Images
All Rex Ryan had to say was "yes."
But when asked about Geno Smith's job security as starting quarterback, the Jets head coach didn't exactly offer a ringing endorsement.
"As I've said before, we'll look at the tape," he said. "I'm not going to talk about one individual."
That's familiar tact from Rex, who has used similar phrasing in postgame press conferences about one Mark Sanchez. Rex will most certainly see problems across the board when he turns on the tape, but he will find his laser pointer floating to No. 7 more often than any other player on the Jets offense.
Whether it's poor accuracy, a lack of confidence, lack of support around him, or some combination of those factors, the majority of the Jets errors on offense have been committed by one individual.
There hasn't been a more up-and-down team in the NFL this year, but Geno's play has been "down" for the past six games.
Geno Smith's up-and-down rookie season
Stretch
Record
Att
Comp
Comp %
Yds
YPA
TD
INT
Rate
First 5 games
3-2
156
94
60.3
1289
8.3
7
8
80.3
Last 6 games
2-4
161
81
50.3
938
5.8
1
10
44.5
Pro-Football-Reference.com
Smith has not completed more than nine passes in the past three games. The last time he did so was in a 49-9 blowout. He has earned a passer rating of over 70 just twice over the past six games (including a low of 10.1 in Week 11 versus Buffalo), and in that span, he has thrown just one touchdown and 10 interceptions while completing 50.3 percent of his passes. 
With numbers like that, it's no surprise the Jets rank 31st in scoring, and dead last in the past four games.
The problem isn't all Smith, however. 
According to Pro Football Focus (subscription required), Smith has been under pressure on 42.7 percent of his dropbacks—the fourth most in the NFL.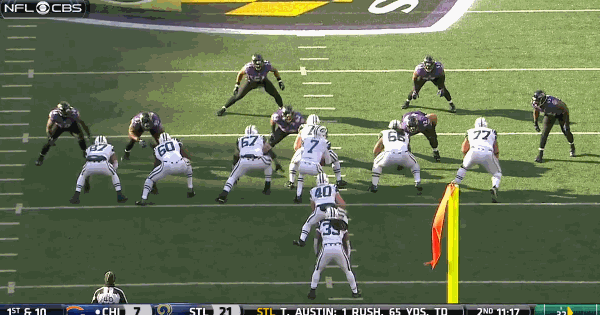 NFL Game Rewind
How can you expect any quarterback to find rhythm with pressure constantly in his face? 
The Ravens defense was in the backfield on this play before Smith could even set his feet. Dan Dierdorf put it best on the CBS broadcast: "I can't even say that this pocket collapsed. I'm not sure it ever formed."
Geno Smith from the pocket
Statistic
Value
NFL rank
Team sack %
10.2
32
Time to throw (seconds)
3.09
28/30
Time to attempt (seconds)
2.81
29/30
Time to sack (seconds)
4.39
26/30
Time to scramble (seconds)
5.41
25/30
% of passes in 2.5 seconds and less
37.2
28/30
ProFootballFocus.com
You could argue there are times when Smith holds onto the ball too long, though.
Whether he throws, gets sacked or scrambles, his time in the pocket is among the longest in the NFL. Particularly concerning is how long it takes him to tuck the ball and run. In some cases, you want the quarterback to hang in the pocket and read the defense as long as possible. But Smith knows he has the wheels to burn a defense, and he needs to put them to use more often. 
NFL Game Rewind
Sometimes, though, his struggles trace back to poor fundamentals, such as footwork. On this play, he took two hop-steps in the pocket as the pressure closed in on him. He needed to keep a sturdy base under him so that he could step into a throw, if he was going to do so. He took a false step or two, and lost his focus.
Had he kept his feet under him, he may have been able to scramble or at least throw the pass away. Instead, he was decked in the backfield despite having ample time with the ball in his hands to avoid the end result.
There are some struggles by the Jets receivers, as well. They've only dropped 19 passes this year, which isn't all that much compared to some other teams around the league. And the Jets have only dropped more than one pass in four games this year, according to PFF. 
The bigger problem is the lack of separation by the receivers.

NFL Game Rewind
Just look at the small window on this sideline pass to Santonio Holmes. 
Very few NFL quarterbacks would have been able to fit the pass into such a tight spot, and the rookie Smith has been criticized for a lack of overall accuracy since entering the NFL. He currently ranks dead last in PFF's overall accuracy metric.
Many of Geno's interceptions early in the season weren't on throws into narrow spots, though. They were simply poor passes or bad reads. Since the first 10 interceptions (reviewed here), he's thrown another eight picks to bring his total up to a league-leading 18.
Of those next eight picks, five were square on Smith's shoulders (either a bad throw, decision, read or some combination of the three) with one more split between Smith and a bad route by the receiver. Receivers were at least partly to blame for two picks, and the final pick was just a great defensive play by Bills safety Da'Norris Searcy.
Clearly, something has to change. At least  for now, though, it's not the starting quarterback. 
How much longer will the Jets stick with the status quo before the interceptions prove too much to bear? It's impossible to tell right now, but based on performance alone, nothing is settled about their QB situation beyond 2013. 
That means Smith has five weeks to kick it into high gear and prove the Jets didn't make a mistake in investing a second-round pick in him just seven months ago.
Right now, the Jets are not a playoff team. That could change with efficient quarterback play from here on out, but given Smith's performance over the past six games, it's easy to see why people have their reservations.
At this rate, it won't be much longer before Matt Simms gets a chance to prove his mettle in meaningful regular-season games—although, unfortunately for the Jets, those games may be far less meaningful if the Jets are no longer in the hunt for the playoffs.
Erik Frenz is also a Patriots/AFC East writer for Boston.com. Unless otherwise noted, all quotes obtained firsthand or via team news releases.