Steelers vs. Ravens: Score, Grades and Analysis
November 29, 2013

Getty Images
The Baltimore Ravens walked away with a hard-earned 22-20 win Thursday night against the Pittsburgh Steelers.
Much of the game devolved into a battle between Joe Flacco and Ben Roethlisberger. Flacco finished with 251 yards and one touchdown on 24-of-35 passing, while "Big Ben" went 28-of-44 for 257 yards and two touchdowns.
Both QBs did a great job of moving the ball downfield with time-consuming drives and avoiding costly turnovers.
It wasn't all about the star signal-callers, though, as this game was what you'd come to expect from an AFC North matchup at the end of November. It was smashmouth, physical football, no better exemplified than by the performance from Le'Veon Bell.
The rookie running back ran for 73 yards and a touchdown on 16 carries, while adding another seven receptions for 63 yards.
Alas, it wasn't to be for Bell and the Steelers, and it mostly came down to the hole they dug themselves into after a poor first half.
After forcing the Steelers to a three-and-out, Baltimore wasted little time in looking for the home-run ball. Flacco tried hitting Torrey Smith, who had his man beat deep. However, the pass was underthrown, and Smith couldn't make a play on the ball.
The Ravens remained persistent, with Flacco going over the top four plays later, this time connecting with Smith for a 54-yard bomb that would get the ball down to the Pittsburgh 1-yard line.
B/R
A few plays later, it was once again the Flacco-to-Smith combination making the big play; this time, the two would connect on a seven-yard touchdown pass to give Baltimore a quick 7-0 lead in the first quarter.
The matchup between Smith and Ike Taylor would prove to be one of the most intriguing all night. According to the Ravens Twitter account, these two had some history coming into the game:
More often than not, it was the Ravens wideout who would get the advantage, and as Andrew Siciliano of NFL Network pointed out, that's been a trend among many receivers whom Taylor covers.
In what would become a theme of the first half, the Steelers followed up with a long drive that went nowhere. They had the ball for 6:18 and gained just 16 yards. Pittsburgh's four drives of the first half went for a combined 34 yards despite it possessing the ball for over 15 minutes.
The Steelers had a chance to get on the board about halfway through the second quarter. Shaun Suisham was setting up for a 49-yard field goal, only he mistimed the kick, going for it before the holder had gotten the ball down and the laces turned out.
It resulted in what was a comical attempt to make the best of a terrible situation.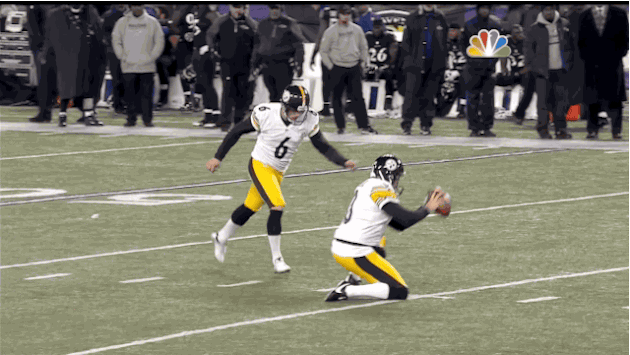 B/R
Baltimore was able to take a 10-0 lead on the next drive, courtesy of a 43-yard field goal from Justin Tucker with 3:01 left in the half.
That was the score heading into halftime, with the Ravens firmly in control of the game. Defensively, they were stifling any of the Steelers' offensive progress, and Flacco was doing a good job of managing the game and limiting the turnovers.
Another Tucker field goal made it a 13-0 game five and a half minutes into the third quarter.
Pittsburgh finally had a response. It took just 2:55 to go 80 yards, a drive that was capped off by Roethlisberger's eight yard touchdown pass to Emmanuel Sanders.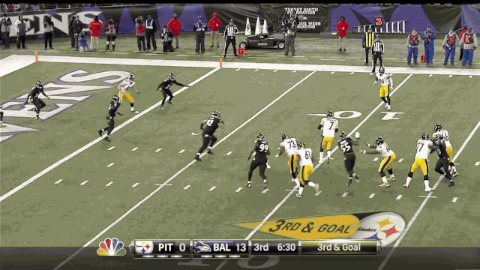 B/R
On the ensuing kickoff, controversy would abound.
Jacoby Jones broke free and looked like he could be headed to the house. However, Cortez Allen was able to track down the Ravens return man at the Pittsburgh 27-yard line.
In real time, it looked like any other run-of-the-mill kickoff where the returner gets space, only to have a defender take a nice angle and make the tackle.
Upon repeated viewing, it appeared as if Steelers head coach Mike Tomlin tried to slightly interfere with Jones' return. Bleacher Report's Cian Fahey provided visual evidence:
FOX Sports' officiating guru, Mike Pereira, was of the opinion that Tomlin deserved a flag on the play.
Jones wanted to defuse any drama after the game, per John Breech of CBS Sports:
Tomlin denied that he purposefully stood in the way of Jones on the return, per Sports Illustrated's Chris Burke:
John Harbaugh also played down the situation, per The Baltimore Sun's Jeff Zrebiec:
The Ravens would end up settling for another Tucker field goal, this one coming from 38 yards.
In the fourth quarter, Baltimore capitalized on another Pittsburgh three-and-out. Yet again, it was Tucker coming to the fore, as he nailed a 45-yarder to increase the lead to 12, 19-7.
The Steelers made things interesting with a one-yard touchdown run from Bell. It got them to within five points, 19-14, and built some positive momentum.
Once again, though, it was Tucker who kept Pittsburgh at a distance. He answered with a 48-yard field goal to bump Baltimore's lead back up to eight points, 22-14, with a little under six minutes left in the game.
The Steelers stormed back late, with Roethlisberger hooking up with Jerricho Cotchery for a one-yard touchdown pass that made it 22-20 in favor of the Ravens, with 1:03 to play.
Big Ben can at least take solace in the fact he matched a Pittsburgh legend with that TD pass, via ESPN Stats and Info:
Pittsburgh's two-point-conversion attempt failed, and it couldn't recover the ensuing onside kick.
It was all but over, with Flacco taking a couple of knees to end the game.
Key Player Grades
Joe Flacco, Baltimore Ravens: B+
Flacco did a great job of controlling the game. He avoided any turnovers and found his receivers open in the secondary.
You don't want to put Flacco in a position where he has to throw his team back into the game. He's not the kind of QB who can air it out, and with the cold weather, it can be hard to get the passing attack going.
Building that first-half lead allowed Flacco to thrive.
Justin Tucker, Baltimore Ravens: A

Patrick Smith/Getty Images
Tucker nearly ended up outscoring the entire Steelers offense with his five field goals.
It couldn't have been easy for him out there, as he was spending most of the game standing on the sideline, freezing his butt off. And he was still expected to step up and knock down field goal after field goal.
Harbaugh must have felt relieved, knowing that if his offense could get the ball to the 30-yard line, it could settle for three points, at the very least.
Le'Veon Bell, Pittsburgh Steelers: A

Evan Habeeb-USA TODAY Sports
With Todd Haley opting for a lot of short throws and runs up the middle, it was imperative that Bell get into a groove. That forced the Ravens to respect the Steelers running game, which in turn opened up those short passes and took some of the pressure off Roethlisberger.
Ben Roethlisberger, Pittsburgh Steelers: A-
Speaking of Roethlisberger, this was another one of those performances when you just sit back and wonder how he can avoid so many tacklers. He does so much with so little when it comes to his mobility in the pocket.
Roethlisberger won't be winning any footraces, but he knows exactly when to take that one step in the pocket that buys him enough time to get his throw off.
What's Next
The Ravens stay at home for Week 14, when they take on the Minnesota Vikings. The Steelers will head back to Pittsburgh, where they'll meet the Miami Dolphins.