Did Iowa Ignite an Otherwise Dormant Rivalry by Dominating Nebraska?
November 29, 2013

Getty Images
When Iowa Hawkeyes head coach Kirk Ferentz was asked about the Heroes Game being a rivalry with Nebraska, he had some sharp words about where this series was at. 
"Yeah, I mean hopefully we can make it one," said Ferentz. "We haven't beaten them in awhile—I mean, like decades." 
The Huskers won the first two versions of this game as conference foes, 20-7 and 13-7. After Friday afternoon's 38-17 win by the Hawkeyes, could this game finally be considered an actual rivalry? 
Dominating a game the way Iowa did on Friday goes a long way toward making this game a legitimate rivalry. 
Just how dominating were the Hawkeyes, though?

Bruce Thorson-USA TODAY Sports
Seven of Iowa's 15 possessions began in Nebraska territory, the team caused three turnovers and got after Huskers quarterback Ron Kellogg III throughout the game's entire second half. 
The Hawkeyes converted two of the three turnovers into touchdowns and the defense limited a very good Cornhuskers rushing attack to just 89 yards on the day.
Nebraska's star running back, Ameer Abdullah, was held in check, gaining just 85 yards on 23 carries.
Besides in the run game, the Hawkeyes defense did a great job of getting off the field on third downs, holding the Huskers to just 3-of-14 on third downs and 1-of-3 on fourth downs. 
A series of inexcusable moments by Nebraska head coach Bo Pelini also cost his team in a big way. 
Down 14-10, the Huskers' Zaire Anderson was called for pass interference, which amounted to a 12-yard penalty. Pelini was none too happy with the call, but his exuberance in protesting the call cost his team another 15 yards.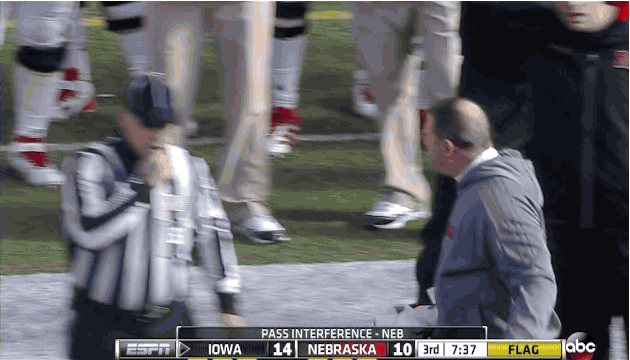 Bleacher Report Social Team
Instead of having the ball on the Huskers' 30-yard line, Iowa got a huge break and had the ball at the 15-yard line thanks to Pelini's hotheaded reaction.  
The Hawkeyes converted an easy field goal and went up 17-10 on the Huskers. 
On the following Huskers drive, Pelini compounded matters by calling for a fake punt inside his own 30-yard line. 
The results weren't good for the Huskers: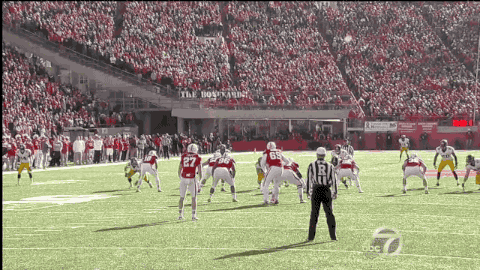 BR Social Team
It took all of one play for Iowa to strike after the botched fake punt. In a span of about five minutes, the Hawkeyes went from a four-point lead to up 24-10 and firmly in control of the game. 
The Hawkeyes also dominated Nebraska with their offensive attack throughout the game. They put up 175 yards and three touchdowns on the ground, and leading rusher Mark Weisman had 92 yards and two touchdowns on 24 carries. 
Even the pass game was super-efficient for Iowa. Starting quarterback Jake Rudock was 9-of-15 for 126 yards and two touchdowns. 
Rudock's day was cut short by an inadvertent roll-up late in the third quarter, but backup C.J. Beathard found a way to get into the action, rushing one time for a four-yard touchdown. 
It was just insult to injury for a Huskers team that felt more like a walking M.A.S.H. unit than a football team at times. 
No longer can Nebraska lay claim to being the dominant team in this series or the Big Ten. 
Going into a place like Memorial Stadium and dominating the host Huskers sure makes a statement. Was it enough to ignite this game into a true rivalry, though?
As Ferentz put it after the game, "It's a start, I'll put it like that." 
Andy Coppens is Bleacher Report's lead writer for the Big Ten. All quotes obtained firsthand unless otherwise noted. You can follow Andy on Twitter @ andycoppens.