Big Ten Football: What We Learned During Week 14
December 1, 2013

Pat Lovell-USA TODAY Sports
If you weren't on the edge of your seat during the final week of the regular season in the Big Ten, then you were either watching Indiana stomp all over Purdue or you don't have a pulse. 
Week 14 was definitely the way to go out if you're the Big Ten. You had a crazy finish in Ann Arbor in the biggest game of the day. You had Penn State getting its first road win in upset fashion over Wisconsin and you had Northwestern earn its first win of the Big Ten campaign in a crazy game at Illinois. 
Oh, and we failed to mention the fact that once again Minnesota proved it's closer to the top of the conference than the bottom, even in defeat. 
If there was a better week of games in the Big Ten in 2013, Week 14 would like to have a conversation with it. 
But, as we head to the offseason for some and bowl season for the majority of Big Ten teams, what did we learn about the conference and its inhabitants? 
Let's find out what Week 14 taught us all.
Bo Pelini Showed Us How to Fire Yourself in Three Easy Steps, Yet Keep Your Job
Step One: Go ballistic on an official after your team already suffered a bad penalty.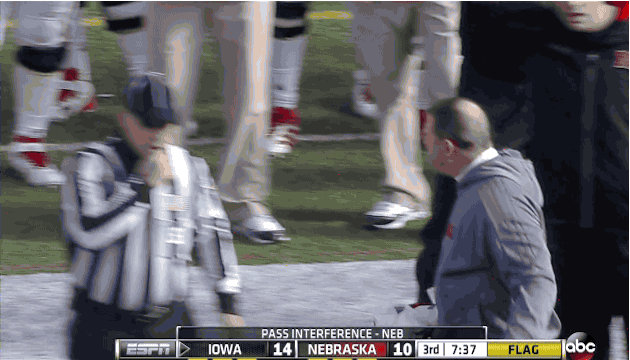 BR Social Team
Step Two: Call a ridiculous fake punt call in your own territory down just one touchdown.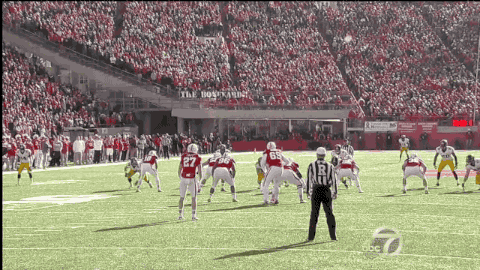 BR Social Team
Step Three: Blame everyone else for your failures and throw the opposing coach under the bus.
It was almost as if Bo Pelini was teeing up Nebraska athletic director Shawn Eichorst to fire him. Seriously, blaming the media for your four losses? Throwing one of the most upstanding coaches in the Big Ten under the bus?
All of that after you just imploded your own team on the field on Saturday? How about putting a mirror up to yourself and your coaching staff before blaming everyone else around you. 
The media's questions about your future at Nebraska didn't cause your offensive coordinator to run star running back Ameer Abdullah fewer times (10) than you threw the ball with third-string quarterback Ron Kellogg III (15) in the first half. 
They certainly didn't cause a bunch of injuries to your team. 
Furthermore, the media had nothing to do with your players turning the ball over 28 times and have the worst turnover margin in the Big Ten (-12). 
Those are the things that add up to why people are questioning Pelini's status as a head coach. 
All of what went on on Saturday apparently didn't matter much to Eichorst, though, as he released a statement of support and made it known that Pelini will coach the bowl game:
My approach has always been to not comment publicly about our coaches until their full seasons are complete, as I strongly believe it is unfair and counter to best practices.

However, given the volume of unfounded speculation and conjecture about our head football coach, I want to reaffirm what I have said many times since I have arrived at the University of Nebraska -- that I positively respect, appreciate and support our football student-athletes, coaches and staff, as we do everyone in the Husker family. We very much look forward to our upcoming bowl game and Coach Pelini continuing to lead our program in the future.
Different Year, Different Coach, Same Results For Wisconsin
In looking at Wisconsin's loss to Penn State yesterday, there really wasn't one thing you could point to or one person you could point to as the reason Wisconsin lost that game. 
Mary Langenfeld-USA TODAY Sports
The reality is they got outplayed and outcoached for the first time in the Gary Andersen era. However, for the group of seniors whose last game at Camp Randall ended in a bitter moment, it's a feeling they're very familiar with. 
Despite the 39 wins this group has experienced, they've also experienced 14 losses. 
What's significant is all 14 of those losses are by 10 points or fewer. In fact, the last 13 in a row have been by a touchdown or less. 
So, this group of seniors should be very familiar with the feeling of being so close, yet so far away from victory. 
Over those 14 losses, the Badgers' average defeat is all of five points. Yes, Wisconsin has averaged losing by less than a touchdown for the last four years. 
The difference in this year versus the last is in how frank head coach Gary Andersen was following this loss. 
In the past, there would've been platitudes of how good the team prepared, how good the guys on this team were and how they'll get things corrected and move on. 
That's not how Andersen addressed the situation. He chose to send a message to his team, one that said accepting losing will not be a part of the Badgers culture. 
"It's a tough loss. Losing is unacceptable. And if you're willing to accept it, you're a noncompetitor," said Andersen following the game. "And you don't belong at the University of Wisconsin in the football program."
"It's a tough deal. Senior Day meant a lot to be able to get a victory for these kids, but I believe they'll bounce back and they'll prepare well for the bowl game. If there's somebody on this team that doesn't want to prepare well for the bowl game, then they'll miss the flight."

Mary Langenfeld-USA TODAY Sports
The proof of things being different will come when a Gary Andersen-coached football team wins a close game. 
While we mentioned the average defeat over the last four years was by just five points, the average win was by 27.2 points a game. In those 39 wins, just six were by 10 points or fewer, and only one of those was in the past two seasons. 
The Badgers haven't had a problem finding ways to keep leads, but coming back has been a major issue for this team over last four years. 
With a new regime in town, the early results have been eerily similar. Whether it was the "Debacle in the Desert" or not getting a stop on 3rd-and-10 on Saturday, Wisconsin still can't shake bitter defeats from its results.
It will be something this coaching staff will have to look at in the offseason and figure out how to change the Badgers' mindset going forward.
Devin Gardner Loves the Big Games 

Gregory Shamus/Getty Images
Michigan has four rivals, but two stick out more than the others—Ohio State and Notre Dame (sorry Michigan State and Minnesota)—and in 2013, Devin Gardner came up big time for his team in those games.
Dare we say he loves the spotlight as a quarterback? His best performances have come when the entire college football world was tuned in during 2013.
On Saturday, Gardner threw for 451 yards and four touchdowns, while completing 71.1 percent of his passes (32 of 45). The 451 yards were the second most of Gardner's career, only topped by the record-setting performance of 503 yards against Indiana. 
Against Notre Dame earlier this season, Gardner threw for 294 yards and had another four-touchdown performance in the passing game.  
He literally willed his team to victory over the Irish in the final game to be played between the two rivals in Ann Arbor for the foreseeable future. 
Those two performances are a far cry from the disappointing performance in Gardner's first shot at the spotlight against Ohio State last year. 
Earlier this week, we were left wondering if Devin Gardner was the long-term answer at quarterback for Michigan. 
If Gardner could perform more like the big-game version of himself on a weekly basis and be less inconsistent, those questions would be left to the scrap heap. Going four straight games without an interception to end the regular season is also helping his cause. 
Gardner showed why he can be a dynamic quarterback once again on Saturday. Now its up to Gardner to show he can take another step forward heading into the bowl game and offseason.
The Silver Football Should Reside in Columbus No Matter Who Wins It 
Who is the Player of the Year in the Big Ten? Well, that question should be asked only in Columbus after a second straight undefeated season. 
The battle for the Silver Football, handed out to the Big Ten's Player of the Year, should be a battle between running back Carlos Hyde and quarterback Braxton Miller.
After Saturday's performances from each, good luck separating the two on your ballots (if you're lucky enough to have one, that is). 

Gregory Shamus/Getty Images
Miller was just 6-of-15 passing for 133 yards, but managed two touchdowns through the air. He added another 153 yards and three touchdowns on the ground as well. 
On the other hand, Hyde ran for an all-time record against Michigan with 226 yards on 27 carries for a ridiculous 8.4-yards-per-carry average. 
For the year, Miller leads all regular starters in the conference in passer efficiency. He's got a rating of 164.3 and has completed just over 65 percent of his passes on the year.  
Hyde has been equally impressive, leading the Big Ten in rushing average per game with 143.3 yards a game, and he has 1,290 yards in just nine games played this season. 
Good luck to the voters trying to figure out which one of those two players had the best season in the Big Ten. 
No Big Ten Coach Will Be Let Go After This Season
Pat Lovell-USA TODAY Sports
Brady Hoke, Bo Pelini and Tim Beckman were squarely on the hot seat coming into this week, and none of them are going to be going anywhere after this week. 
Bo Pelini did his best to be fired, but Eichorst made it clear where he stands, as we pointed out earlier in this article. 
Brady Hoke got the full and lofty support of Michigan athletic director Dave Brandon following a string of bizarre events this week. 
Jabril Peppers, a 5-star recruit, went on record saying he was going to take visits to other schools because of the uncertainty of Hoke's job. Just under 48 hours later, Brandon penned an open letter that was posted on the school's athletic website. 
That letter compared Hoke to guys like Schembechler, Saban and Lloyd Carr. You know, guys who have won national championships. 
Those are some lofty expectations that haven't been lived up to yet and could be setting Hoke up for failure sooner than later if things don't turn around very quickly.
As for Beckman, well a win last week over Purdue and a great fighting spirit by his team against Northwestern should have earned him at least one more season to turn things around in a positive manner. 
Beckman did double the win total for a season ago, going from 2-10 in 2012 to 4-8 this season. If someone does get let go, it's Beckman, but after just two seasons on the job, it's difficult seeing that happening.
However, he will remain firmly on the hot seat if his defense can't turn a corner next year. Offensively, this team should be fine with two good quarterback prospects in Aaron Bailey and transfer Wes Lunt. 
If no changes happen, it would be the first time since 2008 that there were no coaching changes from one season to the next in the Big Ten. 
*Andy Coppens is Bleacher Report's lead writer for the Big Ten. All quotes obtained firsthand unless otherwise noted. You can follow Andy on Twitter: @ andycoppens.