Washington Capitals Make Terrible, Beautiful Holiday Video for Fans
December 13, 2013

Screenshot via Capitals
'Tis the season for bad sweaters and even worse music videos, and no one is taking better advantage of that fact than the Washington Capitals.
The team recently released a Christmas video in time for the holidays, and to put it bluntly, it's a thing you don't need to see but will never forget.
Spotted by Sam Page of Sports Illustrated (h/t David Covucci of BroBible.com), the video is a blessed wonderland of electrified Christmas rock music, awful sweaters and cowbell.
Click here to see the video.
Alexander Ovechkin sings the words "Jingle Bells," but according to Chuck Gormley of CSNWashington.com, those were the only words of the song he knew.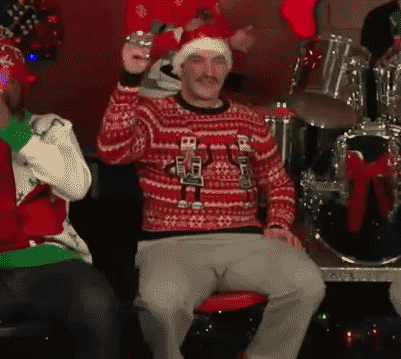 GIF via SportsIllustrated.com
While that sounds like a fundamental problem for someone singing "Jingle Bells," it wasn't the end of the world. Ovechkin had backup.
Far from alone in the video, the Capitals star is joined by a backing band that includes Brooks Laich on drums, John Erskine on the Fisher-Price xylophone and Joel Ward on the inflatable sax, among others.
Despite their plastic instruments and inability to play them, the band sounds dynamic. Electric holiday music has never exactly been my style, but you have to respect Aaron Volpatti—a man who can milk fury from a guitar without bothering with the strings.

Screenshot via SportsIllustrated.com
Imagine this on your doorstep at night.

Screenshot via SportsIllustrated.com
Troy Brouwer—the Ugg wearing-est, bass slapping-est man to ever wear long johns. 

Screenshot via SportsIllustrated.com
I feel like Mike Green could've explored the space with the cowbell a bit more. 
GIF via SportsIllustrated.com
All in all, the Capitals mustered up the wherewithal to pump out what could be the most ridiculously bad Christmas video in recent sports memory. 
That isn't a jibe. That's a compliment. 
Having the worst sweater at the party isn't easy, and no one will out-cheesy the Capitals this year.
Alexander Ovechkin puts his pants on one leg at a time, but when his pants are on, he makes gold records.