Ryan Tannehill's Progression Spurring the Dolphins' Playoff Push
December 19, 2013

Robert Mayer-USA TODAY Sports
For thirteen years, the Miami Dolphins have been searching for the face of the franchise at the game's most important position. If you'd said that face would belong to Ryan Tannehill, you might have seen a few crooked faces for your opinion. He was the forgotten man of the 2012 crop of quarterbacks, but he's having a memorable season that has him standing out of that rank and file. 
That may be why there's more realistic hope for the Dolphins this year than there has ever been in that same 13-year span. Not only is he the first Dolphins quarterback to throw for more than 20 touchdowns in a season in that time, but Tannehill is also on pace to finish with 4,145 passing yards, which would be the fifth-most passing yards by a Dolphins quarterback in a season.
He'd be the only quarterback not named Dan Marino in the top 10 of that list.
Those stats may only serve to put his performance into historical context but, this year, point to Tannehill's improvement as one of the biggest reasons the Dolphins are playing incredibly meaningful games in December.
Accuracy and Managing the Game
Part of the reason Tannehill has flown under the radar is because he simply hasn't been as flashy as the other quarterbacks. Robert Griffin III was making highlight-reel plays and absorbing headlines all season last year. Andrew Luck was leading one thrilling comeback after another. Russell Wilson emerged as one of the most surprising young quarterbacks in the NFL.
Now that the world has grown accustomed to Wilson and Luck, and now that RGIII has regressed so significantly, Tannehill's name has begun to crop up more often, but not because he's making the SportsCenter Top 10 on a weekly basis.
Ryan Tannehill, game manager
Player
Comp %
YPA
Passer rating
Deep att. %
TD %
INT %
Tannehill
62.4
7.0
86.6
10.9
4.4
2.7
League average
61.3
7.2
85.0
N/A
4.5
2.7
NFL rank
13
17
18
26/40
18
21
Pro Football Reference (deep att. % via Pro Football Focus)
The term "game manager" is often seen as a backhanded compliment, and sometimes even seen as an insult, but that couldn't be further from the truth. Plenty of NFL teams would love to have a quarterback that doesn't give the game away, who can play efficient football within the offense and who can keep the team competitive.
The No. 1 area in which Tannehill's game has improved is his overall accuracy, fitting passes into tight windows.

NFL Game Rewind
On this 2nd-and-7 on the Dolphins' go-ahead drive, wide receiver Brian Hartline ran an in-cut five yards deep on the outside. This was one of the rare times that day that the Patriots put cornerback Aqib Talib on the outside, and the Dolphins were able to take advantage of the matchup.

NFL Game Rewind
Tannehill could have tried to force the deep throw to Rishard Matthews, but it was well-covered by Patriots cornerback Alfonzo Dennard. So Tannehill did what any good quarterback would do—took what the defense gave him—and threw to the open spot, moving the Dolphins into field-goal range.
Being a game manager doesn't mean you can't make all the throws, though.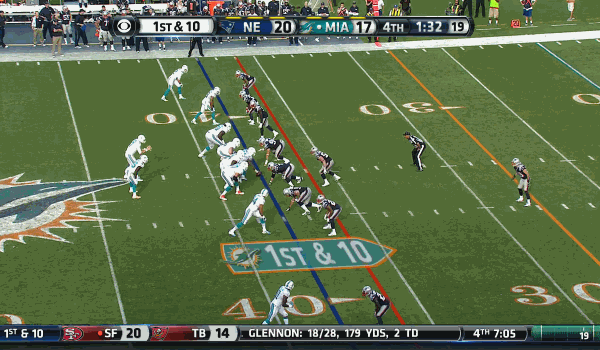 NFL Game Rewind
Just look at this back-shoulder throw to Matthews on the very next play.
If you hadn't seen the ball leave Tannehill's hand, you might have guessed the throw came from Saints quarterback Drew Brees—the bona fide master of the back-shoulder throw. It's thrown in only a spot where Matthews can catch it, a remarkable accomplishment considering the airtight coverage.
So, call Tannehill a game manager, but don't expect it to be an insult.
2-Minute Dominance
Tannehill's command of the offense has been put on display time after time in the two-minute offense. The Dolphins continually turn those possessions into points—they lead the league with eight scoring drives that began in the final two minutes of a half and also have a league-leading 17 drives that began with five minutes or less remaining in a half.
Against the Patriots, that skill was on full display, as the Dolphins scored a touchdown on two end-of-half drives beginning with less than five minutes remaining in the half. The first-half touchdown drive cut the Patriots' lead from 10 points to three; the second-half touchdown drive proved to be the game-winner, as it gave the Dolphins a four-point lead.
"I feel great in two-minute [offense]," Tannehill said after the win. "We've had a lot of practice at it, going back to OTAs, throughout camp, and throughout this season. I think we've scored a lot of points in two-minute situations. We expect to score, to some extent—either a field goal or a touchdown—every time we get in a two-minute situation."
A greater understanding of the offense, combined with more experience reading NFL defenses, has helped him more quickly process information in those time-crunch situations, which leads me to another area of Tannehill's development.
Quick Decision-Making
When it comes to knowing where to go with the football, few have been quicker at processing the necessary information than Tannehill.  
Time in the pocket
Time in seconds
To throw
To attempt
To sack
To scramble
Tannehill, 2012
2.74
2.63
3.49
4.93
Tannehill, 2013
2.59
2.41
3.66
5.22
NFL rank, 2013
7
6
9
12
Pro Football Focus
Tannehill is proving to be a great rhythm passer, getting the ball out of his hands quickly. His overall average time in the pocket has decreased by 0.15 seconds, and his time to attempt has decreased by 0.22 seconds. That may seem minuscule in the grand scheme, but those tenths of a second can often be the difference between a big play and a bad play.

NFL Game Rewind
Just look at this throw. Tannehill takes a three-step drop, and Mike Wallace runs a slant on the outside, breaking at three steps. As soon as Tannehill hits his back foot—also the same moment Wallace hit his third step—the ball comes out.

NFL Game Rewind
The result was a pass that was out of Tannehill's hands before the defense could be prepared to defend it. Jets cornerback Antonio Cromartie gave Wallace a nice cushion at the line of scrimmage, and the linebacker shifted inside slightly, leaving a big window for Tannehill to throw the bullet pass.
The timing element of the throw, however, was perfect. Some quarterbacks struggle with this, but not Tannehill. 
A Little Help From My Friends? Not Quite
Perhaps what's most impressive about Tannehill's emergence is that he's done it behind one of the worst pass-blocking offensive lines in football. Tannehill has been sacked a league-high 51 times this season, which is eight more than any other quarterback in the NFL.
The protection issues have improved somewhat, but they haven't completely gone away. Tannehill has been sacked 10 times over the past four weeks, at a rate of 2.5 sacks per game; that's way below where he started the season (24 sacks in the first five games, 4.8 sacks per game), but Tannehill has constantly had to sidestep rushers to make his throws.
Tannehill's ability to throw on the run is hard to measure but easy to see. 
NFL Game Rewind
The pressure on the right side began to close in on Tannehill on this play, and he did a nice job of eluding it by stepping up. At that point, he rolled out to extend the play, hoping to find a receiver downfield, which is exactly what happened as he found Marlon Moore on the outside.
A well-placed throw by Tannehill, combined with great sideline awareness by Moore, resulted in the Dolphins picking up the first down on the play.
Still, being able to elude pressure doesn't always come down to rolling out of the pocket and making a throw on the move. Sometimes, it's as easy as a subtle move in the pocket.
NFL Game Rewind
That's what transpired here when Tannehill delivered this deep strike to Wallace in Week 2. The Colts' edge pressure began to close in around Tannehill, but instead of panicking and running frantically, he kept his head in the game and made a nice shuffle-step forward in the pocket, keeping himself away from the pressure.
That bought him all the time he needed to find Wallace streaking through the Colts' secondary, and Tannehill hit him for a 34-yard gain.
Not only has the pass protection been woeful, but the running game has also been among the league's worst, averaging 95.3 yards per game, the ninth-lowest average in the league. 
Tannehill has carried nearly the full brunt of the Dolphins offense, so it will be interesting to see how well he plays when he finally has a productive running game and a protective offensive line.
Erik Frenz is also a Patriots/AFC East writer for Boston.com. Unless otherwise noted, all quotes obtained firsthand or via team news releases.