Only 1 Way for EJ Manuel to Shake Injury-Prone Label
December 19, 2013
Sam Greenwood/Getty Images
Labels exist for a reason, and Bills quarterback EJ Manuel has been hit with one of the less favorable labels for an NFL quarterback: injury-prone.
Manuel suffered his third knee injury of the season against the Jacksonville Jaguars, and as a result, he has been ruled out of Sunday's game against the Miami Dolphins.
"From my personal opinion, he's not injury-prone," said Bills head coach Doug Marrone, according to Tim Graham of The Buffalo News.
"You obviously don't want to get the tag of being injury-prone," Manuel said, "or the worst word: 'soft.'"
The only way he's going to avoid that label is to avoid injuries, but the problem is, there's not a lot he can do to prevent it. Minus the knee injury he suffered against the Cleveland Browns that kept him out for four weeks, these aren't injuries that are happening when Manuel breaks the pocket and is running through the secondary.
In fact, Manuel's first knee injury (left) was so minor and obscure, it remains unknown exactly how he suffered it.
Source: WGRZ 2 Buffalo
There was a sack in the third quarter of that game (shown above, courtesy WGRZ 2 Buffalo) where he came up a little slowly, but he went back in the game at that point. There was also a scramble where he took a shot to that knee, but that was in the beginning of the third quarter, and he didn't come out of the game.
When asked about it, Marrone said he and his staff were not made aware of the injury until the day after, but Marrone himself recently ceded that the injury occurred on a scramble.
The latest injury happened when Manuel was hit while throwing a short pass to running back Fred Jackson.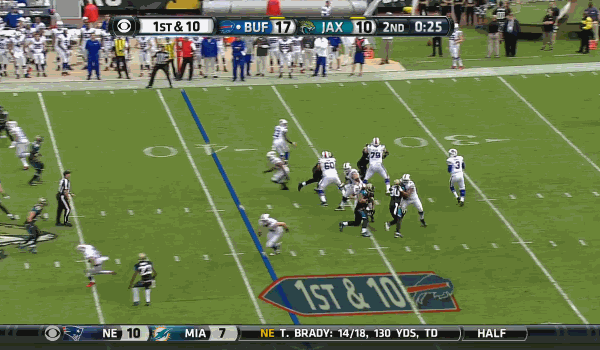 NFL Game Rewind
"I was getting taken down and just the second guy kinda jumped over somebody else and just kinda landed on my knee when it was on the way up," Manuel said, according to Mark Gaughan of The Buffalo News. "That's what caused the friction. It's freak accidents, man. It's crazy."
To be fair, Manuel isn't expected to miss more than one game with this latest injury, but with two injuries on seemingly benign plays, that injury-prone label is beginning to stick. 
Whether it's fair or not, though, the constant injuries are going to generate that buzz. There really isn't a lot Manuel can do about it, except stay healthy. 
Well, and not take shots like the one he took against the Browns that knocked him out for four weeks.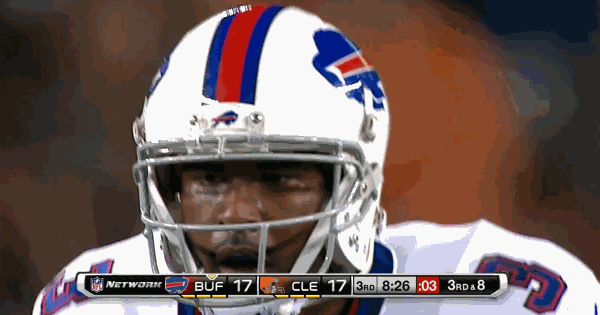 NFL Game Rewind
Losing Manuel for four games proved to be a turning point in the Bills' season. They were driving down the field when Manuel went down, and although backup quarterback Jeff Tuel came in for cleanup duty and finished the drive, the Bills were shut out after that and lost that game. Including that game, the Bills went 1-4 with Manuel on the sideline.
Those are hits Manuel can't afford to take. 
That being said, the Bills are handling things as well as they can. 
"He has the ability to go back there and throw it," Marrone said. "His escapability is not where it needs to be. We were in a process, his knee swelled up, we're not able to get it down fast enough for him to be ready."
They're not rushing him into the fray with an injury that's going to limit him. Instead, they're playing it safe, and rightfully so. Besides, with a forecast that calls for rain and temperatures in the high-40's at Ralph Wilson Stadium on Sunday, the conditions won't exactly be ideal for anyone, much less a quarterback with a hurt knee.
You can go one of two ways with how you feel about this: On the one hand, you could argue to shut him down for the season to avoid further injury. On the other hand, you could argue that the playing experience is valuable. 
Marrone, though, won't have any part of the debate.
"Absolutely not," he said, when asked if there was any thought given to shutting him down for the rest of the season. "I'm glad you asked that question. Everybody knows, I've already said it, every snap, every time we can get him in there, that type of experience the better and better he gets and we've seen that with him."
He added: "I am 110 percent confident that he will play against New England."
The playing experience is valuable, but not at the risk of giving him a full offseason to grow. The Washington Redskins found out first-hand just how valuable the second offseason can be for the development of a young quarterback. 
From this perspective, it comes down to this: The Bills were so close to beating the Patriots in Week 1 that they could taste it; right now, the chatter around the Bills is of Manuel's up-and-down season. It's not hard to connect the dots and say that Marrone wants to give Manuel (and his team) a chance to end the season on a high note. 
It's a risk they're willing to take.
Given the "freak" nature of Manuel's injuries, though, the Bills should be feeling less at liberty to take risks now than at any point thus far this season. 
Erik Frenz is also a Patriots/AFC East writer for Boston.com. Unless otherwise noted, all quotes obtained firsthand or via team news releases.