Can Urijah Faber Kill the King?
January 30, 2014

Eric Jamison/Associated Press
Urijah Faber deserves the respect of everyone south of 155 pounds.
There was a long time when the featherweight division was just him and Kid Yamamoto putting together highlight reels on opposite sides of the globe. While the UFC's first featherweight champion was Jose Aldo, no one is more responsible for the success of the featherweight division, and its reputation for excitement, than Urijah Faber.
Since being dethroned in the WEC by Mike Brown, Faber has been on campaign after campaign to gain another world title, but has fallen at the last hurdle each and every time. With his old nemesis, Dominick Cruz, dropping out of a bantamweight unification bout with Renan Barao, Faber has stepped up at short notice to rematch Barao for what could be the last time.
Did @DanaWhite just punk @RenanBaraoUFC and I for best stare down? Damn it..@ufc pic.twitter.com/zoMe7fAU2K

— Urijah Faber (@UrijahFaber) February 1, 2014
In traditional Faber fashion, he has decimated every contender put in front of him up to this title fight. Yet it seems highly unlikely that Faber will get another shot at bantamweight gold should he lose this fight and Barao remain the champion for some time.
So without further delay, let's take a look at their first bout and what Faber could do to perhaps get the better of the Brazilian champion.
Distance and Movement
Faber's first bout with Barao showed many of the same tendencies that his matches with Jose Aldo and Dominick Cruz did. Urijah Faber has real trouble using appropriate distance against decent strikers.
UFC
What Faber does so well is to run in on his opponents with his right hand, or to get them chasing him, then stop and throw his right hand over the top. It has always been that way. His finish of Michael McDonald is being praised as a rebirth for Faber, but really the counter right hand that won him the bout wasn't far removed from the one he hurt Eddie Wineland with. If you chase Urijah Faber, he's going to stop and chuck a right hand over the top, and it's probably going to knock you down.
What Faber doesn't deal well with is an opponent he can't simply run in on, but who won't chase him and give him these opportunities to fire over the top. Men like Jose Aldo and Renan Barao.
The thing about strong kickers is that you have to always be too far away for them to kick you, or too close for them to kick you without risking being bundled over or hit. It seems strange to point to Wanderlei Silva for an example of strategic excellence, but his bout with Cung Le demonstrated this amply. 

UFC

WEC
Instead, Faber moves around a little bit, then stands straight in front of his opponent, in a range where he cannot reach them with his right hook, but they can reach him with their kicks and jab. It was almost identical in the Barao and Aldo fights.
No Left Hand
This is a real problem for Faber. It is one thing to be a puncher trying to fight strong kickers, but if you only have one hand with which you can land with any dexterity, you are going to have a really hard time getting there.
Nowhere is this more noticeable than against strong kickers like Aldo and Barao. He will park himself in front of them and extend his right hand to check their left. This is an awesome little trick if you have a killer jab like George Foreman, or a slick-leaping left hook and left uppercut like Roy Jones Jr. If all of your power punches come off of your right side, however, and your right hand is extended to check, you have put yourself in a purely defensive position.

WEC
Really the only thing Faber can do from this right-hand-extended, checking position is to pick up his left leg for a teep (push kick). This is actually a pretty good idea against strong kickers; most folks know that when someone is on one leg, or initiating a kick, you need only give them a slight nudge to knock them right out of the kick and perhaps to the floor. Indeed, Faber was able to knock Barao to the floor with a well-timed teep.
Deep Stance
This brings us to something else that works against Faber in his fights against strong kickers. It's certainly not a mistake but rather preference. Faber fights in a very wide crouch, ready to throw his right hand or shoot in at his opponents' hips. As a result, he struggles to get his leg up to check kicks in time and those teeps we talked about a minute ago are much slower, more telegraphed and more laboured than any you would see a fighter in a higher stance throw.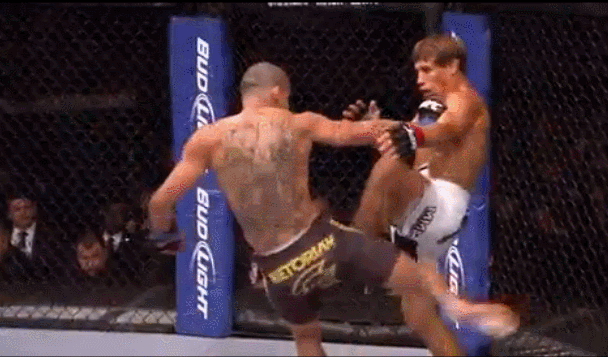 UFC
Notice in this instance how Faber sees a kick coming, raises his leg to check, but is in such a deep, side-on stance that his check is simply kicked across his body rather than acting as a barrier.
Conclusions
Time constraints have prevented me from researching and writing a full "Killing the King: Renan Barao" piece, but I hope to have pointed to some of the factors that gave Faber such a hard time in their last meeting.
Renan Barao is far from without weakness, though. Eddie Wineland boxed him up nicely in the first round of their fight before getting knocked out by a breathtaking back kick.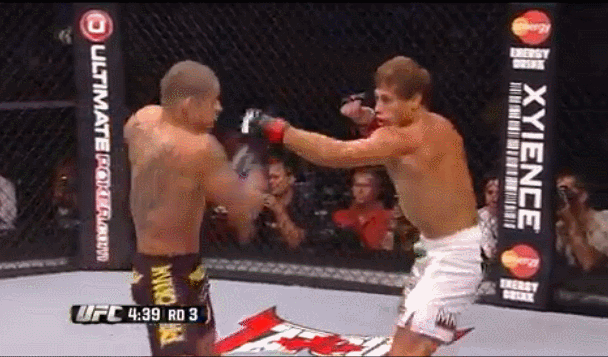 UFC
One of the best things Faber could do for this bout, and for his career as a whole, is to develop a solid counter left hook. Everyone he fights is just looking out for the one hand at present, and he has so much opportunity to work with the other side.
Renan Barao has one of the finest jabs I have seen in MMA, and slick kicks, but every time he throws his right hand he descends into wide swings with his chin up and his hands away from his face. Faber, or any other strong puncher, stands a decent chance in simply performing catch-and-pitch style defence. Covering up and returning fire as Barao opens up. For a textbook example of this, check out Quinton Jackson versus Wanderlei Silva III.
Whoever wins at UFC 169, it promises to be a fantastic event and is probably the strongest card of the year so far. Don't miss it, and watch out for these tells in Faber's game.
Pick up Jack's eBooks Advanced Striking and Elementary Striking from his blog, Fights Gone By. Jack can also be found on Facebook and Twitter.