Gegard Mousasi Versus Lyoto Machida: The Full Breakdown
February 17, 2014

Jae C. Hong/Associated Press
As with any Monday morning after a card, fans are looking to outdo each other with declarations of how bored they were by UFC Fight Night 36. Which is fair, because the majority of the card stank.
I think that if a fight journalist can't say that a card was bad, when it very clearly was, they're not doing their job. I do not, however, wish to agree with the many fans by saying that this spate of decisions is a direct result of the removal of the UFC's traditional knockout and submission of the night bonuses.
Frankly, you could have a $15,000 dollar bonus for every finish (in fact, I think the UFC should) and there would still be boring cards. That's just the way the fight game works: sometimes you're going to have a dull night.
It was the main event which made the card worth staying up for, though, as Lyoto Machida put on a clinic against Gegard Mousasi. It would be unfair to say that Mousasi was dominated though, he showed glimpses of the ability to beat Machida throughout the bout, he just failed to capitalize on them.
So without further delay, let's take a look at how the fight played out, what Machida did, and what Mousasi could have done better.
Mo' Fights, Mo' Ringcraft

The main event, and indeed many on the card, gave us some wonderful insight into the importance of ringcraft (or cage control if you'd like). For instance, Maximo Blanco cut the cage off early against his opponent and landed some wonderful body punches that winded Felipe Arantas. Blanco promptly forgot how he set up the blows and ended up losing the fight, but that instance was a wonderful example of two things we don't see often enough in the cage.
When Erick Silva met his obvious gimme opponent Takenori Sato (replacement for another gimme opponent, Nate Laughron), ringcraft was again the key.

UFC
Sato made the awful error of stalling between the fence and a strong kicker. Against strong kickers a fighter must always be out of range, or moving forward and pressuring. For an example of the first, check out Wanderlei Silva's uncharacteristic backpedaling to limit the effectiveness of Cung Le's kicks. The perfect example of the second is, of course, Fedor Emelianenko versus Mirko 'Cro Cop' Filipovic.
Sato did neither. He put the fence behind him and waited for Silva to make the first move. Sato had no ability to move backward and didn't even attempt to circle off of the fence. It doesn't matter how good a wrestler you are, or how tough you are, a good kicker in MMA today is going to kick you and start fighting off the takedown while you're still wincing and grabbing onto the leg in hopes of recovering. 
Here's the gif courtesy of my friend, Zombie Prophet.
Silva declared in the post fight interview that he had intended to kick Sato with his toes. It's a little unclear if his kick connected with the ball of the foot or the toe tips, partly because it disappears into Sato's abdomen, but were it the toe tips I would be very impressed.
A couple of days ago I wrote a piece about Lyoto Machida and traditional karate, and someone asked me what traditional karate technique I could really see working in the octagon. I replied that I would love to see someone with a well-practiced toe tip kick, though typically these take a long time to develop and condition, not great for professional fighters. Genki Sudo, a fighter who has been in with guys like Duane Ludwig, Albert Kraus and Kid Yamamoto, went to Okinawa after his retirement and trained with some Uechi Ryu stylists there. Apparently upon feeling a toe kick to the abdomen he related that it was unlike anything he had experienced in his fighting career.
Returning to the fight, Sato never had a chance to get going. Winded by the kick, and hanging onto Silva's leg for dear life, he was pounded to a stoppage on his knees. Silva even threw in some obviously illegal hopping kicks to Sato's head while the latter was on his knees. It just goes to show that if you do something with enough confidence you can often get away with it.
Machida versus Mousasi
The main event really saved the card for me. Both fighters are known as great striking technicians, but Machida was too much for Mousasi. That is not to say that Mousasi showed no promise, however. 
I discussed last week the method of backing Lyoto Machida up and kicking the trailing leg, and used Mousasi's bout with Kyotaro to show that Mousasi had taken advantage of backpedaling with this method before.
Of course Machida and Kyotaro are different fighters, but the principle is identical. No matter how you backpedal, there will always be one leg trailing, leaving striking distance last, and that will be easy to kick. The few occasions on which Mousasi did get Machida retreating and kicked the trailing leg clearly troubled Machida.
UFC
Mousasi also showed the ability to cut off the cage well. Much of round two was fought with Machida almost up against the fence. This is exactly the sort of cage cutting which so many of Machida's opponents have utterly failed to do.
What this fight really demonstrated, however, was that cutting off the cage often opens a fighter up to more strikes. You cannot cut off the cage / ring from a purely defensive stance, because cutting off the ring is all about using your presence and the threat of strikes to move the opponent. It is often necessary to square up and present more of a target.
Despite having Machida along the fence for much of the fight, Mousasi ate a good few blows on the way in and landed little in return. 
One of the most remarkable things about Machida is that he is a backpedaling fighter, one who draws opponents in, but he is also a kicker. Kicking and backpedaling do not tend to go together, because kicking is such a slow motion (compared to punching) and any forward motion from the opponent during a kick can off-balance a fighter. Much easier to have the opponent sandwiched between you and the fence, as Silva did against Sato.
UFC
Machida's game seemed to be almost the retreating version of Mirko 'Cro Cop' Filipovic's. He built a double threat off of his left straight and his left high kick. If Mousasi's right hand was ready to parry the left straight, or he was ready to slip past it, he was exposing himself to the high kick. If his hand was high and outside, ready to block the high kick, he was exposed to the left straight.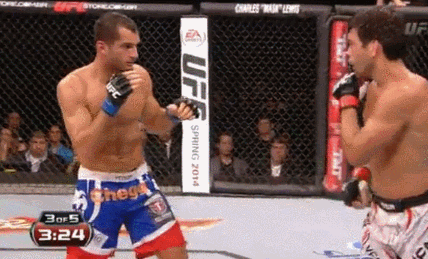 UFC
I said at the start that I wasn't going to pretend that Machida looked invincible. He certainly didn't. Mousasi was cutting him off and getting him backed up to the fence fairly routinely, albeit while getting beaten up. Sometimes Machida would check the lead hand, attack with his left straight and pivot out behind Mousasi's lead leg, which was superb.
But other times Machida would narrowly miss eating a left hook as he circled out unprotected. Circling out naked is exactly what keeps getting Uriah Hall into trouble against opponents who notice his habit to circle around with his back to the fence and his hands down. 
Possible future opponent Chris Weidman is well aware of this kind of flaw: He was the one who exposed it in Hall after all.
The idea of pressure being the key to beating Machida has always been a questionable one in my view. It seems as though a much more favourable method is simply kicking the trailing leg until he is forced to come forward, then fighting on the counter against Machida. The more pressure a fighter applies, the more they eat counter attacks.
Compare Machida's performance against Dan Henderson, a fighter who really couldn't cut off the cage at all, to his bout with Mousasi. Henderson is not a better technician on the feet than Mousasi, but he got hit less. The more you show Machida, the more he'll hit.
One thing is for certain following this fight, however. Gegard Mousasi can take a shot like few others. Folks are focusing on this shin he caught to the head and shrugged off.
What really highlighted the strength of Mousasi's dome to me, however was this kick. (Notice Machida's left hand dragging Mousasi's right too).
That is a kick with the ball of the foot, koshi in Japanese, to the chin. It's the end of Machida's leg, it's a hard striking surface, and it's connecting with the point of Mousasi's chin. By all rights that should have knocked Mousasi out. Maybe there is something to Mousasi's terrible posture?
Coming out of this fight, I think it's fair to say that Machida's change in weightclass is working out well for him. Reach and length were never an issue for him, he fights at a distance which exceeds even the 84" reach of Jon Jones. It was his wrestling that troubled him, and simply being worked out by Jones and Rua. At a weight class where he has a bit more strength to fight off the wrestlers, Machida seems to be doing some of his best work.
For Mousasi's part, he showed some of his highly touted potential. He's had a year off, not to mention an enormous jump up in competition. He is a fighter who benefits enormously from the kind of activity he showed through 2008 and 2009, fighting frequently. If he can hold off the injuries and get some more fights under his belt, there's no reason to write him off as a force in the middleweight division just yet
Pick up Jack's eBooks Advanced Striking and Elementary Striking from his blog, Fights Gone By. Jack can also be found on Facebook and Twitter.