NFL Draft 2014: Why Sammy Watkins Is a Special Wide Receiver
March 28, 2014

USA Today
It's tough to find a mock draft for the 2014 NFL draft that doesn't have Sammy Watkins going before the 10th overall pick.
Bleacher Report's Matt Miller believes the Clemson wide receiver will go second overall to the St. Louis Rams. CBSSports' Will Brinson agrees.
ESPN's Mel Kiper sees Watkins falling as far as the Tampa Bay Buccaneers at seventh overall, while both Dane Brugler of NFLDraftScout.com (via CBSSports.com) and Josh Norris of Rotoworld project that Watkins will land with the Oakland Raiders as the fifth overall selection.
In recent seasons, the two most successful top-10 picks who played the wide receiver position were Julio Jones and A.J. Green.
Both Green and Jones came out of the 2011 draft, fourth and sixth overall, respectively. Both players are at least 6'3", and both played in offenses that asked them to run a variety of routes and make contested catches from game to game.
Sammy Watkins is just 6'1", and he played in an offense that primarily featured passes that didn't cross the line of scrimmage. Watkins was still very effective, but from a projection standpoint, it made it a little more difficult to evaluate him.
Considering Tavon Austin went in the top 10 of last year's draft and he is only 5'8", Watkins' height and style of play shouldn't affect his draft spot. Not everyone was on board with Austin as a top-10 pick, but Watkins is seemingly universally adored.
In a whitewash world, this would be difficult to fathom. However, when you watch Watkins play, it's easy to see his overwhelming ability. Watkins is so gifted that any concerns about his relative height and his usage in college feels like nitpicking.
Yards After the Catch
Because of the offense he played in, the most prominent aspect of Watkins' skill set is his ability with the ball in his hands. Not only does Watkins have exceptional speed, evidenced by his 4.43 40 time at the combine and his 1.53 10-yard split, he also has outstanding awareness, superb agility and the understanding of how to set up his runs at the catch point.
There may be a lot of superlatives there, but that is the kind of player Watkins is.
Credit: Draftbreakdown.com
On this play, Watkins shows off his acceleration to run clean down the seam. He easily glides past a defender on the second level before finding the sideline and stepping out of bounds. His acceleration stood out on this play, but the subtlety of the setup should also be noted.
Watkins didn't always get well-thrown passes from his quarterback on screen passes, but when he did he was able to adjust his body to catch it in stride or direct himself to space.
Instead of squaring his shoulders to the football and catching it before turning downfield, Watkins shuffles his feet and runs through the pass. He comfortably catches it with his hands away from his body. This is critical because it allows Watkins to immediately survey what is in front of him instead of watching the ball trajectory as it's moving toward his chest.
He immediately had space here, but that wasn't always the case.
Credit: Draftbreakdown.com
On this play, Watkins catches the ball behind the line of scrimmage on an end-around play. He is immediately faced with a defender in the perfect position to tackle him when he turns the corner. This play should only result in a short gain, but Watkins' individual ability changes that.
Very swiftly, Watkins fakes an outside step before accelerating past the inside shoulder of the linebacker. The linebacker doesn't bite much on the fake, but because of Watkins' speed going forward, he is completely taken out of the play.
Once past the first defender, Watkins accelerated past a desperate tackle attempt with ease while still maintaining his body control to turn back toward the sideline.
Credit: Draftbreakdown.com
Speed and vision is very important, but when you can also add power to the mix, it becomes almost impossible to stop Watkins in space. Even though he is not a big player, Watkins is a very powerful and aggressive runner.
He should be able to consistently break tackles against defensive backs on the next level, but against Ohio State on this play, it wasn't a defensive back he was exposing. Instead, it was Ryan Shazier, a linebacker and a potential first-round draft pick.
Watkins doesn't just run through Shazier, he converts speed to power very quickly and initially keeps Shazier off balance with his movement before committing to the hit.
The ability to get yards after the catch is quickly becoming a priority ability for NFL wide receivers. Players such as Demaryius Thomas, Pierre Garcon, Josh Gordon and Antonio Brown all had huge success with the ball in their hands last season, as outlined by Sporting Charts.
Watkins potentially has more physical ability with the ball in his hands than any of those receivers. He is a very fluid receiver, but he also has a frame that wouldn't stand out amongst running backs. To get the most out of his physical talent, he needs to make quick decisions and understand how to set up his runs after he catches the ball.
That is something he already proved capable of in college.
Credit: Draftbreakdown.com
On this play, Watkins adjusts to a slightly underthrown pass before running directly to the sideline. He isn't looking to run out of bounds, but he is dragging the initial defender away from the running lane he wants to attack.
At the perfect time, Watkins cuts back inside. He shows no hesitation when the first-down marker is in sight, instead he puts his head down and aggressively pushes his way out of bounds. 
Catch Radius
At 6'1" with 32" arms and 9.625" hands, Watkins isn't going to rival Calvin Johnson on jump balls, but he is more than big enough to win jump balls in the NFL. More important than his physical size, Watkins is very comfortable making awkward receptions or catching the ball at full extension against tight coverage.
This was something that was shown off on a regular basis in college because of Tajh Boyd's very erratic accuracy.
Credit: Draftbreakdown.com
This back-shoulder throw from Boyd is slightly overthrown. Watkins recognizes the flight of the ball very early on and is able to extend fully to pull it out of the air. He wasn't fending off physical coverage, but he did leave his feet and make sure of the reception either way.
Credit: Draftbreakdown.com
On this occasion, Watkins has run roughly 40 yards down the sideline. He easily gets behind the defensive back with his speed, so the defender can't see the ball when it arrives. Watkins used this to his advantage, but it likely wouldn't have mattered either way because of how he attacks the ball.
Watkins fully extends to make the reception, and he still has the stamina to spring into the air above the defensive back. He doesn't need to readjust with the ball in his hands, as he easily snatches it from the air and falls onto his back for the score. 
Because of the offense he played in, there weren't a huge amount of opportunities for Watkins to show off this aspect of his game deep down the field. That doesn't mean his ball skills weren't still regularly on show.
Even on screen plays he regularly had to adjust to poorly thrown passes. He had to quickly bend down and catch the ball at his feet, reach above his head or wait on the ball in different situations.
Credit: Draftbreakdown.com
It rarely slowed him down.
Although some will point to Watkins not being 6'3" or 6'4" as a negative, it could also prove to be a positive. He is a very fluid athlete who can adjust to the football in ways that many bigger receivers can't. When working underneath or over the middle, this is an obvious advantage.
Credit: Draftbreakdown.com
On this play, Boyd badly throws the ball inside on a quick out. Watkins' reaction is exceptional, but his comfort to catch the ball behind his head and keep his balance to try and move forward really stands out.
At just 20 years of age last season, Watkins showed off a natural ability to catch the football in a variety of different situations. He shouldn't have any issues catching the ball regardless of how he is used in the NFL. Much like Roddy White of the Atlanta Falcons, he will get the most out of the size he does have.
Contested Catches
Again, because of the offense he played in, there were limited opportunities to watch Watkins making contested catches down the field. However, just like with his radius, he showed the discipline throughout his game that suggests he will be very good in this area.
Not only does Watkins have very strong hands and arms, he almost always works back to the football and catches it away from his body at the earliest point. This means that defensive backs often don't have a chance at the football.
Credit: Draftbreakdown.com
Despite Watkins beating the defensive back with a clean route against his deep coverage, the pass from Boyd turns this situation into a contested catch. Boyd was late to recognize Watkins was wide-open near the sideline, and his pass was floated and too far infield when it did arrive.
By leaving his feet and extending his arms to catch the ball at the earliest possible point, Watkins prevents the defensive back from getting to the ball. However, he also exposes himself to a hit.
When the defensive back connects with Watkins, he barely moves, and his hands aren't affected at all. His ability as a receiver turns a terrible play from his quarterback into a first down.
The ability to win contested catch situations is a must for any potential NFL starting receiver. However, the ability to avoid contested catch situations without hurting your offense is an even more valuable trait.
This is something Watkins has hinted that he can do. It has nothing to do with usage and everything to do with the subtleties of how he plays the game.
On these two plays, Watkins adjusts to the football in such a way that he leads himself away from the closest defender.
Credit: Draftbreakdown.com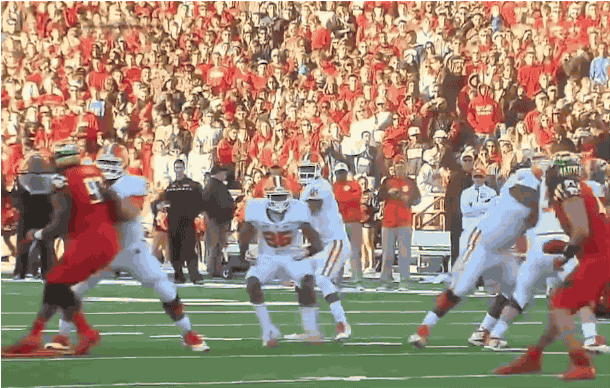 Credit: Draftbreakdown.com
For the first he continued back to the football in a situation when many NFL receivers would move toward the sideline and try to catch it while falling out of bounds. What Watkins did looked less impressive than a toe-touch reception, but it was a lot smarter and more efficient. 
For the second, Watkins runs a deep slant route. The safety comes to meet him from the middle of the field. As Watkins is reaching for the football, he is bracing himself for the incoming hit by widening his base and lowering himself to the ground as much as possible.
Watkins gives up any potential yards after the catch, but he makes sure that the defensive back can't knock the ball out. He also doesn't expose himself to any real punishment because of his quickness and comfort working the middle of the field.
Big Plays
With any receiver you take in the first round, you expect big plays. With any receiver you take in the top 10, you expect to get a consistent big-play threat. Watkins' speed has been compared to Torrey Smith of the Baltimore Ravens.
He definitely has the same long speed as Smith, but he also has greater acceleration and agility.
Credit: Draftbreakdown.com
Watkins can outrun fast defensive backs in a straight race, but as the above play shows, he also has a second gear that he can tap into. On this play he easily pulls away from the defensive back without running through the route at full speed.
Credit: Draftbreakdown.com
Against Georgia, Watkins showed off his impressive ball skills to adjust to a poorly thrown pass while running a slant route. He then used his aggressive running style and power to break a weak tackle attempt before pulling away down the sideline for a touchdown.
Not only did that play show off his different abilities as a receiver, it also showed off how his speed is layered.
Watkins doesn't just have the speed to run deep down the sideline or take the top off the secondary from the slot. He is able to accelerate very quickly and re-accelerate without suffering on the same play. This means he can beat defensive backs in a variety of different ways for big plays.
Much like what we saw on his screen plays, Watkins' yards-after-the-catch ability translates when he catches the ball further away from the line of scrimmage.
Credit: Draftbreakdown.com
Before this ball arrives to Watkins, he already understands that he is in space. We know this because he has set his feet to run downfield before the ball arrives. It's not simply a case of Watkins always doing this—and this was the one occasion it paid off—he understood when he could do this and when he couldn't.
Once he has the ball, he easily slips past the incoming safety before sidestepping the recovering defensive back. Watkins eventually slips, but he has already created a big play and extended a catch much further than he should have been allowed to. 
Route Running
If Clemson had run a more traditional passing offense, then there would be no reason to speculate about Watkins' ability to run routes. There would be tape to analyze. Without that tape, then we must speculate and look at his other attributes to project what he will do as a route-runner.
Physically, Watkins has the potential to be one of the best route-runners in the NFL.
His body control and balance is obviously exceptional based on what has been detailed in this article to this point. He makes decisive cuts and is able to maintain speed through those cuts. He plays with the subtlety that should be able to deceive defensive backs, and he has the power to fight through aggressive coverage.
Whether Watkins has the consistency and decisiveness to go with that physical talent is unclear. We won't see that until he is playing in the NFL.
Route running is very important against the better defensive backs in the NFL. It's the most effective way of creating separation at the next level. You can still be a very productive player against lesser defensive backs without being a great route-runner if you are an overwhelming physical talent.
For example, Josh Gordon is still a relatively limited and inconsistent route-runner. Gordon and Watkins have different physical styles, but both are supremely talented athletes.
When we did get examples of route running from Watkins during his college career, the film only supported his status as a potential top-10 pick.
Credit: DraftBreakdown.com
Selecting a wide receiver in the top 10 of the NFL draft has been a boom-or-bust adventure in recent seasons. Since the 2007 draft, eight receivers have been selected within the top 10 picks of the first round.
Team
Player
Pick
St. Louis Rams
Tavon Austin
Eight
Jacksonville Jaguars
Justin Blackmon
Five
Cincinnati Bengals
A.J. Green
Four
Atlanta Falcons
Julio Jones
Six
Oakland Raiders
Darrius Heyward-Bey
Seven
San Francisco 49ers
Michael Crabtree
Ten
Detroit Lions
Calvin Johnson
Two
Miami Dolphins
Ted Ginn Jr
Nine
Pro-Football-Reference.com
Only three of those eight receivers were instant successes in the NFL. Two have been busts, Heyward-Bey and Ginn, while another's career, Blackmon, could be over. Watkins may not be Calvin Johnson, but it seems a safe bet to suggest he can be as good as Crabtree, Jones and Green.
No draft prospect is perfect or guaranteed to be a success in the NFL, but all signs point toward Sammy Watkins being a special player on the next level.
Cian Fahey is a Featured Columnist at Bleacher Report, the Film Room writer for Football Outsiders and a Columnist for Football Guys. You can find him on Twitter @Cianaf.