When It Comes to the Read Option for the Redskins, Less Is More
May 1, 2014

USA TODAY Sports
He loves the read option, he loves it not. Throughout his first offseason as head coach of the Washington Redskins, it's been tough trying to figure out exactly where Jay Gruden stands on the popular yet somewhat controversial offensive style that Mike and Kyle Shanahan utilized so freely during the first two years of the Robert Griffin III era. 
But this week, Gruden made his most definitive statement yet regarding the read-option by suggesting that it'll only be a small aspect of the system he implements for Griffin and the Washington offense. Here's what he said during an interview with SportsTalk 570's Andy Pollin, courtesy of Mike Jones of the Washington Post: 
We'll have sprinkles here and there. It's not going to be a major part. I want to make sure that we have other things that we can do besides the read option, because it takes a toll. You have to practice it a lot to be very good at it. It kind of takes away from the defense's ability a little bit, it takes away from other plays that you need to work on, your protection schemes, your running game, all that stuff. It just takes away from that.
The use of the word "sprinkles" should delight Redskins fans, because chilling out on read-option looks is something that will make this entire team better off. First, it's about protecting RGIII. But it goes beyond that. The reality is that it's also about the fact that defenses have wised up, as I noted when suggesting that the 'Skins should at least "semi-ditch the read-option" earlier this offseason: 
Defensive coordinators proved against Robert Griffin III and Co. in 2013 that they had figured out how to defend the read-option plays, and the 'Skins struggled on offense with the surprise element no longer present.

Besides, an option-oriented attack means more opportunities for the somewhat fragile Griffin to take hits. I know the Redskins don't want to handcuff one of the game's most dynamic players, but he simply can't survive the amount of contact he's been exposed to the last couple years.
The Redskins ran the read-option 18 percent of the time in 2013 and 23 percent of the time in 2012, according to ESPN Stats and Information. Had RGIII been healthier and had they not shied away from that tenet of the offense early last year, I'd imagine those numbers would be quite similar. 
But now Griffin is in his third season. He's already dealt with a concussion, bruised ribs, a sprained knee and a torn ACL and LCL. The read-option might not be a gimmick, but it's something the Redskins can do without, especially considering that it'll limit the contact Griffin endures. 
Besides, it wasn't close to as effective in 2013 as it was when Griffin was a rookie. His yards-per-carry average on read-option plays shrunk from 8.0 in 2012 to 5.5 last year, per ESPN's John Keim. 
As young-but-mobile quarterbacks mature, the natural expectation is that they'll become more pocket-oriented pivots anyway. It's much more sustainable, and it was probably going to happen to Griffin regardless of who was coaching him.
The 'Skins have to use the read-option as a weapon that they may or may not pull out of their pocket at any given time, rather than something they fall back on consistently. And now that they have DeSean Jackson and Andre Roberts to complement Pierre Garcon, Alfred Morris and the blooming Jordan Reed, there's little reason to rely on it.
They'll mix it in, just as Gruden did with the significantly less nimble Andy Dalton last season in Cincinnati. Evidence here from Cincy Jungle: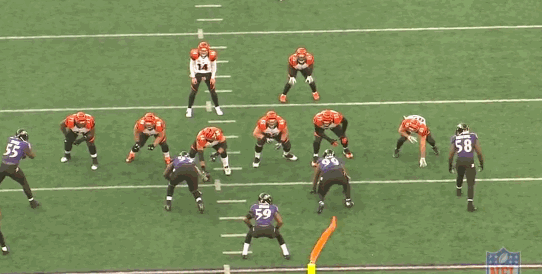 Via CincyJungle.com
But it should no longer be featured as prominently as it was over the last two years. It's not a once-in-every-five-snaps deal, at least not long-term.
For those who disagree, believing that cutting back would suppress Griffin's abilities, check out footage of Steve McNair, Donovan McNabb and Randall Cunningham.