The One Offseason Move OKC Thunder Must Make
June 10, 2014

Layne Murdoch/Getty Images
Like every team that finishes the NBA season with a loss, the Oklahoma City Thunder have some work to do this offseason.
 Unlike most of those teams, however, the Thunder aren't lacking in top-shelf talent. They just need to shore up a few minor weaknesses. In fact, OKC truly needs to make only one move this summer: acquire a 2-guard who can really shoot.
Derek Fisher has decided to take up the clipboard, and Caron Butler is almost certain to leave OKC this summer. But it also sounds like Thabo Sefolosha may be on his way out as well, and if that happens, replacing him will be the Thunder's most important offseason task.
Sefolosha is a good wing defender, and he's been a valuable player for OKC over the course of his time there. But his three-point shooting tumbled to 32 percent this season, and that's just not going to cut it, especially since even when he hit threes at a high clip (42 percent last year), defenses haven't given him much respect.
Sefolosha has one of the game's slower shooting motions, which allows defenders to sag well off of him and still recover in time to contest his shot.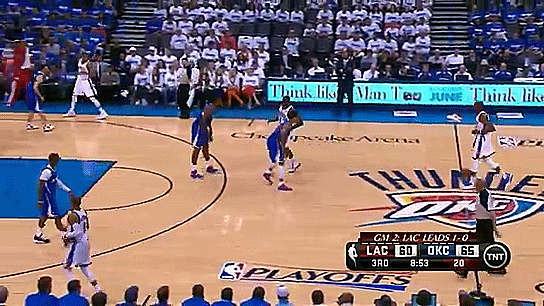 Courtesy of Instagiffer
That kills the Thunder's offensive spacing, and it contributed to the OKC starters posting a net rating of minus-2.6, a terrible mark for a contender.
The Thunder must spend this offseason hunting for a sharpshooting 2 who can provide Kevin Durant and Russell Westbrook with the room they need to operate, and they don't have that player on the roster right now.
Reggie Jackson would seem to be a no-brainer for the role (OKC destroys teams when Westbrook and Jackson share the floor), but the team desperately needs his offense off the bench. And while Perry Jones and Jeremy Lamb are talented, they'd need to take big steps forward to have that kind of responsibility.
The Free-Agency Options
Luckily, the Thunder actually head into this summer with some financial flexibility.
As Daily Thunder's Royce Young recently pointed out, the team can probably use the full mid-level exception and still remain under the league's luxury tax. They're also armed with two draft first-round draft picks (No. 21 and No. 29) and a roughly $6.6 million trade exception they acquired by dealing Kevin Martin to the Minnesota Timberwolves last summer.
Free agency would seem to be the easiest avenue for improvement, and there are a couple of good fits there, starting with the Cleveland Cavaliers' C.J. Miles.
Miles has drawn the Thunder's interest in the past, and he should be right in OKC's wheelhouse price-wise. He's also a very good two-way player.
Miles knocked down 39 percent of his threes this season, including 48 percent from the corners. With Sefolosha's shot out of whack, the Thunder had practically no true threat from perhaps the most important spot on the floor. Miles would fix that in a hurry.
He's also a solid wing defender, capable of hanging with most 2s and 3s. He's not the true stopper that Sefolosha was, but he's more than passable, and the Cavs boasted a top-five (!!) defense when he was on the floor.
Miles rarely creates offense on his own, but he can act as a secondary ball-handler in a real pinch and ran a surprisingly mean pick-and-roll last season, per Synergy Sports Technology (subscription required).
That's pretty much the dream signing for the Thunder, but two other players—the New Orleans Pelicans' Anthony Morrow and the Phoenix Suns' P.J. Tucker—would be solid upgrades as well.
Morrow is a poor defender and basically can't do anything but shoot the ball. Of course, he also hit 45 percent from deep this season, so...yeah.
Morrow's lack of defense would make him a less-than-ideal starter for OKC, but even if he's only so-so in that role, he would be absolutely devastating when the Thunder went small.
There's not a defense on earth equipped to deal with something like a Westbrook-Jackson-Morrow-Durant-Serge Ibaka unit, and if Jackson's able to take on increased minutes (he definitely is), bringing in Morrow as a specialist could be huge.
Conversely, the Thunder could go the opposite direction and make a play for P.J. Tucker. Tucker's a rugged defender who would more than fill in for Sefolosha on that end. He didn't play many minutes at the 2 last season, but he's quick enough to be slotted there, and the Suns were terrific when he was, per 82games.com.
Going after Tucker would be a risk offensively, however. He shot 39 percent from downtown this season, but took them infrequently (less than three per game) and shot just 31 percent the season prior.
If he could sustain this year's production, he would give the Thunder a big boost, but they have to be wary about signing a guy who has the potential to be Sefolosha 2.0.
The Trade Options
As you might imagine, the trade market isn't exactly brimming with three-and-D wings, but with enough luck, the Thunder could snag some help.
The obvious choice here is Iman Shumpert. OKC tried to deal for Shumpert at this year's trade deadline, and speculation that they may try again is already brewing.
In some ways, this makes a lot of sense. Shumpert is young, already a strong defender (fourth-best among shooting guards, per ESPN's real plus-minus system), and he fits OKC's "length and athleticism" mold to a T.
On the other hand, as a shooter, Shumpert is similar to Tucker. He had one great year from outside in 2012-13, in which he shot few threes and hit on a high percentage of them (40 percent), but his shooting plummeted to 33 percent this season. He also has a history of knee injuries.
It's hard to judge any individual on this year's disastrous New York Knicks squad though, and if Shumpert can get back to his 2012-13 form, he could be a major player for OKC.
A much bigger, slightly more unrealistic trade would be a swap for Arron Afflalo.
Grantland's Bill Simmons floated this idea a few months ago, and it still looks plausible. According to Brian Schmitz of the Orlando Sentinel (via CBSSports.com's Zach Harper), Afflalo's open to joining a contender, and the Thunder may have the pieces to make that a reality.
The Thunder would be wise to avoid going all-in for Afflalo, who has the option to opt out of his contract in 2014-15, per ShamSports.com. Something like Kendrick Perkins, Jeremy Lamb and the No. 21 pick may be enough to do the trick though, and if necessary, they could always sweeten the pot with another pick or young player.
Afflalo is no longer the defender he once was—both adjusted plus-minus and ESPN's real plus-minus system list him as a net negative. But it's the versatility he brings as an offensive player that would appeal most to OKC. He's a killer shooter (43 percent this year), has a strong off-the-bounce game and is a surprisingly terrific post player.
Courtesy of Instagiffer
Afflalo shot nearly 50 percent on post-ups this season, one of the top marks in the NBA, per Synergy. OKC often gets labeled a "jump-shooting team," and while labels like that are usually dumb, Afflalo would certainly add a different dimension to their offense.
In the past, opponents have hidden their point guards on Sefolosha, sliding their top perimeter defender over onto Westbrook. That would be much more difficult with Afflalo on the floor to punish those weaker defenders with his post game.
OKC could even opt to start Jackson and bring Afflalo off the bench like they did with Martin and James Harden. Afflalo's more than versatile enough to make it work, and it would give the starters a bit more defensive punch.
Conclusion
For the first time in a while, the Thunder are in a real position of need. They can't get through the Western Conference without adding more shooting.
As mentioned earlier, though, OKC has the tools to bring in at least one knockdown shooter this offseason. And should that happen, it's not hard to picture OKC still in the championship hunt this time next year.
All statistics accurate as of 6/10/2014 and courtesy of NBA.com unless specifically stated otherwise.