Breaking Down Johnny Manziel's Disappointing Display in Preseason Week 2
August 19, 2014

Evan Vucci/Associated Press
Johnny Manziel, Brian Hoyer and the Cleveland Browns quarterback competition.
It's a storyline that has been covered too much to this point. Since the draft, every single morsel of information, from offseason training activities to off-the-field events to training camp practices, has been examined so thoroughly that none of the conclusions ever had a chance of being rational.
Now is the time for rational thinking to take over. Now is the time to really analyze if Manziel is ready to start based on his on-field performance.
Yes, both Manziel and Hoyer played in Week 1 of the preseason, but Hoyer was returning for the first time after tearing his ACL last season, while Manziel was making a highly anticipated debut. Furthermore, the first preseason game in a brand new offensive system with brand new teammates was probably never going to be an efficient one.
It made sense that Hoyer wasn't as effective as expected, and it made sense that Manziel was as unrefined as expected.
Expectations for the second preseason game should be a bit higher. The second preseason game is when you should see some cohesiveness taking place on the offensive side of the ball. Has enough time passed for Manziel to acclimate himself to his new role on a new level with new teammates? That may be up in the air, though Hoyer should feel more comfortable after his first outing since his return from rehab.
Now is the time for the gap to appear that will ultimately determine who starts in Week 1 of the regular season.
As the incumbent, Hoyer was really spared the onus to perform. It was Manziel, instead, who needed to seize this opportunity to put pressure on the Browns coaching staff. He needed to show that he not only had the talent, but also the discipline to be trusted against Dick LeBeau and the Pittsburgh Steelers when the regular season opens in three weeks.
Manziel entered the game in the third series.  Hoyer had thrown just two passes, as the offense around him thwarted the first two drives with penalties.

NFL.com
After an impressive Ben Tate run on first down, Manziel dropped back for first pass attempt on 2nd-and-5. He had a clean pocket and stood tall while keeping his eyes downfield. However, he stared down his first look and never recognized that Tate was wide open in the flat.
Still, Manziel had a relatively simple throw to make to his first read over the middle of the field.

NFL.com
Tight end Jordan Cameron is running straight across the field perpendicular to the first-down marker. Manziel needs to throw the ball on time, but he doesn't have to fit it into a tight window, since the linebacker isn't in position to contest Cameron for the catch.
Manziel misses a simple throw by putting the ball low and behind Cameron. The tight end makes a desperate attempt but is unable to come up with the difficult catch.


NFL.com
This is the kind of routine throw that Manziel should be expected to make. It's not simply a rookie mistake where he misreads a coverage or is too slow in the pocket, it's a throw college quarterbacks should make.
Cameron wasn't given a routine pass in a situation where he should have expected one.

NFL.com
On the following third down, the Washington defense decide to be aggressive with the rookie quarterback. The Browns spread the field, while Washington defenders show blitz before the snap. To Manziel's blind side of the quarterback, three defenders swap positions, then bunch together, each threatening to rush the passer.
Ultimately, the defense doesn't blitz. They rush just four and use a linebacker to spy Manziel in the pocket.

NFL.com
Josh Gordon is immediately free on the backside of the play, running a shallow crossing route. He will need to get yardage after the catch to convert the first down, and he is not in the area of his quarterback's first read. Manziel not finding Gordon here isn't a negative on the rookie QB, it's simply a result of the play design.
Manziel does locate his three receivers bunched together and is looking to make a read based on how the defense reacts to the route combinations. He doesn't drop his eyes at the snap and stays calm to this point of the play.

NFL.com
Cameron runs an out route and appears to be coming open. The linebacker covering him is in good position to break on the route, but a fast throw to Cameron should give the tight end a good chance to make the catch for the first down.
Manziel appears to recognize the opportunity as he keeps his eyes in Cameron's direction, but he is gun shy and doesn't let the ball go. Whether it is simply fear of making a mistake or concerns over his ability to fit the ball into what probably will be a tight window...this is a throw Manziel can't turn down.

NFL.com
Instead of letting the ball go, he holds onto it and ambles forward slightly in the pocket, allowing Ryan Kerrigan to fall on top of him. 
This wasn't a wide-open throw. Cameron was relatively well covered, but Manziel in such situations is going to have to be aggressive and let the ball go. As a quarterback, you can't expect to have a receiver wide open on every play at this level.
You need to be able to throw receivers open and do so with accuracy and velocity. Manziel failed to do that on this occasion.

NFL.com
A very impressive goal-line stand from the Browns defense early in the second quarter got the ball back for Manziel and the Cleveland offense. The Browns ran the ball unsuccessfully on first down, before trusting their rookie quarterback to throw from his own end zone after play-action on second down.

NFL.com
Manziel quickly got to the top of his drop and appeared to see an open receiver. He wound up to throw, but pulled it back at the last moment.
The pump fake is an element of Manziel's game that should come in very useful for him throughout his career. His hands are huge, and they will allow him to sell his pump fakes like Pittsburgh's Ben Roethlisberger does to great effect.

NFL.com
For a moment it looked like Manziel was going to run himself into trouble as he dropped his eyes after the pump fake and turned slightly as the pocket closed in on him. Instead, he was making another Roethlisberger-esque play by altering his body position to throw to his fullback in the flat.
MarQueis Gray caught an accurate pass from Manziel and turned it upfield for a first down. This is the kind of play that the Browns are looking for from their young quarterback.
Manziel stayed calm in the pocket, despite the threat of the impending safety, and completed an off-balance pass to a open receiver who could convert for a first down rather than just settle for a short gain.
From his own goal line, Manziel showed off the poise of a veteran, but on the very next play he again showed the vulnerability of a rookie.

NFL.com
On the previous throw to Gray, Manziel was initially looking for Gordon on a deep in route. Gordon was covered, so Manziel checked down. On this play, Manziel has plenty of time to locate an open Gordon down the field and let the ball go after selling play action.

NFL.com
This is a simple throw for an NFL quarterback, but Manziel rushes it and wildly misses his intended receiver. Just like his earlier throw to Cameron, the trajectory of this pass poor. He appeared to be too concerned about the incoming safety, but a better throw would have completely taken him out of the game.
Ensuing penalties had Manziel's next pass attempt coming a few plays later on a 2nd-and-18.
NFL.com
On this play, Manziel does well to come off his first look, the tight end running down the middle of the field, to find an open Gordon running underneath. However, that solid decision was ruined by his footwork on the throw, as he attempted to pass while fading backwards, both feet coming off the ground.
He was under pressure in the pocket and lost his focus. He still managed to throw a catchable pass, but it was off target enough that a wide open Gordon was forced to reach back to secure the football.
On 3rd-and-18, the Browns called a screen pass that was snuffed out by the Washington defensive front. Manziel made a smart decision to throw the ball away after leaving the pocket. A penalty in the secondary, however, gave the Browns a first down to extend the drive.
That penalty gave us an opportunity to see something that should be a staple of Manziel's career in the NFL.
NFL.com
Kyle Shanahan's offense typically features lots of bootleg play-action throws. On this play, Manziel shows off his athleticism by comfortably executing the fake before very quickly turning around to face the defense and sprint into the flat.
While on the run, he comfortably throws an accurate pass for a first down. Perhaps most importantly, he took the time to survey the field and find an open receiver.
At this stage of his career, Manziel should be able to make this kind of play consistently. He doesn't have to make difficult reads like he does from the pocket, and he has more space to adjust in if pressure arrives. Manziel likely won't be a great scrambling quarterback in the NFL as he gets older, but he should be able to execute plays like this consistently.
Shanahan appeared to be opening the playbook up a bit at this stage, as he followed up that play with a read-option that saw Manziel keep the ball. He made the right read, but didn't have the athleticism to turn the corner.
On the following play, Manziel found his hot receiver in the flat against the blitz, but his throw was slightly out of Cameron's reach. Those two plays set up a 3rd-and-11.
NFL.com
Once again, the former Texas A&M product showed vulnerability against pressure. As Washington's defense closed in on him with a blitz, Manziel faded backwards as he released toward Gordon, who was running upfield along the sideline as the ball sailed over his head.
It's possible that Manziel actually threw this ball away, understanding that he was still in the pocket so he needed to direct it towards (or over) a receiver. However, even if he was doing that, it was still a poor throw because the throw should have cleared the other defender more easily than it did.
Importantly, Washington showed the blitz before the snap, and Manziel never appeared to account for it.
Against the blitz, you want your quarterback to alter the protection upfront to better pick up the impending pressure or change the routes outside so he can get rid of the ball quickly. It's not unusual for rookie quarterbacks to not be allowed to do this, but it is something that will handicap the offense during the regular season.
This ended his final drive of the second quarter, as Hoyer took over to close out the first half. Hoyer did little to impress, and Manziel returned to the field for the offense's first drive of the third quarter.
With the second-team offense against the second-team defense, Manziel started the drive with an accurate throw on a simple out route. Two plays later, on a 2nd-and-7, Manziel, under pressure, was unable to find his tight end in the flat after a play-action fake.
This set the Browns up in a 3rd-and-7 situation, but they are forced to take a timeout as Shanahan and Manziel are unable to get the play in in time.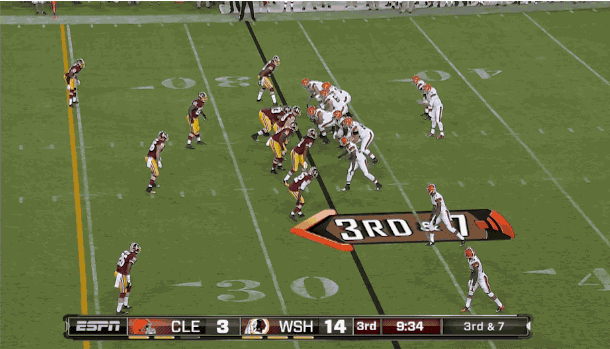 NFL.com
In this game, third down was a pressure down. Washington again blitzes Manziel and puts pressures on him in the pocket. This time he completes the pass but again throws the ball while moving backwards to avoid taking a hit. This causes his pass to float and his receiver has to slow down to make the catch.
It bares repeating as a point of emphasis, Manziel throws a completion, but at this level it can't be classified as an accurate pass.
NFL.com
On fourth down, the Browns decide to go for it. Manziel drops into a clean pocket and finds an open receiver over the middle of the field with a short, accurate fastball. His receiver tries to catch it against his chest, but a big hit pops the ball out.
This was a good play from Manziel, but it should be noted that unlike many other plays where he stumbled, he wasn't under any pressure and was able to find his first read.
Any momentum that might have been built off that last throw was quickly erased on the next drive. Manziel missed seeing his first receiver, in spite of the penalty flag that was thrown on the play, before making a bad decision on a packaged play, as he tried to hit on a slant pass that is never open. On 2nd-and-10, the pressure came and Manziel dropped his eyes to scramble for no gain.
By this stage of the game, the Browns had likely seen enough.
Manziel is unable to handle pressure in the pocket at this stage of his career. He is primarily a first-read thrower whose first instinct is to run when he senses that his first read is covered. His threw plenty of catchable passes, but on the whole his accuracy was severely lacking.
He also doesn't appear to be able to change plays at the line of scrimmage, something that is vitally important against the better defenses in the NFL.
In short, Manziel is a raw rookie and he plays like it. The problem is that the Browns have only Hoyer as a competent option at the quarterback position.
If Manziel was in camp with a team that had an established starter, he would never have a chance of seeing the field. If he was competing with a quarterback of the caliber of Matt Cassel or Chad Henne, he would also be sitting down for the start of the season.
What happens with Manziel over the long-term won't be affected by his play now. It's way too early to conclude that his struggles after just two preseason games means he can't play in the NFL. Rather, they suggest that he is what everyone expected him to be, a flawed player who needs time to develop into a quality starter.