NBA Preseason Awards and Predictions
October 27, 2009
Can Flip Saunders help the Washington Wizards return to playoff form?
Getty Images
If you're not excited about the upcoming NBA season then something is clearly wrong with you.

Guys like Ron Artest, Shaq, and Richard Jefferson will all be sporting new uniforms this season and all three have a chance to win an NBA championship—which will make this year's preseason predictions a lot more fun to make.

Who knows how this season will end? It never hurts to just make a few educated guesses.

Without further ado, here are my annual preseason awards and predictions:


Award Winners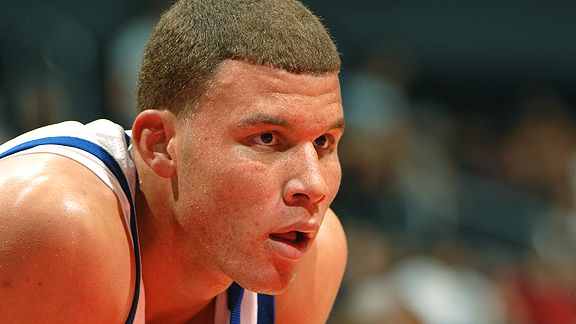 No. 1 pick Blake Griffin. Johnny Vy/NBAE/Getty Images

Rookie of the Year: Blake Griffin, Los Angeles Clippers

Griffin was by far the best player taken in the 2009 NBA Draft. With a pretty decent supporting cast, Griffin will make an immediate impact in L.A.

And call me crazy, but don't be surprised if the Clippers make a push for a playoff berth. Tyreke Evans from the Sacramento Kings will also be in the running for Rookie of the Year.



Coach of the Year: Flip Saunders, Washington Wizards

The big three for Washington haven't all been healthy together for a while and Antawn Jamison will be sidelined for a few weeks. But once AJ returns, this Wizards offense will flourish.

Now that Flip is running the show, the Wizards should love their new offense because of the freedom they will have.

*Honorable Mention: Nate McMillan, Portland Trailblazers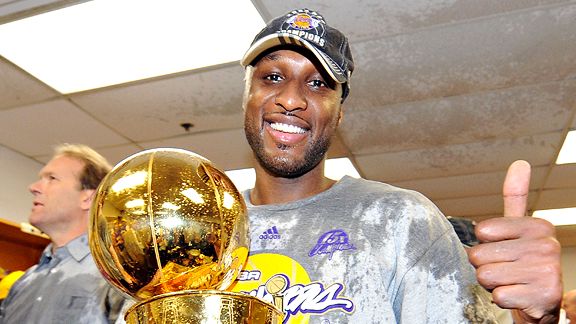 With Ron Artest now in L.A., Odom will have some of the pressure taken off of him.  Jesse D. Garrabrant/Getty Images

Sixth Man of the Year: Lamar Odom, Los Angeles Lakers

This one was kind of hard because both Jason Terry and Manu Ginobli will also be in the running for the best Sixth Man.  But Odom will be the sixth man for the best team in the league.
Ginobli has had problems staying healthy the last couple of seasons, but if he does manage to stay healthy he will come in second.

As for Terry, his team's window of opportunity for a championship may have closed, but they are still one of the top eight teams in the Western Conference. Look for "The Jet" to have another productive year off the pine.


Most Improved Player: Andrew Bynum, Los Angeles Lakers

Yes, it was only preseason--but Bynum looked very impressive during that period.  He averaged a double-double in preseason and if that knee can hold up for the entire season we may be talking about Bynum as the starting center for the Western Conference All-Stars come February.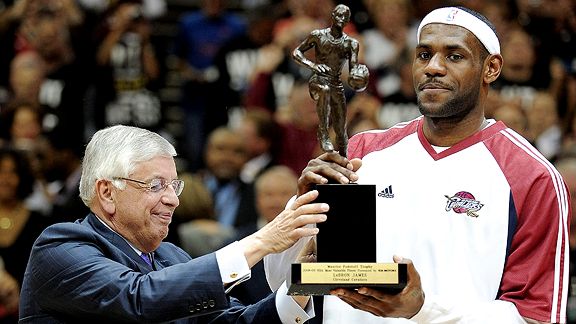 LeBron James has a chance to become MVP for the second straight year. Gregory Shamus/Getty Images

Most Valuable Player: LeBron James, Cleveland Cavaliers

This will be a historic race for MVP, but LeBron will come out the winner. My top five candidates for this season's MVP are LeBron, Chris Paul, Kobe Bryant, Dwight Howard and Tim Duncan

But with the addition of Shaquille O'Neal, Cleveland will be the best team during the regular season. And you know what the description is for MVP these days: the best player on the best team.

With that said, Chris Paul will have another amazing season and come in second place in the MVP voting.


Surprise Player of the Year: Emeka Okafor, New Orleans Hornets

Okafor? Yes Okafor. Though Emeka's numbers have not made a dramatic increase like the man selected before him in the 2004 NBA Draft—Dwight Howard, his production will finally pay some dividends in New Orlean's offense.

Also, defensively he will make an impact since they no longer have Tyson Chandler and he will also be the team's newest leading rebounder.

*Honorable Mention: Greg Oden, Portland Trailblazers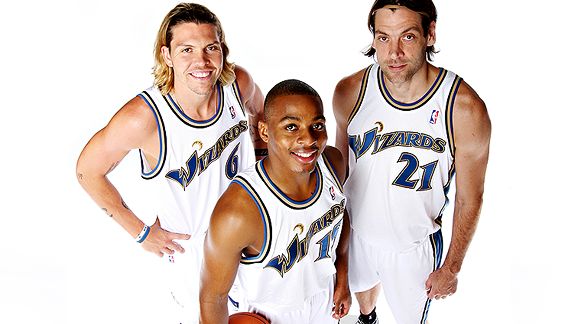 The additions of Miller (left), Foye (middle) and  Fabricio Oberto (right) should help the injury prone Wizards get back on track. Ned Dishman/Getty Images
Most Improved Team: Washington Wizards

For some reason I have jumped on the Wizards bandwagon this season. And barring any further injuries, the Wizards have a legitimate chance make a run to the playoffs this season.
Washington added a great shooter in Mike Miller and an explosive player in Randy Foye during the offseason. If the Wizards live up to my expectations, then look for Washington to be a seventh or eighth seed.

The NBA's Newest All-Star: Kevin Durant, Oklahoma City Thunder
Last season Devin Harris, Danny Granger, and Mo Williams made their first appearance in an All-Star game. And although he plays for a bad team, fans have caught on to Durant.
Not only will he make his first appearance, but he has a real chance to lead the league in scoring. 


Four Bold Predictions

1. The Orlando Magic will not make it back to the NBA Finals.

Orlando caught a break last year with the injury to Kevin Garnett in Boston and the loss of Hedo Turkoglu will hurt them this year.

And although Orlando eliminated Cleveland from the playoffs last season, their offseason moves will make them a better team this year.

2. The Washington Wizards will make the playoffs this season.

Of the eight teams that reached the postseason last year, Detroit will be left out and Washington will take their place.

As mentioned above, the Wizards should be a better team with Flip Saunders on the sideline.

This year's Eastern Conference standings will look something like this:

1. Cleveland
2. Boston
3. Orlando
4. Atlanta
5. Miami
6. Chicago
7. Philadelphia
8. Washington

3. The final four teams left standing in the Conference Finals will be San Antonio and the Los Angeles Lakers, along with Cleveland and Boston.

Cleveland and Boston will go seven games in the Eastern Conference Finals, but Boston will come out on the winning side; Los Angeles defeats San Antonio in six

4. This will be Amar'e Stoudemire's last season in Phoenix

This season is Amar'e's big contract year and if you were to ask me where he is most likely to end up next season, I would say the New York Knicks. Sorry to disappoint you Knicks fans, but he is not going anywhere after this season.

It makes perfect sense. Amar'e loved playing for Mike D'Antoni in Phoenix and those guys being reunited next season is not hard to picture.
Michael Whittenberg is one of two NBA Community Leaders for bleacherreport.com