The Uphill Battle of the Washington Freedom
July 28, 2010
Just when you thought it couldn't get any worse.
In front of 4,809 spectators at the Maryland SoccerPlex, the Freedom extended their winless streak to eight games by falling to league leader FC Gold Pride.
And to rub salt in the wound, the team lost starting goalkeeper Erin McLeod late in the game. With no more substitutions left, team captain Cat Whitehill had to take her place in the net as the Freedom played with ten women.
"We are hoping that it doesn't get worse than this. I feel like we are at rock bottom. We haven't won in a while," said Whitehill. "We are trying everything. Different formations, different players."
Defender Nikki Marshall was placed up top with forward Abby Wambach to add speed that the team have been lacking ever since Australian international Lisa De Vanna broke her leg in May. Rookie Kristi Eveland has since taken Marshall's place in the back.
Beverly Goebel, recently elevated from developmental status to rostered, has taken Allie Long's place in the midfield when the latter got called up to the national team and hurt her MCL.
And now more changes as McLeod, a WPS All-Star and one of the team's leaders, is not likely to play further this season. Rookie goalkeeper Ashlyn Harris, who has not played a single game, is expected to take her place .
"We need some things to fall our way. We just need a little bit of luck. Just a few things to go our way, because we are giving 100 percent, no doubt about it," continued Whitehill.
But the schedule ahead does not look favorable for the Freedom: a game in Atlanta against the Atlanta Beat four days after playing against Gold Pride, a game in Boston against the Boston Breakers three days later, and a game at home against No. 2 team Philadelphia Independence four days later.
The Beat are on a winning streak, the Breakers have won four of their five games this month (including a win over the Freedom), and the Independence defeated the Freedom in their last game by scoring three goals in the second half.
Yet as WPS followers all know, anything can happen.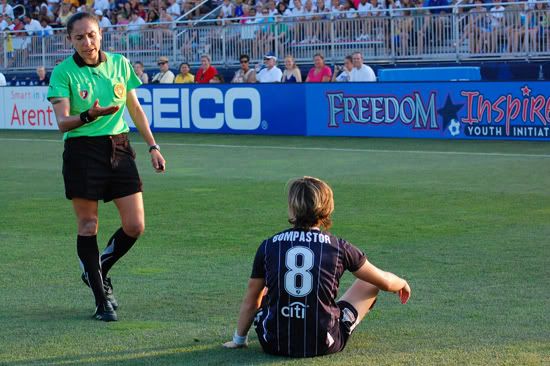 Last season, two teams that have been at the bottom of the standings, St. Louis Athletica and Sky Blue FC, pushed their way to the playoffs. Sky Blue, the last-placed team in the playoffs, pushed all the way to the championship and upset regular season champion Los Angeles Sol to claim the title.
With a league of only seven teams, standings can easily change. The Boston Breakers, a team that was on a nine-game winless streak, started winning only this month. And just after Sunday's win in Chicago, they have leapfrogged the Freedom, Chicago Red Stars, and Sky Blue FC to third place.
And as of this writing, the third, fourth, and fifth-placed teams in the standings are only separated by 1 point.
It is still a close battle in the race to the playoffs.
Mathematically speaking, all playoff spots are still up for grabs. "I think every team in this league is hoping to make a run for it towards the end. Gold Pride has obviously done so well all season long that we hope to be able to get closer and closer and closer to them in points so that potentially we could host the championship game," said Wambach the day before their loss to the Gold Pride. "That's still a goal of ours. It's still within reach, no matter how far of a reach it might be."
As far as the Freedom's goalkeeping situation, they have Harris, whom the team picked up after St. Louis Athletica folded back in May.
Harris, a holder of three NCAA College Cup titles with the UNC Tar Heels, trained under U.S. Women's National Team (U.S. WNT) goalkeeper coach Paul Rogers and with U.S. WNT starting goalkeeper Hope Solo during her time in St. Louis. Being a backup to two world-class keepers—the United States' Solo and Canada's McLeod—Harris has not found the chance to play at a WPS game.
But the untested rookie has been waiting for her opportunity to prove herself, especially with U.S. WNT head coach Pia Sundhage still shaping her roster for next year's Women's World Cup.
"It's difficult because [Sundhage] watches a lot of games, and I don't get those games. So it's just a lot of staying sharp, training really hard, and when I do get my shot, my opportunity to play, I'll just play well," said Harris, a few days before McLeod got injured. "I've had great coaching this year between Nicci [Wright] and Paul Rogers. So I can say I'm a completely different goalkeeper than when I was in college."
Developmental player Meagan McCray is another goalkeeping option for the team. McCray saw some playing time early in the season when McLeod was in China with the Canadian Women's National Team. She played in the second half when the Independence hosted the Freedom in West Chester, PA.
And even on a long winless streak, the fans of the Freedom still have faith.
"The Freedom have always been more than eleven individual players on the field—they're a team. They play for each other, and that's how I know that one of those four playoff spots belongs to Washington," said season ticket holder Laura Arcadipane. "They have the heart, the drive, and the team chemistry to put them at the top. After a little luck and a few powerful strikes to the back of the net, the momentum forward will be unstoppable."
With playoff spots still up for grabs, two goalkeepers waiting in the wings, and the strong faith of their fans, the future does not look bleak for the Freedom. No one can deny the challenges that they have faced and will continue to face to earn their spot at the playoffs.
But being at rock bottom might be what will turn things around for the team—reminiscent of their game against the Independence in late April when they suffered a heartbreaking loss, then rallied together and went on a seven-game undefeated streak. They just need to get that momentum back.
And just like their game against FC Gold Pride earlier this month, when they had no coach and were down 3-0 with only 15 minutes left, the Freedom have demonstrated that they have the heart to fight and won't give up.
"We've been through a little bit of a rough spell. And the best teams show their character in the toughest times," said Wambach.