NBA Power Rankings November 2010: San Antonio Spurs and LA Lakers on Top
November 26, 2010
Streeter Lecka/Getty Images
It's time for my second edition of the 2010 NBA Power Rankings. A lot of things have changed since the preseason and these rankings will reflect that. Keep in mind that power rankings are supposed to put teams in order based on how they are playing right now. The Spurs are hotter than any team in the league right now, winning 12 in a row. They are followed by the Lakers and the Celtics.
1. San Antonio Spurs
I got a lot of "Heat" for my NBA preseason power rankings for having the Spurs at sixth. Well, right now, they're playing consistently better than anyone in the league and Duncan isn't the main attraction. This weekend will tell us a lot when they play the Mavs and Hornets.
2. Los Angeles Lakers
The Lakers are still the team to beat, despite falling to No. 2. They look every bit as good as they have the past few years and there's no reason to believe that they won't be right where they need to be at the end of the season.
3. Boston Celtics
There was some speculation that Boston's final stand was last year, but they look better this year than they did last.
4. Orlando Magic
The Magic have been getting a lot of offense out of Dwight Howard this year to go with his outstanding defense. If the role players can continue playing well, we'll have an epic Eastern Conference Finals between the Magic and Celtics.
5. New Orleans Hornets
The hot start is cooling off, but the Hornets' record still speaks volumes. Another couple of weeks will tell us more about whether or not this team belongs towards the top.
6. Utah Jazz
The Jazz are a team that everyone gets worried about playing. If they can become more consistent, they're going to wreak havoc in the West as the season wears on.
7. Dallas Mavericks
The Mavericks are statistically the league's best defensive team. Thanks to the resurgence of Tyson Chandler, the Mavs look like they have enough talent to be one of the handful of elite teams in the West.
8. Oklahoma City Thunder
The Thunder have been a bit of a disappointment so far, but lately they have started exhibiting that defense that we saw take them places last year. A win on the road in Boston was huge without Kevin Durant and Jeff Green. Russell Westbrook has been the engine behind this team and is becoming an exceptional point guard.
9. Chicago Bulls
The Bulls are like the Thunder: not as good of a start as fans had hoped for, but they're still a dangerous team. Once Boozer is healthy and they begin to develop chemistry with him, this team will scare the Celtics and Magic.
10. Portland Trail Blazers
Again, I think the Blazers are like the Bulls: a scary team, but they don't have enough consistent playmakers to get it done regularly. They are a playoff team, but this is not the year for anything special in Portland.
11. Miami Heat
I had a lot of haters in my preseason rankings for having the Heat ranked fourth. I'm not afraid to admit I was wrong to have them there, but not for the reason's I took criticism for.
Power rankings are supposed to reflect where a team is at, at the time the rankings are released. The Heat are not a top 10 team right now, but if they do get on the same page as the season progresses, they can be an elite team. The problem is they don't have a point guard or a big man, two of the most important things to a team's success.
12. Atlanta Hawks
The Hawks' hot start was not a reflection of how good this team is. They're an average team with some strong potential. They started with a weak schedule and will hover a little over .500 the rest of the season.
13. Denver Nuggets
The Nuggets are ho-hum so far, winning more than they've lost. They'll need to put a win streak together to stay at this spot, or they will be fighting for a playoff spot down the stretch.
14. New York Knicks
As much criticism as the Knicks have taken, they find themselves at .500, which is more than we've seen from them in the past. They've won five in a row, which is pretty impressive. The acquisition of Amar'e Stoudemire is the sole reason for the record, but it's still going to be a long season in the Big Apple unless Carmelo Anthony ends up coming to town.
15. Phoenix Suns
The Suns didn't come out of the gates like they did last season, but they're still fighting tooth and nail each night. They're not the most talented team, but they play hard and when they're hot, they can beat just about anyone.
16. Indiana Pacers
The Pacers have been a surprise this season. They've got a franchise player in Danny Granger and Roy Hibbert is a developing inside presence. Their 7-6 record is a reflection of the defense they've played. A playoff spot isn't a stretch for this team.
17. Cleveland Cavaliers
The Cavs are the team that you can't help but root for. They took a bigger hit over the summer than any franchise has in recent history. They took it in stride and are making people respect them even without LeBron.
18. Golden State Warriors
The Warriors are still an exciting team. They were looking pretty good until they lost four in a row to fall below .500. They've got to find a way to stop people if they want to win games.
19. Memphis Grizzlies
Memphis probably hasn't played up to their talent level yet. They did beat Dallas earlier in the year, but since then, they haven't been too impressive.
20. Toronto Raptors
The Raptors were supposed to be in the bottom few teams. Instead, they're one spot out of a playoff spot in the East. They've won four in a row to get to 6-9. This will probably be the ceiling for them this year.
21. Milwaukee Bucks
The Bucks are the opposite of the Raptors. They looked decent through their first nine games, but now they've lost four in a row and can't seem to get anything going. I still think they will earn a playoff spot in the East.
22. Washington Wizards
John Wall has been as advertised. He's probably the reason they're not dead last. The Wizards have to find a way to win a road game if they want to go to the playoffs. They're 0-7 away from home.
23. Detroit Pistons
Detroit seems to have figured some things out. They started 0-5, but since then they are 5-5. It's nothing to write home about, but it's a much better road than they were headed down.
24. Houston Rockets
I feel sorry for Rockets fans. They've had some decent teams in the past, but this isn't one of them without Yao being healthy. I will say that the players they do have are fighters.
25. New Jersey Nets
The Nets have worked their way out of being the laughing stock of the league. With Harris and Lopez running things, they'll win a handful of games this year, but won't make the playoffs.
26. Charlotte Bobcats
They're bad at home and on the road. They play pretty good defense, but they're not scoring enough to beat teams right now.
27. Sacramento Kings
After a 2-1 start, they're 2-8 in their last 10. Their 2-6 record at home isn't going to keep fans happy.
28. Minnesota Timberwolves
Wow, Kevin Love has been outstanding. Michael Beasley is finally playing like a No. 2 pick. They should have beaten the Spurs in their last game, but they're just not there yet. The T-Wolves have only won four games, but I think they're going to get better as the year goes on.
29. Los Angeles Clippers
Prediction: Blake Griffin will win Rookie of the Year and if it's not outright, we'll see a Co-Rookie of the Year. They've only won two games, but this team is finding its identity and Griffin is getting them plenty of attention.
30. Philadelphia 76ers
Things aren't looking good in Philly. Evan Turner is playing decently well, but the whole Iguodala fiasco is a distraction. They've got to get on the same page or it's going to be a looong year.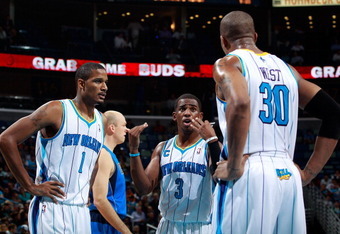 Chris Graythen/Getty Images