The Randall Cobb Era Begins; Hartline Still Has Much To Prove
September 7, 2008
Mike Hartline currently stands as the Wildcats starting QB, at least as of right now. But, yesterday's 38-3 win over over matched Norfolk State proved to be the start of the Randall Cobb era, or at least a preview of what's to come.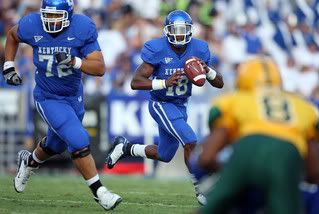 The freshman back up QB Randall Cobb completed 6-11 passes for 87 yards with a 14 yard TD pass to Dicky Lyons, Cobb also rushed for 49 yards on eight attempts and 2 TD's. But, on the downside, Cobb turned the ball over twice last night. He threw 1 INT late in the game and fumbled once.
Hartline completed 9-15 passes for 60 yards with no TD's passing nor rushing. On the upside, Hartline has taken care of the ball by not throwing any INT's or fumbling any. Which is the only thing he has proved to do that Cobb hasn't so far. That's pretty much the only two things to say about Hartline ad his performances the past two games.
Hartline, needs to step up and prove something in the Cats next two games vs. Middle Tennessee State and cross state foe Western Kentucky University. He needs to show the coaches and fan that he can lead the offense and produce points, which so far he hasn't.
If Hartline doesn't step up and produce in the next two games, and Cobb continues his stellar play and holds onto the ball, then the Cats could very well and should have a new starting QB by the time the Cats travel to Alabama to start SEC play in Week 5.
For the latest University of Kentucky Wildcats updates, news, and discussion go to WWW.WILDCATSTHUNDER.COM