NBA Expendables: Why Players Like Dwyane Wade and Tim Duncan Fit the Bill
January 5, 2011
Ronald Martinez/Getty Images
I always imagined that when I left a job, my former employer would fall apart in my absence and partners would call begging me to come back.
Typically, I imagined that clients would run around not knowing whom to call, emails would go unanswered and my value to the firm would become painfully obvious.
But this never happened. In fact, I've even interviewed with a former employer hoping to get my old job back expecting to be welcomed back with open arms—only to be rejected.
Not only was I not necessary to this former employer, I was expendable. And that's why I'm now writing a blog.
In the past month or so, the Rockets lost Yao Ming and the Blazers lost Brandon Roy. Both were supposed to be franchise players, and the teams were expected to falter in their absence. Instead, both teams have thrived without them. Yao and Roy went from being the foundations of the team to being merely expendable.
So which star players are expendable on their current teams? In other words, if you were to replace one of the team's stars with an "average" player at the position, would the team suffer significantly?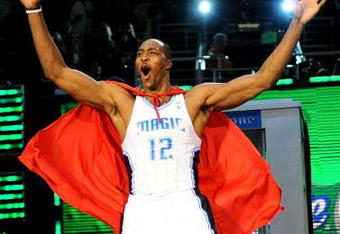 Ronald Martinez/Getty Images
For reference, here are my "average" players at each position—these players are ranked 14-16 at their respective positions according to Hollinger's PER rankings (I needed some unbiased measure besides my own opinion):
PG: Jose Calderon/Shannon Brown/Jameer Nelson
SG: Jason Terry/Rip Hamilton/Nick Young
SF: Richard Jefferson/Andrei Kirilenko/Luol Deng
PF: Lamarcus Aldridge/Luis Scola/Elton Brand
C: Roy Hibbert/Tyson Chandler/Nazr Mohammed
EASTERN CONFERENCE
1. Boston Celtics
Expendable: None 
Unexpendable: Rajon Rondo, Ray Allen, Paul Pierce, Kevin Garnett
The Celtics are in a unique situation as they have the second best record in the NBA and are legitimately in the title hunt. If they lose any of their star players, they're out of the title hunt.
2. Miami Heat
Expendable: Dwyane Wade, Chris Bosh
Unexpendable: LeBron James
The Heat are good enough to get into the Conference semifinals or even Conference finals, but they're not good enough to advance to the NBA finals. Minus either Wade or Bosh, the Heat would essentially be the same team—able to get to the conference finals, but not the NBA Finals. However, if the Heat were to lose LeBron, they'd become the East's fifth or sixth seed.
3. Orlando Magic
Expendable: They have no stars besides Dwight Howard 
Unexpendable: Dwight Howard
This team goes as Howard goes. With the exception of Dallas, Utah and New York to some extent, no other team is so centered on a single player.
4. Chicago Bulls
Expendable: Carlos Boozer/Joakim Noah 
Unexpendable: Derrick Rose
The Bulls did just fine without Boozer earlier in the year, and the Bulls are doing just fine without Noah now. The Bulls are lucky and have a decent stable of defensive-minded big men including Taj Gibson and Kurt Thomas. As long as Derrick Rose is healthy, the Bulls will be just fine.
5. Atlanta Hawks
Expendable: Joe Johnson, Josh Smith, Al Horford 
Unexpendable: None
The Hawks have some above-average talent, but no standout talent (despite the fact that Johnson is paid like a standout). Replace Johnson, Smith or Horford with Rip Hamilton, Kirilenko or Aldridge and they don't suffer that much. They'd still be on pace for a first-round playoff exit.
6. New York Knicks
Expendable: They have no stars besides Amare Stoudemire 
Unexpendable: Amare Stoudemire
It's Amare or bust with this team. Replace Amare with Elton Brand and you're looking at a worse version of the 76ers.
WESTERN CONFERENCE
1. San Antonio Spurs
Expendable: Tim Duncan, Tony Parker 
Unexpendable: Manu Ginobili
Reporting that Tim Duncan is expendable is like reporting that Blake Griffin can dunk. I was kind of on the fence about Parker (which probably means I should have categorized him as "unexpendable"), but you don't sleep with a teammate's wife, especially when you're married to Eva freaking Longoria. Manu is irreplaceable.
2. Dallas Mavericks
Expendable: They have no stars besides Dirk Nowitzki 
Unexpendable: Dirk Nowitzki
We're getting a taste of how this team fares in the absence of Dirk. If they don't have Dirk, where do they get their scoring? They can't seriously count on Deshawn Stevenson and Shawn Marion to get 20-plus a game.
3. Utah Jazz
Expendable: They have no stars outside of Deron Williams 
Unexpendable: Deron Williams
Another contending team built upon a single star. Deron Williams is the end-all be-all for this team. The Jazz barely lost a step with Paul Millsap playing PF, and this is due in large part to Jerry Sloan's pick-and-roll, and Williams' ability to run that offense.
4. LA Lakers
Expendable: Kobe Bryant, Paul Gasol 
Unexpendable: Kobe Bryant, Pau Gasol
Yeah, I know it's the same players mentioned in both lists. The Lakers cannot win a title without a good/healthy Kobe or a good/healthy Pau. But the Lakers are not currently contending for the title. They've been playing awful and would be lucky to survive against the Thunder or Nuggets in the first round of the playoffs. A Lakers team without either Kobe or Gasol, would essentially be in the same boat—headed for a possible first-round exit. If the Lakers are going to contend for a title, they're going to need both.
5. Oklahoma City Thunder
Expendable: None 
Unexpendable: Kevin Durant, Russell Westbrook
Both Durant and Westbrook are playing at MVP-levels and that is the only reason the Thunder are where they're at in the hyper-competitive West. I don't think Durant can carry this team alone, and they'd probably be a 7-8 seed if Westbrook were replaced by someone like Jameer Nelson. Similarly, the Thunder would be lottery-bound if Durant were replaced by Luol Deng.
6. Denver Nuggets
Expendable: Carmelo Anthony 
Unexpendable: None
This is where I piss people off. I honestly believe the Nuggets would be good enough to be the sixth seed in the West without Melo. I know they recently went 2-3 when Melo missed time due to the death of his sister, but they were also without several other players. The Nuggets remind me of the Rockets and Blazers, and I see them rallying in the absence of Melo. JR Smith and Ty Lawson are ready to bust out. And they have decent size with the Birdman, Nene and KMart.