Auburn Tree Poisoning Shows Thin Line Between Passion and Crime in Fan Behavior
February 18, 2011
The recent events at Auburn University in Alabama, where Harvey Almorn Updyke, a 62-year-old fan of in-state rival the University of Alabama, has been arrested on criminal mischief charges for spreading poison on the roots of the iconic Toomer's Corner oak trees on the Auburn campus, have led me to wonder, exactly what is the threshold of passionate support from sports fans?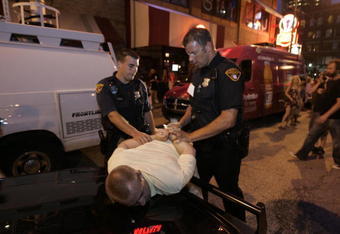 J.D. Pooley/Getty Images
The 130-year-old oak trees on the Auburn campus are at the center of a longstanding tradition where fans covered the trees in toilet paper to celebrate major victories.
It's a tradition that now risks extinction because one adult couldn't channel his anger and frustration over a defeat to a bitter in-state rival in a constructive manner. He is now facing criminal charges.
We've all been there: Your favorite team suffers a loss or some gross injustice that leads to a bitter loss, and we want justice to be served. The reasons are all too common—"It was the referee's fault" or "Why did they run that play?" and my personal favorite, "Player/coach X gave the game away."
In many cases fans are justified in directing their anger at officials, coaches and even players, but there's a point where that sort of passion becomes an exercise in futility.
Last night, in the waning seconds of the University of Georgia's men's basketball game against Vanderbilt, fans at Stegeman Coliseum began getting testy after the referees appeared to miss several fouls against Vanderbilt that at the least would have given Georgia some additional possessions.
The situation was further exacerbated when Georgia head coach Mark Fox got into a shouting match with a referee and was assessed a technical foul.
What followed was a small example of just how fast things can spiral out of control where fans are involved. Fans began throwing items on the court and at the referee in question. The entire episode ended with the referees being escorted off the court by six uniformed police officers. All of this happened with less than 20 seconds left on the game clock.
There's a fine line between passionate support of your favorite team or athlete and charges of criminal mischief. While I'd love to go on a rant about how it's a microcosm of our culture, it's not. It's actually the same all over the world.
The urge that possesses a European soccer fan to riot is the same that makes a fan in Detroit think it's acceptable to douse a player with one's drink. It's not a symptom of a particular sport's culture, but one born of idiocy and actions absent common sense and moral behavior.
Here are five tips to help see you through your next game-day meltdown:
1. Breathe.
2. Don't destroy anything you can't afford to lose (I recommend keeping a stack of paper napkins close by). You won't break anything with tissue, and the cleanup is relatively easy.
3. If your anger is fueled by your betting losses, don't wager amounts you can't afford to lose. That would include paychecks, this month's rent and your kid's college fund.
4. When you find yourself getting ready to do something really stupid like our friend Mr. Updyke, ask yourself, "Will (insert team/player/or coach's name) take time out of their day to post bail for me if I'm arrested?" If your answer is "no," put down the poison and grab a set of boxing gloves and hit the heavy bag instead. It's a cheaper and more satisfying alternative and has lasting health benefits.
5. See No. 1.
This article originally appeared on iSportsFanaddict. 
Follow me on Twitter: @SportsFanaddict