New York Knicks Draft Results: Were There Better Options Than Iman Shumpert?
June 26, 2016
Jonathan Daniel/Getty Images
As you may know, I was pleading with the New York Knicks front office to trade up in Thursday's NBA Draft, hoping they would nab either Jimmer Fredette or a center that isn't named Jared Jeffries.
However, as any lifelong Knicks fan could have suspected before David Stern even approached the podium, I was going to be sorely disappointed.
The Knicks politely waited their turn to draft at No. 17, and opted for Georgia Tech's Iman Shumpert—a player that was easy to forget once the college basketball season ended.
Apparently, nobody saw this coming. In fact, Shumpert was the first pick of the night that wasn't present to accept a hat and smile for the cameras. We couldn't even get some reassurance that our pick was excited to get taken with one of those extremely emotional (and equally awkward) interviews that every player gives.
So, with Spike Lee in attendance, this begs the question: did the Knicks do the right thing?
The Knicks may have gotten a lot of boos upon their selection, but Shumpert actually appears to have some upside.
It's a little unfair to doubt Iman's abilities before he even steps foot onto the MSG hardwood, but as soon as the Celtics scooped up Providence's Marshon Brooks and quickly sent him to New Jersey, I couldn't help but wonder if the former Friar would be a better fit in New York.
Another interesting player who the Knicks passed on is Donatas Motiejunas, the seven-footer from Lithuania who went 20th to the Minnesota Timberwolves.
Let's analyze these players.
Shumpert is known for his strong defense with the capacity to cover a guard of any size, but is considered either average or below-average at just about everything else.
SwishScout.com describes the guard's transition, predicting, "Shumpert may have jumped the gun on entering the NBA Draft, and while he has respectable NCAA numbers, his game doesn't quite equate to success in the NBA."
Shumpert's aggressive coverage will be refreshing on a Knicks team who's defense resembles the Washington Generals more than it does the Chicago Bulls recently—but that may not carry over as well as expected. When an entire team is lazy on one end of the floor, why would the impressionable rookie do anything different?
Brooks is purely a shooting guard, limiting his use in comparison to Shumpert, but appears to be more NBA-ready.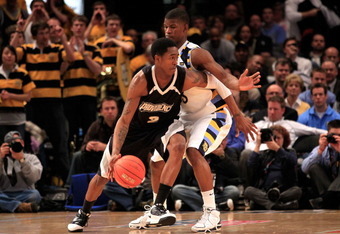 Chris Trotman/Getty Images
With a 7'2" wingspan on his 6'5" frame, the Celtics' pick surely sent any remaining sober participants of the Jay Bilas drinking game into severe intoxication.
After Donnie Walsh decided to stay out of the trades that went down early in the first round, Brooks seemed like the Knicks' pick.
Although his athleticism is not quite as impressive as Shumpert's, Brooks is the superior scorer, with a much better ability to shoot from long range. The surprise of the pick lied in that Shumpert excelled offensively as Georgia Tech's best option to put up points, benefiting from being the top player on the team (which he obviously won't be in New York).
Motiejunas is yet another product of European basketball training, where a big man isn't just stuck in the low post after his first growth spurt, but is also allowed to develop an versatile offensive game. Still, some question whether the Lithuanian will be able to bang with other NBA centers, as he lacks a muscular build.
The center seems like a rare player to find this late in the draft. As MockDraftMania.com explains, "Donatas Motiejunas is a fast player who can break lose and get into transition," and, "Donatas Motiejunas has top notch ball handling ability."
While all three players presented would have been acceptable picks, I think Motiejunas is the best fit.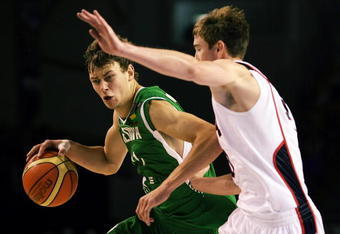 Hannah Johnston/Getty Images
Why pass on a center, a position where the team doesn't have a true starter, to add a player who is likely their third-string point guard and a backup shooting guard?
At just 20 years old, Motiejunas would have created tough decisions and many matchup problems when paired with Amar'e Stoudemire.
Also, the kid is seven-feet tall!
With the diminishing amount of talented centers in the league, how often do you get the chance to add a player with his size?
Motiejunas, like every rookie, has plenty of areas that need work, which include his defense and rebounding. However, unlike most rookies, these problems can all be justified by one cause: his skinny body.
Since he's so young and is expected to quickly be encouraged to hit the weight room, these problems may quickly dissolve.
Shumpert definitely adds a serviceable body to the Knicks' bench, but there is still a void in the starting lineup. Instead of addressing their biggest problem with the pick, they took care of their second-biggest. It wasn't a perfect choice, but it could've gone much worse.
Hopefully Shumpert outdoes the predictions, and hopefully Brooks doesn't make us regret this draft (like we do so many others) when he becomes a crosstown rival very soon.
Also, it would be great if Donatas doesn't start to resemble another seven-foot European who once seemed too soft for the NBA. Because if he does, than the Knicks are continuing to turn an opportunity to make a championship run into another era of mediocrity.
And quite frankly, mediocrity just doesn't cut it anymore.