NFL Draft 2011 Results: Ryan Mallett's Stock—Tough Grading or Tougher Media?
April 28, 2011
Matthew Stockman/Getty Images
Ryan Mallett is the best quarterback in the 2011 NFL Draft.
That's not an opinion. It's a fact, and every NFL general manager knows it.
This being the case, why is he projected by most to fall into the late first-round or possibly the second? Well, for that there are plenty of explanations you'll hear.
"Ryan doesn't perform well when facing pressure defenses." 
This is a common explanation. Watch film from the second half of the 2010 Alabama game, the entire 2009 Alabama game and the 2011 Sugar Bowl against Ohio State if you want confirmation. Disguised blitzes confused Mallett into taking his eyes off of receivers and making off-balanced, inaccurate throws.
But in the big picture, that's only 10 quarters of uncharacteristic play. Recall what he did against some of the nation's other top defenses, like LSU, South Carolina, Georgia, Mississippi State and several other always-tough SEC opponents. They blitzed as well. More often than not, those defenses paid for leaving fewer men in coverage by giving up quick-strike touchdown drives.
Also, you might hear that Mallett is an "injury risk."  Most claim this is a legitimate assertion because of his size. At almost 6'7'', his legs are often exposed to diving defensive lineman, leaving teams feeling like he's more prone to devastating knee injuries than other quarterbacks in the league.
But what about guys like Joe Flacco (6'6'') and Peyton Manning (6'5'')? Is that one or two inches the difference between those guys and Mallett? They are about as likely to suffer the same injury when hit low, whether it occurs at the knee or the ankle. Every quarterback runs that risk, given the speed of the game and the size of the men falling on unprotected areas.
So how is it not an advantage that he's tall?
Many "experts" refer to the fact that no quarterback over 6'5'' has ever won a Super Bowl or been tremendously successful in the NFL.
But times are changing.
Quarterbacks are taller. Men are taller in general. It's evolution. General Managers must realize that not many men have come through the college ranks with Mallett's size, much less the NFL. Height is an advantage at the quarterback position, and every quarterback who stands in the pocket against NFL defenses runs the risk of injury. 
Another knock on Mallett is his athleticism.  By no means is he a flashy athlete. His forty time was unspeakable, he has the body of a guy working in an office and I'm not sure if he's ever stepped foot in a weight room. He's no physical specimen.
But what he lacks in natural athletic ability, he makes up for in footwork and knowledge of the position. 
Watch film of 2010 compared to his 2009 season and his play at Michigan. There have been drastic improvements in pocket presence and his ability to move within the pocket when he feels pressure. Notably, he keeps his eyes downfield most of the time, instead of letting the play break down.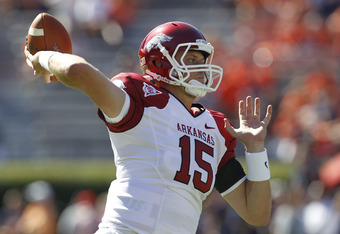 Mike Zarrilli/Getty Images
This is the sign of a polished quarterback with a solid feel for his position.
Lastly, the draft is all about comparisons. Several teams need quarterbacks, so they must compare the guys at the top of their respective draft boards and decide which one is the best fit.
Other notable quarterbacks being drafted this year will be Cam Newton of Auburn, Blaine Gabbert of Missouri and Jake Locker of Washington.
As of right now, most "experts" have all three of these quarterbacks ranked ahead of Mallett despite his obvious advantages in pure physical tools used by his position.
First, let's compare Cam Newton.
He's quite an athlete.  Everyone knows that.  He torched the SEC with his legs and tossed a few decent passes when opponents crowded the box anticipating run.  Auburn's system with Cam at the helm worked well—so much so that they won the BCS National Championship this past season.
But, as everybody knows, the spread offense doesn't work in the NFL.  Defenses are too fast and too intelligent.  Because of this, Newton must learn to become a prototypical NFL quarterback who spends most of his time in the pocket and makes an occasional play with his legs.
Can he make that transition?  Sure, I think so.  I think he has a good arm and the athleticism to quickly learn the footwork involved with taking snaps under center (something he hasn't done much of in college).
That being said, Cam's character has also come into question over the past year.  Sure, he has an infectious smile and lights up every room he enters, but let's not forget that he was arrested for stealing laptops at Florida his freshman year, and has been the target of NCAA "pay-for-play" investigations that most people feel still are not over.  Do General Managers want that cloud following their star quarterback around?  I sure wouldn't.
Then there's Blaine Gabbert.  He's also at the top of several quarterback lists as the best available at his position.  In his time at Missouri, he amassed 40 total touchdown passes in two years (22 less than Mallett in the same amount of time, against consistently lower-ranked defenses, and in a pass-happy spread offense), 18 interceptions (only one fewer than Mallett), and 6,822 yards (compared to Mallett's 7,496).
Not to mention, every snap in Missouri's offense is taken from the shotgun formation, whereas Mallett has been exposed to a pro-style offense under Bobby Petrino since arriving at Arkansas in 2008. 
Gabbert and Newton must both learn how to read defenses while dropping back from center, handle the ball on running and play action plays and properly set their feet in order to make the proper throw.  Mallett, on the other hand, has been doing all of those things for his entire college career.
Jake Locker of Washington is another quarterback rated ahead of Mallett by most.  Though he has several intangible qualities that teams look for in a draftable player, he still leaves plenty to be desired purely from a positional standpoint.
In four years at Washington, he has only thrown for 143 more yards than Mallett did in two years at Arkansas.  Also in that time, Locker has never completed more than 58.2% of his passes ('09), and has thrown only 53 touchdown passes compared to a staggering 35 interceptions.
In the NFL, Locker will be forced to change his throwing motion, "bulldog" mentality and completely re-learn the decision-making process involved with being a successful quarterback.
He is viewed by most as a great young man, a hard worker and a quality teammate, but unfortunately, intangibles don't put the ball in a receiver's hands on Sundays.
So ask yourself why these guys are rated ahead of Ryan Mallett.  Why is he more of a risk given his natural ability, remarkable success and proven leadership?
Well, we've now stumbled onto the real issue: Ryan Mallett's "character issues."
Let's start with the facts.
Mallett was arrested for public intoxication outside of a Fayetteville bar in the Spring of 2009, at age 20.  Beyond that, he has no other criminal record.
In a related story, skeptics in the media have claimed that Mallett missed a meeting with the Carolina Panthers recently because he was "hung over."  In response to this claim, Mallett's camp replied by saying he was sick with flu-like symptoms, and was therefore forced to delay the meeting.
Also, there is speculation that he has experimented with drugs while attending the University of Arkansas and during his time at the University of Michigan.  While there have never been more than accusations and rumors concerning this issue, he has allegedly discussed this with teams during the draft interview process, supposedly confirming the rumors and claiming to have moved on from that stage of his life.
At the NFL Combine, he was asked repeatedly by the media in attendance to discuss any drug use accusations, to which he refused comment.
While everyone knows the risk involved with employing someone with that kind of history, you must also take into consideration his age and the time that has passed since his involvement in any illegal activities.
Ryan Mallett is, by no means, the first college athlete to be arrested for public intoxication or experiment with recreational drugs at a young age.  In fact, you could argue that a large percentage of people in his position go through the same stages.  The ones not worthy of being drafted are those who never move on from those stages, and Ryan Mallett is someone who clearly has.
So here's what I've been getting at with all of this:
Ryan Mallett's speech and mannerisms have been an overwhelming benefactor in his decreasing draft stock.
If NFL General Managers and Head Coaches are on the same page as the media concerning his positioning in the draft, they are all guilty of profiling.
They see Mallett and his demeanor, then study guys like Newton, Gabbert and Locker, and thereafter make the decision that Mallett is not as intelligent or capable of leading their football team.
The other quarterbacks in this draft are articulate and charismatic, and clearly understand the value of their face on a franchise.  Mallett, on the other hand, doesn't talk or act like someone typical of the quarterback position.  Instead of attributing this to a product of his surroundings growing up or the athletes and mentors he has been influenced by, the media has shown its insensitivity by indirectly declaring the way he conducts himself as inappropriate and unintelligent.
Personally, I've been disgusted by this.
At the end of the football season, his on-field play left him at or near the top of everyone's draft board.  There was no question that he was the most talented quarterback in this class.
Then, as soon as the helmet came off and people began to study him and compare him to the prototypical "All American Boy" quarterback, other names shot up the list and Mallett's dropped.
Then the tough grading began.  No longer were they showing his incredible touchdown passes or needle-threading laser throws; They were only showing his interceptions and interview footage.  Analysts began criticizing every bad pass and every wrong decision.  More importantly, they began ignoring his assets and refusing to shed light on the personal qualities few know he possesses.
It's a shame that people aren't allowed to see his leadership skills or interviews with his gracious teammates, or how hard he's been working the past few months to prepare for the draft. 
 It's upsetting that people have never heard from his family or seen special interest stories on how he's come so far as an athlete and as a person.  Are they also forgetting that he graduated in December (with a degree in Sociology, coincidentally)? 
Sure they are.  They have forgotten to mention all of this.
It's all because of the media's latent prejudice towards a kid who doesn't exactly talk or act like them.
Such unfairness goes overlooked all of the time by society, and in this case, it's losing Ryan Mallett a substantial amount of money.
So tonight as you're watching the draft, keep in mind the comparisons I've discussed.  Make note of the flaws the "experts" undeservingly condemn Mallett of possessing, and observe what they say about the other young quarterbacks in contrast.  Note how careful their wording is when trying to avoid sounding politically incorrect.  Remind yourself of this article, and think about who really deserves to be the first quarterback taken.
If you're drafting a football player, draft Ryan Mallett.  If you're drafting a public speaker, don't plan on being successful on Sundays.