Fantasy Baseball: Matt Joyce Continues to Fly Below the Radar
May 4, 2011
J. Meric/Getty Images
A huge part of the recent offensive resurgence of the Tampa Bay Rays has been LF Matt Joyce.
Yet judging by his ownership in Yahoo and ESPN fantasy leagues, very few people are aware of just how good he has been recently.
Outfield is a very deep position in fantasy baseball this year, but take a gander at Joyce's statistics and tell me why he isn't on more teams.
Through play on Monday, here are his statistics along with his rank in the AL.
.346 AVG (4th)
.411OBP (5th) 
.519 SLG

2 HR
10 RBI
12 R
8 2B (8th)
WAR 1.6 (6th)
WAR Position Players 1.6 (3rd)
All of this production comes despite starting the year 1 for 23.
The most impressive stat of all though is his .414 wOBA. That is a better rate than teammate Ben Zobrist (.395) who just won AL Player of the Week. In fact since 2009 his wOBA is .370, also better than the more heralded Zobrist's .366.
It is also a stat that is indicative of future performance. Which is why I'm not sure more fantasy owner's haven't snatched him up. Good things are coming based on his peripheral statistics.To put it simply...Joyce gets on base.
The power will follow soon enough. He already has eight doubles, and he is hitting every pitch with authority. Sooner or later more balls are going to find the seats
Joyce is only 14 percent owned in Yahoo Leagues though, and perhaps the reason why is that Rays manager Joe Maddon refuses to let him take hacks against most left-hander starters. Platoons scare off many fantasy owners, and for good reason.
Joyce is essentially in a platoon with Sean Rodriguez, even though they play different positions. Still he is good for 4-5 starts a week, and if he continues to hit, he may finally be a true full time player.
For leagues with daily transactions, it is easy enough to sit Joyce when the Rays face a southpaw. But make sure you do your homework, as he is likely to start against some reverse-split lefties. If you haven't heard of "The Danks Theory"...Google it...it's fascinating stuff.
Even as a semi-platoon player, Joyce is worthy of a third or fourth outfielder spot in all but the shallowest of leagues. His production has been that good. Besides he is on pace for over 500 at bats, so even if you have to set weekly line-ups, he'll play enough to warrant a start every week.
If you are in an AL-only league and he is unowned, then your whole league has really missed the boat. You and your fellow owners should find some other way to kill time at work, because fantasy baseball obviously isn't your thing.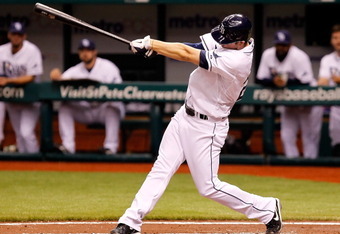 J. Meric/Getty Images
The best news about Joyce came today in an interview with Joe Maddon. He indicated that he is leaning towards hitting Joyce in the clean-up spot against right-handers, in between Evan Longoria and Zobrist. You couldn't ask for a better spot in the lineup.
Maddon tinkers with lineups frequently though, and it is maddening to deal with for fantasy owners. However Joyce should find himself hitting in the middle of the order somewhere going forward.
If your still not convinced he is worth a long term add, then you may be swayed into adding him as a speculative pickup for an injured player.
In the last seven games he is 10 for 17 (.526 AVG), with two HR, six RBI and seven R.
Still not convinced? Since April 11th he is 25 for 58, good enough for a .431 average.
The guy has been raking for three weeks now. That is a little more than a hot streak. That smells like a breakout.
A word of caution though.
His BAIP is currently .433, a rate that is unsustainable. Still a .270 AVG is very realistic, and 20 HR and 90 RBI isn't a stretch either.
In fact those projections may be conservative. In 2010 he hit 10 HR and drove in 40 runs in just 261 at bats.
That is top-25 outfielder production.
Go get him now. You won't regret it.