Lewis Hamilton at the Crossroads: It's Time for Him to Push the Button
September 7, 2011
In 2010, Jenson Button joined Lewis Hamilton at McLaren in a move that amazed many, including this writer. Many commentators, again including this writer, thought Lewis likely to crush Button.
But that anticipated crushing did not happen.
The 2010 season finished with Sebastian Vettel winning his first F1 championship in the outstanding Red Bull with 256 points. Lewis was fourth with 240 points, which included 3 wins, while Button was close behind him in fifth with 214 points, including 2 wins.
As I write this, the 2011 campaign is more than half over, and there are just seven races to run. Lewis, I regret to say, has a problem.
The season has been dominated by the winning combination of Sebastian Vettel and Red Bull Racing, but that is of no great consequence for Lewis. If another team fields a better car, then nobody can expect Lewis to consistently win races.
The cloud raining on the Lewis Hamilton parade is clearly labelled Jenson Button.
All too often, Button is looking the best driver on the track, or certainly the best McLaren driver. After so many years of being regarded as a rather dull plodder who was never capable of out-driving a car, he is now showing incomparable racecraft, a genius for coping with changing conditions and a zest for overtaking that makes him able to recover from the most lowly race positions.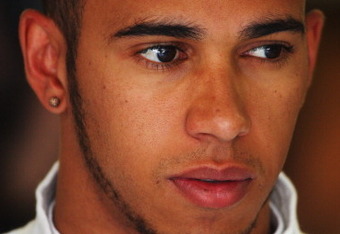 Mark Thompson/Getty Images
The peril to Lewis is obvious.
He is 26 years old, and in his fifth F1 season, so he is no longer a brilliant novice whose errors can be attributed to inexperience. He has to be judged on the same basis as every other driver— on his results—and in particular on his results compared to his teammate.
Being beaten by Lewis is not a disaster for Button, but being beaten over the season by Button would leave Lewis at a crossroads in his career.
Lewis' hotshot reputation and cocksure confidence, that his fans love and his detractors call arrogance, could not survive intact.
Those fans, definitely including this writer, who were excited by Lewis' arrival in F1 and thrilled by his aggressive driving style, have made many excuses for him over the last five seasons. It is difficult, however, to find an adequate explanation for why the raw talent he displayed in 2007 has not matured to produce the most formidable driver in F1.
At the beginning of 2011, any keen follower of F1, if asked to name the top three drivers in the sport, would probably have included Lewis Hamilton in their reply. Today, I am not so sure.
In a few short months, things have gone so horribly wrong for Lewis that it becomes possible to imagine him without a top-team drive—just another tarnished former golden boy circulating at the back of the pack.
Don't do that to your fans and yourself, Lewis. Recognise that people are no longer talking about you as a future multiple-championship-winner, and get a grip, because the Hamilton legend will not create itself.