Chicago Blackhawks: Answering Questions About Rostislav Olesz
July 13, 2011
Abelimages/Getty Images
Ever since the trade that sent Brian Campbell to Florida was finalized, Chicago Blackhawks fans have been asking all sorts of questions about newly acquired forward Rostislav Olesz.
These questions have been buried underneath the hype of the draft, free agency and prospect camp. But now that the dust has settled and we anxiously await for arbitration hearings to being, we have time to answer some questions about Rostislav Olesz and what Stan Bowman might have planned for him.
So let's get started.
Who is Rostislav Olesz?
Rostislav Olesz was drafted seventh overall by the Florida Panthers in the 2004 NHL Entry Draft. He spent his entire junior career in the Czech Republic.
He never put up mind-boggling numbers in junior hockey, but was said to be a capable power forward with elite hockey sense and two-way skill.
According to www.hockeysfuture.com, a website that evaluates and grades the talent and potential of NHL prospects, Olesz was rated a 8.0 as a prospect, meaning that he was projected to be a first line forward.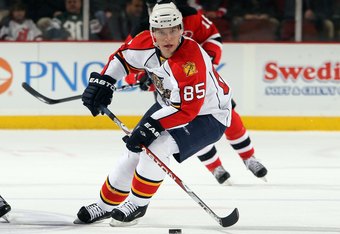 Jim McIsaac/Getty Images
This was their talent analysis of Olesz:
"A player without any glaring weakness, Olesz is a character guy who gives everything to the team's success. He is offensively talented, well-balanced and always showing a nasty edge in his play. Olesz plays a combative style and is a good hitter. He is a valuable asset to both powerplay and penalty killing units. A solid skater with a decent agility, Olesz impresses with his excellent lower-body strength. He has a sharp hockey sense and vision.Also very good in the faceoff circle, Olesz emerges as both a smart passer and a strong finisher. He possesses a good variety of shots, he could only fire the puck more often. Olesz impresses with his strong defensive awareness, he limits the opposing players' options effectively. A mature player, he doesn't tend to take shifts off."
However, Olesz never quite proved to be the player described above. Instead he developed into an inconsistent player who never seemed able to fully live up to his potential. He has yet to score more than 14 goals in his career and his highest point total is 30, set in the 2006-2007 season.
Adding to Olesz's already fragile reputation is his inability to stay healthy. He's had re-occuring knee injuries and broken fingers, which have limited him to only 349 of 492 games in six seasons with the Panthers.
How did the Blackhawks end up with Olesz in the Campbell trade?
Theree were reports that Stan Bowman asked for Olesz exchange for Campbell. Bowman believes Oleszs "needs a fresh start" in a new organization with new teammates to fully realize his potential.
From Tallon's perspective, he was determined to acquire Campbell to give the Panthers "credibility", add a new component to their defense and bring in a veteran player with Stanley Cup experience. Supposedly it had nothing to do with reaching the cap floor.
But this explanation doesn't completely satisfy me. There were other dynamics at work that most likely influenced the terms of the trade. This is my take on how the trade happened:
It was no secret the Blackhawks needed cap space if they wanted to make any significant roster changes, which they seemed set on doing. This made trading Campbell a necessity, and gave leverage to Dale Tallon.
Tallon saw this leverage into an opportunity to get rid of an overpaid underachiever who, he believed, had no spot on the team he is in the process of building in Florida.
So in other words, Bowman was forced into taking Olesz. I don't think he really wanted him, he wanted cap space and Olesz was the catch. But he had to spin it a little bit to save face.
Why didn't the Blackhawks buy out Olesz?
This would have been the prudent thing to do, seeing how it would have only cost the 'Hawks $372,000 in cap space this season, freeing up an additional $2.7 million. This could have gotten the Blackhawks Max Talbot, who they were in the running for on July 1st but were outbid by the Flyers.
My guess is the Blackhawks didn't buy out Olesz for a combination of two reasons:
One, the Blackhawks actually believe that Olesz can be effective with a fresh start on a new team and want to give him a chance
Two, buying him out would be admitting they never really wanted him and that Campbell, a key piece of their team and Stanley Cup championship, was basically given away for nothing in return.
Will Olesz really be a Blackhawk?
He certainly will get an opportunity to be. Bowman expects Olesz to be fully recovered from his knee injury last season and ready to go for training camp. After that the Blackawks will assess whether or not they can use Olesz.
"He's still a young player, he's got a lot of ability. The only way you know (where he fits) is to get him on the ice." That's what Bowman had to say when asked about Olesz.
If Olesz does make the team out of camp, what will his role be?
Well this will all depend on how he does in camp. If he surprises everyone with a burst of offensive production, he could temporarily earn a top six role. Or maybe he demonstrates that he can be an effective checker or energy player and earns a bottom-six role. Time will tell.
I see him on either the second or third line. Olesz doesn't play a fourth line-type of game, so we probably won't see him there and Brunette will get priority on the first line left wing spot with Toews and Kane.
If Sharp does in fact make a permanent move to center on the second line, that means that there will be an opening in the top six up for grabs. Olesz, if he impresses Quenneville in camp, could be the guy to fill it. Olesz may be able to benefit from playing with elite players like Sharp and Hossa on the second line, which could help his offensive production.
If Olesz doesn't show the necessary offensive flare, Olesz could be a nice addition on the third line. He's shown some defensive tenacity during his tenure in Florida. In 349 games with the Panthers, Olesz has a plus/minus of minus-9 with 379 hits, 188 takeaway and 155 blocked shots.
We'll see how Olesz does in training camp and assess where he'd play best afterwards. This is assuming he makes the roster.
What if Olesz doesn't work out?
If it turns out that Olesz isn't the player that Bowman expects him to be with the Blackhawks, its likely that they will "Wade Redden" him (a.k.a. bury him in the minors) and possibly buy him out eventually.
So at this point, with nothing left on the free agent market and not many options via trade, its worth it to at least give Olesz a shot. At least the Blackhawks will have an out if this experiment does blow up in their face.