Philadelphia Eagles Should Consider Signing Vernon Gholston
June 15, 2011
Jim McIsaac/Getty Images
Zero. Zilch. Zip. Nada. Nil. Nix. However you want to say it, that's exactly how many sacks Vernon Gholston had in his three-year NFL career with the Jets. To put it into perspective, I have the same amount of sacks in the NFL as he does. 
In March, the Jets gave up and released the former sixth overall pick in the 2008 draft after only three seasons. Another combine workout warrior, Gholston has earned the dreaded label of being a "bust." But should the Eagles kick the tires of the Vernon mobile? Maybe take a test drive?
Before you immediately jump to the comment section and start asking me what I've been smoking, let's consider a few things first.
Gholston didn't even start playing football until his sophomore year of high school. Playing at Ohio State, he was used as a combination of linebacker and defensive end and moved around in formations quite a bit. 
In 2004, his freshman year, he only played sparingly and did not record a single tackle. In 2005 he injured his hand in the beginning of the year and missed the rest of the season. In 2006 he finally played his first full season and performed well, in notching eight sacks. 
In 2007, his senior year, he had a breakout season and recorded 14 sacks and 15.5 tackles for loss. That outstanding production, along with a combine performance in which he showed extreme athleticism that left scouts drooling, propelled him into the top 10 most desired players of the draft that year.
He was drafted by Eric Mangini and was expected to play outside linebacker in a 3-4 defense.  Mangini left after his rookie year and Rex Ryan took over. Ryan implemented his version of a 3-4 defense which was much different than what Mangini ran. Ryan had him back and forth between linebacker and defensive end the past two seasons as he was trying to find the best way to utilize him. 
This past year he was supposed to go back to his "natural" position as a 4-3 defensive end (Ryan runs a hybrid scheme). But this apparently did not work out too well either and left the Jets frustrated and disappointed. He wasn't drafted by Ryan so there wasn't any notion of Gholston being "his guy" where sometimes coaches are a little more attached to the player. 
Furthermore, there have been rumors in the past that Gholston uses (or has used) steroids but that has never been legitimately proved. Teammate Calvin Pace (and possibly others) also questioned his desire for the game. Last year, Pro Football Weekly published an interview with Pace where he discussed Gholston a little bit.  Below is an excerpt from that interview (full article here):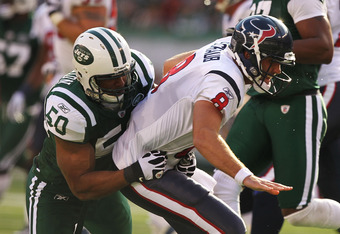 Al Bello/Getty Images
"The thing is with Vernon, he's the type of person where he's got the same demeanor every day," Pace said.

"If something is funny, he's got the same demeanor. If something's bad, he's got the same demeanor. So, I always was like, 'Man, it's just hard to read him.' Then I'm thinking like, well, 'Does he like to play?' Because everybody plays for different reasons, whether it's for money or fame, whatever. But you play for something. I know he likes to play. He takes notes, he watches film."
Sounds to me like he could be a player that is just a little lost and thinking too much. 
If you take into consideration his late start in life to playing football and the fact that he was moved around between multiple positions and defensive schemes, could it be that he really is still learning? 
Could it be that he hasn't been able to become comfortable in a scheme yet and just "let loose?"  Maybe Gholston is the type of person who needs stability and good coaching to maximize his potential. 
Enter Jim Washburn, the defensive line coach who just last year worked wonders with another former first-round pick in Jason Babin. Babin was considered a disappointment (aka, bust) and had played for four different teams in the previous four years before meeting Washburn with the Titans last year. 
As you probably have heard, Babin proceeded to have a pro bowl year after collecting 12.5 sacks last season. He credits all his success to Jim Washburn and has publicly stated his desire to come to Philly just to be under his tutelage again.
Washburn is regarded by many people in the NFL as the best at what he does. Can he work his magic with Gholston? Can he make chicken salad out of chicken...well, you get the drift. It is certainly a fair question. 
This would be a low risk, high reward type of situation where if he doesn't pan out, they could just easily cut him during the preseason; no harm, no foul.
If he just doesn't have the fire in him to play football then no amount of teaching will ever fix that.  But if all he needs is to focus on one position (just rushing the passer from a 4-3 front) and have a tremendous teacher that will simplify the game for him, I would be willing to take a chance on him. 
What is there to lose?