Big Ten Breakdown: Northwestern Wildcats, Part 1 (Overview and Offense)
July 4, 2011
Jonathan Daniel/Getty Images
Team Overview
As an Iowa Hawkeye fan, I don't know how many times I've watched Northwestern come away from a game victoriously—often against the Hawks—and I have said to myself, "How can they continue to get so lucky?"
However, when you step back and look at NU under Pat Fitzgerald, and Randy Walker before him, it becomes clear it's really not a matter of luck.
Over the last five years, the Wildcats are 19-8 in games decided by a touchdown or less (14-3 in conference.) They are 8-5 in games decided by a field goal or less.
Sometimes close games are decided by a bad call or a lucky bounce or some intangible that is out of the coach's hands. On the other hand, when these "lucky" wins continue to occur over a duration of time, that is no longer luck.
And I may hate him, but right now in 2011, Fitzgerald might be the best coach in the Big Ten. Of course, unlike so many "great" coaches, Fitzgerald is exactly where he wants to be, and that place is not a powerhouse school.
He is a Wildcat through and through. Frankly, Northwestern is lucky to have him.
Now, if he could just figure out how to win the close bowl games. NU is 0-3 over the last five years in bowl games decided by a touchdown or less.
Offensive Overview
2010 scoring offense: 26.4 PPG (eighth in the conference), total offense: 391.1 YPG (fifth), rushing YPC: 3.64 (ninth), passing efficiency: 144.39 (sixth)
Average scoring offense conference ranking over last five years: 8.8
Best scoring offense conference ranking over last five years: seventh (2009)
Worst scoring offense conference ranking over last five years: 11th (2006)
Returning sarters: QB Dan Persa, RB Mike Trumpy, RB Jacob Schmidt, WR Jeremy Ebert, WR Demetrius Fields, SB Drake Dunsmore, OT Al Netter, OG Brian Mulroe, C Ben Burkett, OT Patrick Ward
Open Positions: WR, OL
Offensive Breakdown
Northwestern runs a spread scheme that depends on an active, deadly accurate quarterback. Between 2006-2010, Northwestern's starting quarterback has completed 63.6 percent of his passes.
In that time, the only signal caller that completed less than 60 percent of his passes was C.J. Bachér in 2006—his first year starting.
Ideally, the Wildcats are not looking to stretch the field. They want to nickel and dime their way under the defense, around the defense, between the defense and every which way they can find. They want to build and sustain long drives that keep the opposing defense on the field.
As is the case with possession passing offenses, precision is key. This is not only true of the quarterback but also of the receivers. The pass catchers in question don't have to be terribly fast or physical or big. Rather, they need to catch every ball that comes near them.
Ideally, NU wants to establish its running game out of the spread option, which typically starts with a dual-threat quarterback. Nonetheless, the Cats can work with a pure pocket passer.
Quarterbacks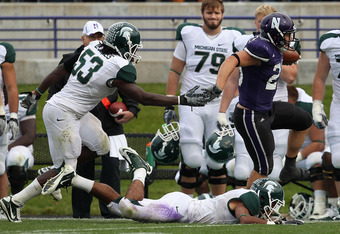 Jonathan Daniel/Getty Images
As far as proficient, accurate dual-threat quarterbacks go, in 2010, Dan Persa was arguably the best Northwestern has had. At least, while he was healthy.
With Persa under center, the Wildcats went 7-3. Without him, they went 0-3. That was no coincidence.
Last season, Persa completed 73.5 percent of his passes for 2,581 yards. He had 15 touchdowns to four interceptions and a 159.04 efficiency rating. On top of that, he was the Wildcats' leading rusher until he tore his Achilles tendon at the end of the Iowa game.
Going into 2011, questions remain. How healthy he will be? Or, at the very least, how much will the scarring from the injury—both mental and physical—affect him?
First of all, unlike a number of other Big Ten dual-threat quarterbacks, Persa's biggest strength is his arm, not his legs. And his arm will not be affected.
Secondly, Persa's second greatest asset is his ability to escape, not his speed. That also shouldn't be affected.
However, the NU running game does begin with Persa's ability to be a threat out of the read option. If his mobility and speed are taken away, that will have a notable effect on the Wildcat offense.
Behind Persa are sophomores Evan Watkins and Cain Kolter. Both of them saw snaps last season after Persa went down, though Watkins saw the lion's share of the playing time.
Watkins is more of a pure pocket quarterback, while Kolter is dual-threat. In fact, Kolter ran for the highest YPC on the team among players who had at least 20 rushes.
Both will have benefited from the experience they received last season, and right now, both are solid backups.
Nevertheless, there is no getting around the fact that this is Persa's team. He is not only a great quarterback, but he is the team leader. If he is not on the field, then the team is nowhere near as good.
The bigger issue is, when he is on the field, will he be 100 percent?
Big Ten Position Group Ranking: 1
Running Backs
As noted earlier, the Cats have two returning "starters" at running back, which, for my purposes, means they have two running backs who have started four or more games in their careers. They would have had three returning "starters" had junior Arby Fields not transferred.

The problem is the multiple starters are more of an indication of their ineffectiveness than anything else.
Fields began last season as the starter. However, after putting up 2.87 YPC, he was benched and at-the-time junior Jacob Schmidt became the starter. He averaged 3.29 YPC in 49 attempts.
Then redshirt freshman Mike Trumpy ascended the depth chart. He was the most successful of the three, averaging 4.57 YPC on 116 attempts. Of course, if you look more closely at his statistics, you notice he made the most hay against a lot of second-rate defenses.
Unfortunately, Trumpy injured his wrist against the Illini, which prematurely ended his season. He is expected to be healthy for preseason camp and will probably be the starter next season.
Given NU's opener at Boston College—the stingiest rush defense in the country last season—we'll know soon enough what Trumpy can do against a quality D.
One other player in the mix will be sophomore Adonis Smith. Smith grabbed a number of rushes after Trumpy went down and performed admirably, averaging a team second-best 4.78 YPC.
In short, there are bodies in the Northwestern backfield, but there is not yet any evidence that any of them are dangerous.
Big Ten Position Group Ranking: 12 
Wide Receivers/Tight Ends
Northwestern returns nine of its top 10 pass catchers, including two of its top three and its No. 1 man, senior Jeremy Ebert.
Ebert is the quintessential unassuming Northwestern receiver. He is 6'0", 195 pounds, doesn't have anything resembling blazing speed and doesn't jump like he's got springs in his cleats. He just gets open and catches everything thrown his way.
Last season, he had the fifth-most catches in the conference, the most yards, tied for the fifth-most touchdowns, 11th-most yards-per-catch and had the most yards-per-game.
The media appropriately selected him as first team all-conference, an honor he will vie for again in 2011.
The second receiver will be junior Demetrius Fields. Last season, Fields served as the third man, catching 25 passes for 291 yards. This season, he will play a larger role in the offense.
The players behind Ebert and Fields will compete for the remaining starting jobs. The top candidates following spring practice were senior Charles Brown and sophomore Rashad Lawrence.
Brown has 26 catches in his career and can certainly fill the efficient role that NU needs from its receivers. Meanwhile, Lawrence has the much higher upside, but does not have the experience Brown brings.
Other players in the mix will be sophomores Mark Venric, Mike Jensen, Drew Moulton and Tony Jones.
The superback is Northwestern's version of the H-back, or hybrid. He plays a role that combines elements of tight end, wide receiver and fullback. And senior Drake Dunsmore is made for the position.
Dunsmore first popped onto the scene when he ran over Auburn's entire defense in the 2010 Outback Bowl. Last season, he had 40 catches for 381 yards and five touchdowns.
Along with Nebraska's Kyler Reed, Dunsmore is without question the best returning tight end in the conference.
Behind him on the depth chart is sophomore John Placensia, who has yet to record a collegiate catch.
Following Persa, Dunsmore might be the most irreplaceable player on the Wildcats' roster.
In closing, NU has one of the best receivers in the conference and one of the best tight ends. Their second receiver is a solid possession guy. If they can find one deep threat—Lawrence and Venric seem the most likely options—they could have the best pass catching group in the conference.
Big Ten Position Group Ranking: 2
Offensive Line
Northwestern returns four of its five starting offensive linemen. Two of those linemen—left tackle Al Netter and center Ben Burkett—are seniors and will be third-year starters. The other two linemen—left guard Brian Mulroe and right tackle Patrick Ward—are juniors.
The two most likely players to take over the right guard spot are senior Doug Bartels or junior Neal Deiters.
Bartels is a former walk-on who hasn't started any games. But as a fifth-year senior, he has had the opportunity to develop. Deiters has also had opportunity, though in his case, he started seven games at right tackle in 2009.
Normally, with that kind of experience on the O-line, coupled with an efficient quarterback, one would expect the NU offense to be virtually unstoppable (see Wisconsin last season.)
The problem comes when one looks at the Wildcat line play over the last two years.
In 2009, they were ninth in the conference in sacks allowed, letting up 31. They also had the second-worst rushing offense in the Big Ten.
Last year, they were last in the Big Ten and 114th in the country in sacks allowed, with 40. They were also ninth in the conference in team YPC. This is even more disturbing when one considers Dan Persa, whose escapability was mentioned previously, was the quarterback. It is then exacerbated when one considers that NU's passing game focuses more on possession than the deep ball.
It is also notable that the Cats' only opponent that had a top 30 pass rush was Purdue.
Persa's injury did affect these numbers. But on the surface, it looks as though the line didn't progress as the season went on. They gave up the most sacks in the conference every month of the regular season, including October and November.
Lastly, the Cats started the same five players in all of their 13 games. They did not have a single injury, and thus, continuity was not the problem.
In short, Northwestern returns a ton of experience on the offensive line—easily the most in the conference. The question is, how good is that experience?
If this group comes together, NU could have the most explosive offense in the conference. If not, they will be middle-of-the-pack.
Big Ten Position Group Ranking: 8
Be sure to check out past installments of Big Ten Breakdown, beginning with the most recent, the Illinois Illini.