Arsenal Transfer Prospects: Should Wenger Consider a Move for Micah Richards?
June 19, 2011
Michael Regan/Getty Images
The transfer window is upon us and with Arsenal failing to win trophies last season as they finished a dismal fourth, Arsene Wenger and the club seems to have realized the need to strengthen the squad with quality players who can make an instant impact and not "talented players for the future."
Arsenal seemed to be linked with several top talents both from within England and outside the country. It has been heavily reported that the Gunners are nearing a deal for Lille striker/winger, Gervinho and are also in for defensive signings, Gary Cahill and Christopher Samba. One of the shocking rumors making its way across the net has been that Arsene Wenger might just be tempted to try and sign Samuel Eto'o, arguably one of the best centre forwards in the world game right now.
Recently it came to light that the Gunners could be in for both Samba and Cahill, thanks to the imminent departure of Frenchman Gael Clichy who along with compatriot Samir Nasri are hesitant of signing another contract with Arsenal.
This has seen many Arsenal fans ponder if Arsene Wenger would move Thomas Vermaelen to the left back position and fill the defensive gaps by signing the defensive duo of Christopher Samba and Gary Cahill. With Arsene Wenger admitting to Arsenal's defensive frailties, it is likely that he will sign two centre backs in an attempt to add depth and strength to the defense as Arsenal attempt to win a trophy. 
While Samba is widely expected to be signed by the Gunners this summer, nothing is certain in football and it might just happen that Arsenal could fail to sign both players. Samba is reportedly worth £8-£10 million with Arsenal trying to sign him for as less as possible. But recently the chairman of the Indian owned club made it clear that they would try their best to retain the player, who is one of the key players for the team, which thrives on their defensive solidity with strong players like Samba at the heart of the things.
Although it could be a move to test Arsenal's budget and resolve to sign the player knowing that the Gunners are desperate for defensive signings, it is also likely that Blackburn want to seriously retain the player, especially since new owners very often have high ambitions and the money to fund the team.
With Cahill, it is the other way around. Bolton are in debt and with Cahill being their most marketable player due to his English roots, it is him that they can sell for the highest player. With a £17 million buyout clause, the Gunners do have the financial strength to sign the player. But with other areas requiring strengthening, Arsenal have been engaged in a risky game of negotiating the price in an attempt to lower it by a £2 million. But with both Liverpool and Manchester City interested in signing the player, Arsenal might miss out on Cahill whose ambition coupled with Bolton's financial problems makes him a prime transfer target.
Despite Arsenal being in a strong position to get both player, there is also a chance that Wenger might miss out on them.
If Arsenal do miss out on the two of them, one player I would love the Gunners to sign is Manchester City's Micah Richards.
There has been absolutely no talk about him signing for Arsenal, but I think he would be a decent buy and with plenty of potential and talent could be a great buy for the present and the future. At 180 cm, he isn't the most intimidating figure but like Thomas Vermaelen proved, you don't need to be a dominating presence to be a hit in the league. While Richards might not be the solution to Arsenal's defensive crisis with the Gunners requiring another signing to strengthen the defense at least, he is the kind of signing who can bloom in the future and at the same time can make a contribution right now.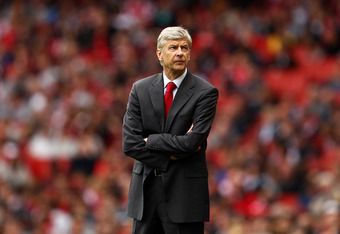 Richard Heathcote/Getty Images
What he lacks in height and stature he makes up with an energetic and hard tackling approach, going hard into tackles and always giving his best.
If Arsenal do fail in signing Samba or Cahill, he will be the best move in my opinion. While signings like Subotic maybe what the fans would love, when looking at it realistically, it is unlikely that the Gunners can sign either of the Borussia Dortmund defenders who have been in scintillating form. But Richards represents a realistic option for the Gunners especially since he too would be open to a move since he is an Arsenal fan.
That represents a huge positive for the Gunners. In a time when Arsenal players are accused of lacking passion and desire, signing Arsenal fans is a great way to rectify that. For a player who is an Arsenal fan, it will always be a dream to play for the club you support as a kid and Carl Jenkinson who recently signed for the Gunners echoed the above expressed sentiments.
Richards has stated earlier his interest and desire to play for the Gunners and such a spirit will be great for an Arsenal team that is lacking in spine and desire at certain moments during the season.
Also having played for Manchester City, he is experienced in the English Premier League and will not require any settling time in the league, a problem faced by players like Laurent Koscielny.
Another benefit of signing him is that he is versatile and can slot in at right back as well. Right now, signing a right back is definitely not a concern and that is one position where Arsenal definitely need not sign any player since they have Bacary Sagna, whose name on the team sheets is a foregone conclusion.
But signing Richards is a positive as it prevents complacency on the part of the Frenchman. Sagna is easily one of the best in the world and right now Arsenal don't have any player who can remotely come to challenge Sagna for a starting spot, such is the lack of quality at right back and such is the quality of Sagna. But Richards is no slouch himself and is a great force at his best. He is a solid crosser of the ball and defensively is solid as well.
When there is a player like Richards in the team, Sagna knows that the moment his performances start to drop, he risks falling down the pecking order, something that might not happen, but it is good to have a versatile player who can add strength and desire at the same time.
The lack of playing time coupled with his desire to play for Arsenal means that he will be open to a move. While Manchester City maybe reluctant to sell one of their most promising player to a rival, Arsenal could tempt them with a good fee that will provide the Arab owned club more space in their squad for further strengthening considering that right now, he is not more than a squad player.
Richards might not represent the complete solution to Arsenal's defensive problems but blessed with PL experience, English grit and a passion to play for Arsenal, he might be an interesting transfer prospect for Wenger to consider.
Micah Richards to Arsenal? Food for thought for Wenger.