NHL: Logan Couture Almost Celebrated at D-List Celebrity Clogged Awards Show
June 23, 2011
Bruce Bennett/Getty Images
Let's hope a little bottle service last night in Vegas helped Logan Couture deal with being shafted for the Calder Trophy.  As Logan is too classy a player to grumble or gripe following his losing out on the NHL's top rookie award, it's up to those of us less hampered by such petty constraints to vent for him.    
First of all, nobody is arguing Jeff Skinner was undeserving of the accolade, and his name (along with Michael Grabner) was in the Calder mix from the get go.  Skinner is a fantastic young hockey player who had a stellar season for the Carolina Hurricanes, registering 63 points (31G, 32A). 
He was very deserving…just not the most deserving. 
As I was suffering through Skinner's touching and endless acceptance speech, I just couldn't help but think of Couture sitting out there in the audience and I felt for him…as much as one can feel for a multi-million dollar 20-something who plays hockey for a job.  To the defense of Skinner's rambling speech, at 18 years old, I scarcely doubt I could have done any better on the mic and would have probably mumbled incomprehensibly or speed talked my way through it, before inevitably locking into a word-for-word recitation of the Rocky IV speech to the Russian crowd. 
…if I can change…and yooz can change…EVERYBODY CAN CHANGE!
Besides, Dierks Bentley was in the building, and I can only imagine how hard it would be to look out upon the visage of a living musical superstar like Dierks Bentley and not get a little overcome by the moment. 
Yeah, no clue who he is either, but I did hear the apparent country singer knocked over and broke the Ted Lindsay award backstage which is a 100 percent fact—nice work.    
On that, who put this awards show lineup together?  It was like somebody procrastinated this whole event planning for months, and then decided to buckle down on the planning with around two hours until go time.  Closer to home, it was as if my fiancée was dumb enough to give me full planning authority over our wedding, which she thankfully is way too smart to do.    
The whole event was like a parade of Letterman fill-in guests after the scheduled superstar has locked himself naked in his hotel room and glued the furniture to the ceiling.  I haven't seen a lineup put together of more C and D-list "luminaries" since the autograph booth section at San Francisco's ComicCon a while back, where I saw both Jaws from 007 and Greg "The Hammer" Valentine. 
Actually, seeing Jaws up close was actually pretty awesome, although he should have worn the grill.  On the other hand, trying to explain to my Star Wars crazed (then four-year-old) son why there were 13 Darth Vaders walking around the convention center all at once was less enjoyable, and turned into a futile exercise of his father attempting to explain the concept of dramatic arts to a little boy, but instead just totally confusing him with half-baked points that drifted into existentialism.
There is only one Vader, son.  Those other men are imposters.   
Why do I get the feeling that even 15-minutes-of-fame ticking time bombs, The Situation and Snookie turned this gig down, which being in Vegas should have been a layup for event planners?  Seriously, if you recognized any of the "celebrities" presenting, you have to be dialed into some Canada-centric TMZ feed that the rest of us don't have access to, or Dierks Bentley is your next door neighbor and/or relative.    
Everybody bags on the NHL as the weak sister to the NFL, MLB and NBA, and it looks like we are also able to throw parties to help those annoying critics further evidence their points…and I LIKE Jay Mohr and have ever since I heard his first Christopher Walken impression.  I just felt like the greatest night of recognition for the NHL should have been rendered better than a Tuesday night performance on a Carnival Cruise line.    
No, the postseason is not supposed to be taken into consideration for regular season awards, so out are Logan Couture's 14 points in 18 games, but what should have been taken into account was the role that Couture played keeping the Sharks relevant while they searched for an identity during the season.  For many sputtering stretches early on, Sharks fans will remember that the only thing we had going was Logan Couture.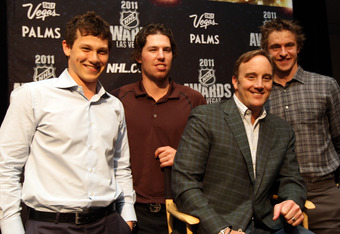 Bruce Bennett/Getty Images
He wasn't just an impact rookie, he was a key player who grew his role from a call-up to a team cornerstone and leader for a Division winning team that eventually advanced to the NHL's Final Four.  I think that was relevant, achieving greatness on an already great team versus almost making the playoffs on a team that has the good Staal. 
Of course pure fan bias plays into this, and maybe I don't know all of the intricacies that Jeff Skinner brought to the Carolina Hurricanes, but I do know eight game-winning goals.  That's eight times Logan Couture, on his own, pulled the San Jose Sharks collective rear ends out of the fire—most GWG by a rookie in NHL history if that matters.  I also know that he scored 22 of his 31 goals on the road which was good enough for fourth best in the entire league, and also logged the most shots amongst rookies during the season (247). 
Couture's play was highly instrumental in the success that the San Jose Sharks achieved, and I believe that playing spectacular hockey and making a name for yourself on a team with the likes of Joe Thornton, Patrick Marleau and Dany Heatley on the payroll was more worthy of rookie honors than kicking tail during the regular season on an irrelevant NHL team that missed the playoffs. 
No conspiracy or anything, and truthfully, I doubt that the East Coast media even knows which Carolina the Hurricanes actually play in.  
Jeff Skinner was a fine, deserving rookie of the year…just not the most deserving.